The perma-bears may be right soon.
I don't particularly like perma-bears. I find that they say that there will be a market crash for 7-8 years, totally ignoring the fact that boom and bust has occurred for as long as markets have existed, and having an 'I told you so' attitude after the crash.
However, over the last 6 or so months, there has been one measure that I have been watching that keeps causing me to pause and rethink my bullishness.
The following chart identifies a measure known as the TED Spread. This is a measure of the difference between 3-Month LIBOR (London Interbank Overnight Rate - a measure used by banks to lend to each other) and the yield on 3-month US Treasuries. The equation for this is Libor3 - UST3 = TEDRate. In blue is the S&P 500.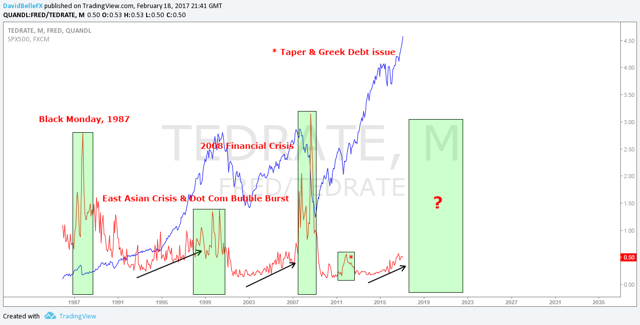 The TEDRate is important as it shows the creditworthiness of global banking institutions. It uses the 3-month US Treasury yield as a benchmark as this is usually the risk free rate (US Treasuries are a very safe bet to get a return on as the default risk is pretty non-existent).
What we can see from the chart is the following:
1. A rising TEDRate is always proceeded by a liquidity event/market crash.
2. We are currently above the 50MA at 0.51%, where below 0.5% is the level at which there is 0 cause for concern.
3. The volatility of the move in Q4 2016 was extremely fast.
One caveat is that the rising LIBOR rate could be due to regulatory reasons where banks and interdealer brokers have been prosecuted after the scandal that occurred where the increase in pre- and post-trade transparency and requirement of more stringent reporting of OTC swaps may have been a cause of the rise of 3M LIBOR over the last year, alongside new regulations for US money market funds. However, the extent to this I think is equal compared to the other side of the coin, which is certain interbank fear.
We can also see SPX SKEW as well: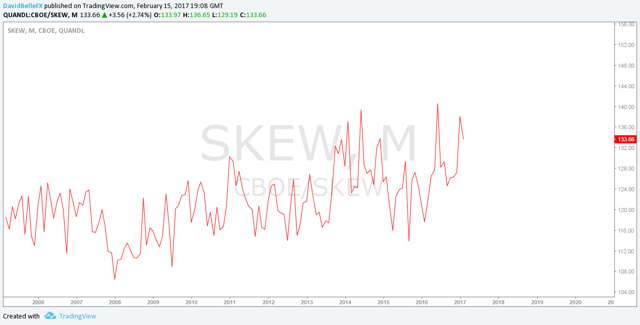 The volatility skew is the difference in implied volatility (IV) between out-of-the-money options, at-the-money options and in-the-money options. Put simply (pardon the pun), a rising SKEW identifies crash protection. We can see from above that in January, SKEW hit its 3rd highest level of all time. This could be put down to Trump's presidency and uncertainty regarding his policies, but so far, they have been pro-markets. Potentially there was insurance purchasing on any Fed risk as there were murmurings of them wanting to reduce their holdings of mortgage-backed securities and to slowly reduce the bond assets that they held through QE.
While the SKEW was hitting its third highest level of all time, the VIX was hitting lows.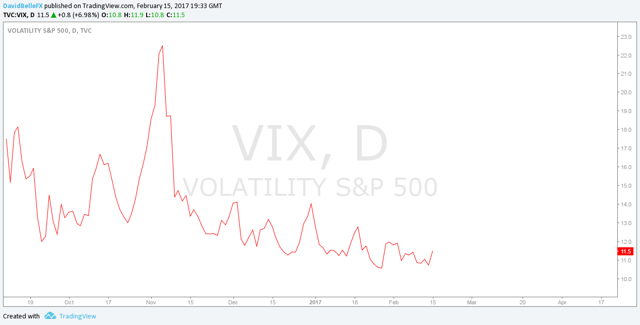 This doesn't reflect geopolitical factors but more an identification that central banks are purely helping to prop up the stock market via cheap credit provision, all the while pushing the policies of money growth - but there has to be a ceiling to the liquidity provisions that they can apply where market sentiment is concerned (this mirrors my comment above regarding slowly wanting to reduce bond holdings)… and what does this mean when it happens? Well, read the title of this post.
In addition, we have no real equity risk premium. The Fed is signalling an interest rate rise. Deutsche Bank calculated that 92% of S&P rallies during the current boom cycle is due to equity risk premium compression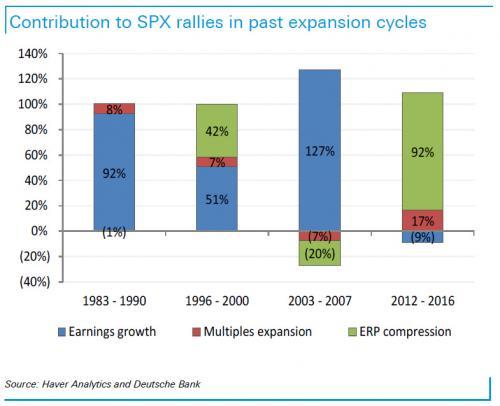 A rising base rate would lead to deleveraging and an exit from the US equity market. Maybe not a contagious exit, but an exit nonetheless.
This is certainly something that I will be watching out for over the next few months as an indicator of equity indices bearishness; however, I don't feel the bull run is quite finished on the SPX just yet.