Introducing My New High Yield RIC Portfolio

Throughout my journey as an investor, starting in 2014 (I was a forex trader previously for many years), I have struggled between 2 types of portfolio:
High yield as displayed by FrankEllis, High Yield Investor, Rida Morwa, Stanford Chemist, The Fortune Teller, Left Banker, WmHilger1 and Darren McCammon.
Dividend growth as displayed by Chuck Carnevale, RoseNose, Dale Roberts, Eric Landis, Nicholas Ward, Mike Nadel, Chowder and Dividend Sleuth.
Seeking Alpha has an unlimited resource of information from some very intelligent contributors that show 2 popular styles of investing. Most of us are hands-on investors, so I have chosen not to mention any passive index / ETF-focused contributors.
Reasoning
I've struggled with this decision for some time, as I have utilized leveraged ETNs in the past. My reasoning is mainly due to securing a new job as a train driver within London, so my expenses are bound to rise. I also enjoy the higher dividend payments, as I would prefer to be paid now rather than a larger portion several years later. It will also help in case there is an emergency and I needed to stop reinvesting for a period of time.
Regulated Investment Companies, as described by Investopedia, must distribute a minimum of 90% of their net investment income in the form of interest, dividends or capital gains to their shareholders. Otherwise, the company may be subject to an excise tax by the IRS. This is a feature I love and why I started investing in REITs with the analysis provided by Brad Thomas. It also protects you against failures in corporate governance, meaning that management is more likely to have its interests in line with the common shareholder. This acts as a fail-safe, as it can prevent greedy management from lining their own pockets while providing mediocre performance in terms of capital or dividends for the shareholder.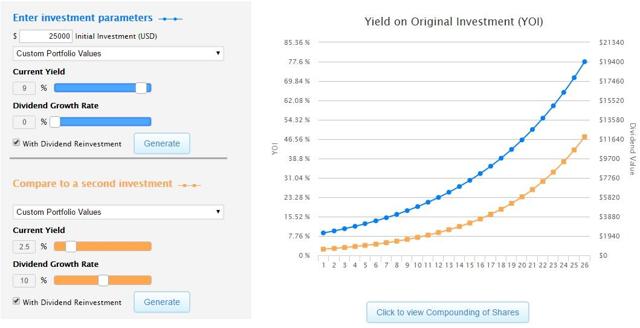 (Source: Miller Howard Investments Calculator)
I've played with numerous scenarios with the image shown above, and if dividends were not reinvested, the DGI portfolio would take 15 years to pass the income of a stationary 9% yield. I'm currently on track to cover my new salary in 13 years, provided I can stick to my savings plan. Now I may not wish to retire in 13 years, but the income will provide luxuries and freedom me without having to spend from my salary.
In terms of performance, this will be interesting to monitor, as I consider DGI to be superior as regards wealth generation in terms of capital. However, I think it would be a close race in terms of Total Return. I will admit that the high yield portfolio comes with added risk compared to the C-Corp stocks that inhabit the Dow Jones Index, for example.
Comparisons
I have 3 portfolios saved into SimplyWall.St. The 1st is my previous DGI portfolio, the 2nd is my new RIC portfolio and the 3rd is a growth-focused portfolio.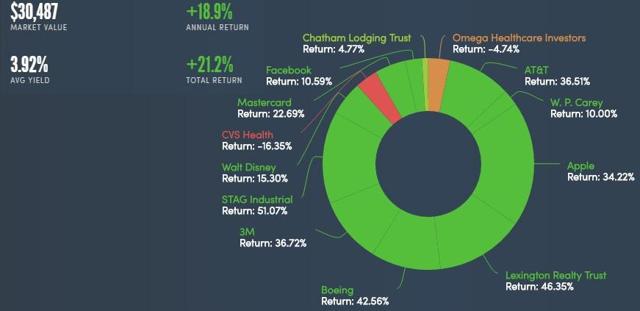 The link to the previous DGI portfolio is provided here for reference.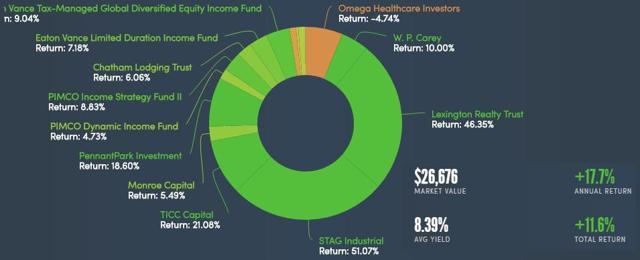 The link to the new RIC portfolio is provided here for reference.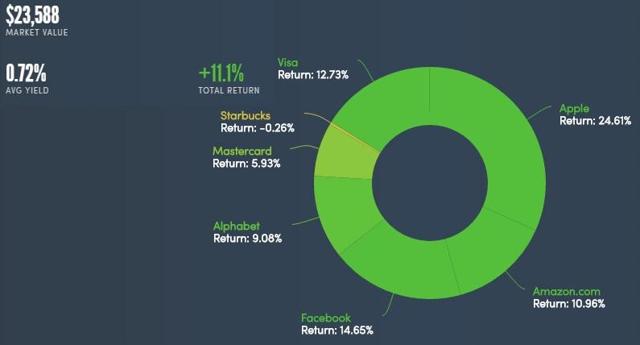 The link to my growth picks portfolio is provided here for reference.
My main concern when comparing is that the SimplyWall.St website does not include data from ETNs, so I'm unable to include 3 of my holdings. As you can see from the images shown above, my annual return is predicted to be 1.2% below my previous DGI portfolio, and this may not be entirely accurate if it could include the leveraged ETN products.
My RIC Portfolio
| | | | | |
| --- | --- | --- | --- | --- |
| Company | Shares | Cost | YOC | Income |
| Chatham Lodging Trust (NYSE: CLDT) | 76 | £1,193.88 | 6.75% | £80.56 |
| Dynex Capital (NYSE: DX) | 177 | £1,047.76 | 11.66% | £122.13 |
| Eaton Vance Limited Duration Income Fund (NYSE: EVV) | 111 | £1,196.63 | 7.61% | £91.02 |
| Eaton Vance Tax-Managed Global Diversified Equity Income Fund (NYSE: EXG) | 184 | £1,198.14 | 11.82% | £141.68 |
| Ladder Capital Corp. (NYSE: LADR) | 88 | £1,044.12 | 12.64% | £132.00 |
| Lexington Realty Trust (NYSE: LXP) | 230 | £1,301.15 | 9.37% | £121.90 |
| Monroe Capital Corp. (NASDAQ: MRCC) | 100 | £1,254.46 | 8.93% | £112.00 |
| Newtek Business Services (NASDAQ: NEWT) | 80 | £1,062.13 | 9.87% | £104.80 |
| Omega Healthcare Investors (NYSE: OHI) | 122 | £3,127.97 | 7.22% | £225.70 |
| PennantPark Investment (NASDAQ: PNNT) | 205 | £1,247.24 | 9.37% | £116.85 |
| PIMCO Dynamic Income Fund (NYSE: PDI) | 44 | £1,032.82 | 9.03% | £93.28 |
| PIMCO Income Strategy Fund II (NYSE: PFN) | 139 | £1,047.08 | 10.22% | £107.03 |
| STAG Industrial (NYSE: STAG) | 105 | £1,252.55 | 8.97% | £112.35 |
| TICC Capital Corp. (NASDAQ: TICC) | 227 | £1,245.23 | 16.95% | £211.11 |
| W.P. Carey (NYSE: WPC) | 25 | £1,054.73 | 7.06% | £74.50 |
| | | | | |
| UBS ETRACS 2X Leveraged Long Wells Fargo Business Development Company ETN (NYSEARCA: BDCL) | 68 | £1,042.30 | 15.07% | £157.08 |
| UBS ETRACS Monthly Pay 2x Leveraged Closed-End Fund ETN (NYSEARCA: CEFL) | 78 | £1,038.12 | 19.61% | £203.58 |
| UBS ETRACS Monthly Pay 2x Leveraged Mortgage REIT ETN (NYSEARCA: MORL) | 83 | £1,042.99 | 19.82% | £206.67 |
| Total | | £22,429.30 | 10.76% | £2,414.24 |
Sector Weighting

My REITs are diversified and have been kept from my previous portfolio, so no explanation is needed.
My BDCs were decided based on the dividend cut at PNNT and with TICC - both were selling at great discounts to NAV. Usually with BDCs, you want to buy at slight premiums to NAV so if they were to issue new shares, the new capital would be slightly higher, giving an advantage to seek out and acquire businesses to maintain or slightly improve NAV. When BDC is already at a discount, issuing shares hurts the NAV further, and the BDC will need to take risks to make up for it.
My CEFs are split between options and bonds, both of which I have no expertise or knowledge in. In the UK, my broker Hargreaves Lansdown doesn't offer puts/calls, so I'm unable to use options. The bonds on offer are also rather limited, so I would prefer to use CEFs and use the expertise of Eaton Vance and PIMCO to achieve this for me.
I'm trying to keep the weighting as balanced as possible between the 3 sectors. I'll most likely purchase Eagle Point Credit Company (NYSE: ECC) next week, as it's cheaper than its peer Oxford Lane Capital (NYSE: OXLC). The management fees and expenses are only 30% of OXLC, while both offer the same distribution yield of 13%.
I've been very tempted to buy Prospect Capital (NYSE: PSEC), but I definitely missed my opportunity when prices were back in the $6-7.50 area. Main Street Capital (NYSE: MAIN) is also high on the agenda whenever I can purchase it at a reasonable price.
The main priority when adding new capital is to minimize the overlap that may be present within my 3 leveraged ETNs.
Closing
I'm looking forward to presenting more information on my portfolio as each quarter goes by. The next article should be published in the first week of April. This was merely an introduction to potentially expand the number of followers who want to go on this journey with me and receive my portfolio updates.
I've started to provide analysis of CEFs, "The REIT Opportunity For You And Me" being my most recent. I'm also expanding my knowledge base of REITs and BDCs, so articles will be published in the near future concerning these asset classes.
If you appreciated this introductory article and wish to be notified on future publications, please click on the "Follow" button and feel free to either inbox me or leave a comment below!
Disclosure: I am/we are long EVERYTHING IN THE PORTFOLIO.
I wrote this article myself, and it expresses my own opinions. I am not receiving compensation for it (other than from Seeking Alpha). I have no business relationship with any company whose stock is mentioned in this article.