In an effort to expand my investment horizons, I have recently begun to delve into the world of REITs. Though my primary focus is on oil and will continue to be that, I like the concept of REITs because of their unique capital structures and the fine line they must walk so as to avoid an untimely death. In what follows, I will dig into my third REIT, a firm called W.P. Carey (NYSE:WPC), and give my thoughts on its prospects moving forward.
A quality business

*Taken from WPC
So far, all two REITs I have looked at before this, Omega Healthcare Investors (NYSE:OHI) and Realty Income Corp. (NYSE:O), have been high quality in my mind. After reviewing WPC, I found that it is no exception from an asset perspective. If you don't believe me, please look at the image above. As you can see by looking at the data provided, WPC's revenue stream comes from a wide variety of industries and no one industry collapsing would materially threaten the business.
The one area I do worry a little about, however, is Retail. I do not believe that the entire retail industry is dying (people will always shop), but I do think that brick-and-mortar locations will prove problematic. That said, total retail sales last year, according to the National Retail Federation, rose 3.75% and are expected to grow by between 3.7% and 4.2% this year, so the likely outcome for a firm like WPC would be a shakeup in what kinds of properties it owns over time.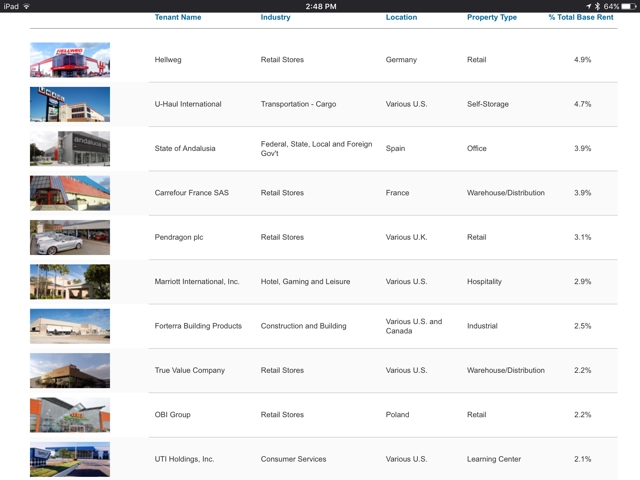 *Taken from WPC
On top of being spread across multiple industries, WPC's revenue isn't really concentrated across too few customers. As you can see in the image above, the company's 10 largest customers, led by Hellweg at 4.9% of rent and then U-Haul at 4.7%, accounted for just 32.4% of the company's rent according to its website. This means that a loss of a major customer would hurt but wouldn't warrant a major downturn in the value of its business in my opinion.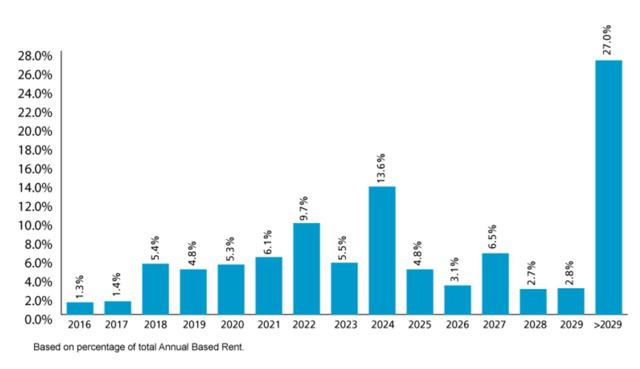 *Taken from WPC
All of this is good and all, but what good does a diversified source of revenue do for WPC if it suffers from contracts expiring sooner rather than later? If the average lease length is short, it exposes the firm to uncertainty. Thankfully, in its case, this doesn't appear to be a material concern. In the image above, for instance, you can see that the company's leases expire over a long period of time, with a whopping 81.8% ending after 2020 and with 27% ending after 2029. Collectively, its average lease comes out to 9.4 years. This, combined with the high occupancy rate of the company, shown in the table below, is proof of a firm with high quality assets.

*Created by Author
WPC's soaring results
At first glance, WPC is quite impressive from an asset perspective, but what about from a financial performance perspective? In the graph below, you can see that the company's sales and net income over the past five years, ending in 2015 since 2016 data isn't out yet, has been pretty good. Due to the nature of the industry it operates in, net income data is pretty volatile, which may worry some investors, but the fact of the matter is that, for a REIT, FFO (funds from operations) tends to be a more appropriate measure of potential than net income.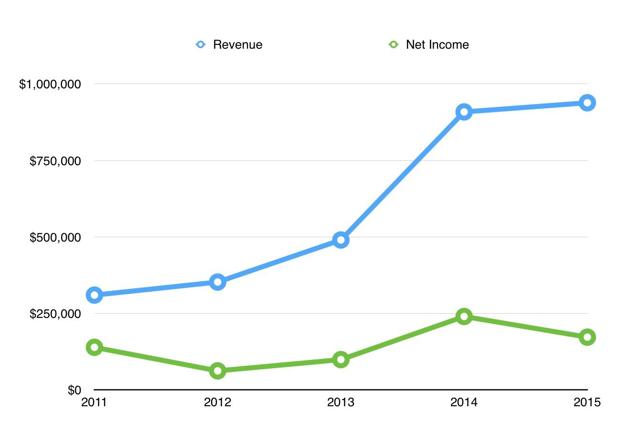 Created by Author
In the graph below, I looked at the FFO provided by WPC over the past five years, as well as the FFO of the first three quarters of its 2016 fiscal year compared to the same period a year earlier. Also included in the graph is the company's historical distribution. I included this to show whether or not management is paying out all of its FFO, a sign that would be negative in my mind since it would imply that management is not keeping cash aside for growth and/or for paying off debt. Thankfully, as you can see in the graph, this is not the case and management's payout has been reasonable, if not conservative.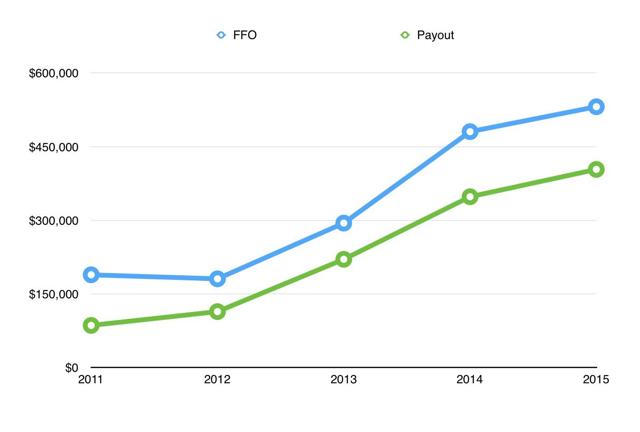 *Created by Author
So far, so good. However, there is one thing regarding WPC that I am a bit wary of. The risk regarding the REIT structure, in my opinion, is that the requirement to pay out at least 90% of profits to shareholders leaves management stuck between trying to grow the business and trying to pay out as much as possible to investors. This can lead to REITs taking on too much debt in order to grow while trying to maximize payouts. In the case of WPC, as you can see in the graph below, the firm's debt relative to its equity has increased quite a bit over the past few years and stands at over 125% today. I wouldn't say that this is a dangerous level, but the trend is disconcerting.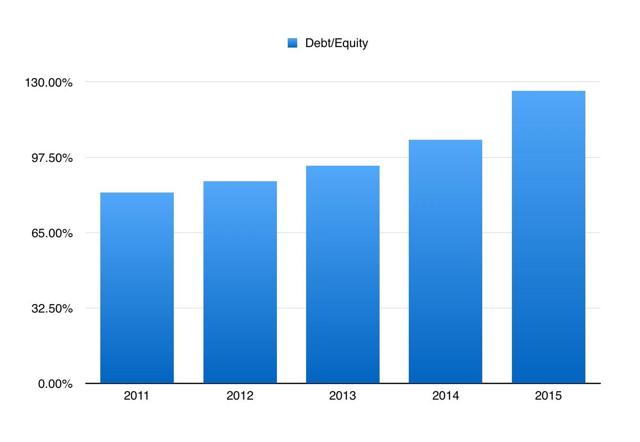 *Created by Author
Fortunately, even in spite of the high debt/equity ratio, its FFO/equity ratio has been improving in the process. What this means is that, even as the debt of the company has risen, its profitability relative to its book value has grown while its FFO/debt ratio has stayed fairly flat for the past four years. On the whole, this suggests that its debt picture is not terrible but investors should keep an eye out to make sure the company doesn't become overlevered, a move that could materially harm its distribution in the long run or even hurt its value as a business.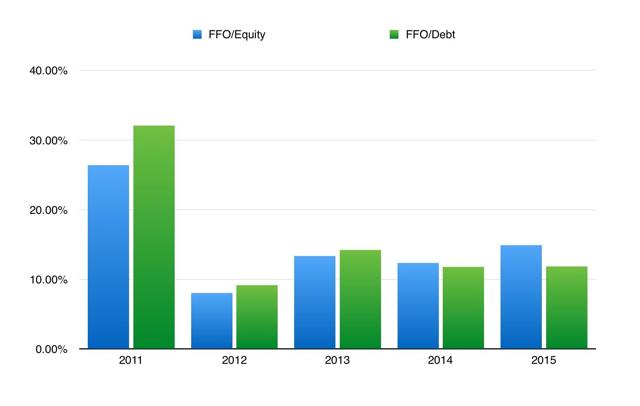 *Created by Author
Takeaway
At this time, the picture facing WPC is pretty positive. With a nice distribution of 6.3% and an impressive operating history, it's hard not to like what I see, especially when you add to this its quality assets and growth over time. I am a bit concerned about its debt picture, especially if the picture continues to worsen over time, but it's not so bad that I would elect not to buy it solely for that reason.
Disclosure: I/we have no positions in any stocks mentioned, and no plans to initiate any positions within the next 72 hours.
I wrote this article myself, and it expresses my own opinions. I am not receiving compensation for it (other than from Seeking Alpha). I have no business relationship with any company whose stock is mentioned in this article.