As a growth and income investor, I make portfolio adjustments slowly and prudently that are consistent with my current outlook for rising: interest rates, inflation, corporate earnings, and economic growth.
First and foremost, a macro assessment of the variables that drive my investment choices is needed. I currently expect economic growth as measured by GDP to be around 2.5% for 2017, maybe a little higher should some fiscal stimulus arise. I expect headline inflation, as measured by the consumer price index, between 2.25% and 2.50% YoY. I am anticipating two increases in the Federal Funds rate, maybe three. I presume the 10-year Treasury note to yield 3% at the end of 2017. WTI crude oil is expected to trade from $55 to $60 a barrel. Henry Hub spot natural gas price is expected to trade around $3.55/MMBtu in 2017. I see corporate earnings, as represented by the S&P 500, growing by at least 10% as compared to 2016.
A good macro analysis includes a basic equity sector analysis. I performed a basic sector analysis in a previous article during December 2016 to note which five sectors of the equity market were responding well to rising: inflation, interest rates, economic growth, and higher projected corporate earnings.
Inflation, economic growth, interest rates, corporate earnings have all risen since July 2016. Currently, three of nine sectors represented by Financial Select Sector SPDR ETF (NYSEARCA:XLF), Industrial Select Sector SPDR ETF (NYSEARCA:XLI), Technology Select Sector SPDR (NYSEARCA:XLK) have returned more than the S&P 500 ETF (NYSEARCA:SPY), since July 2016, despite a 107-basis-point rise in Treasury yields.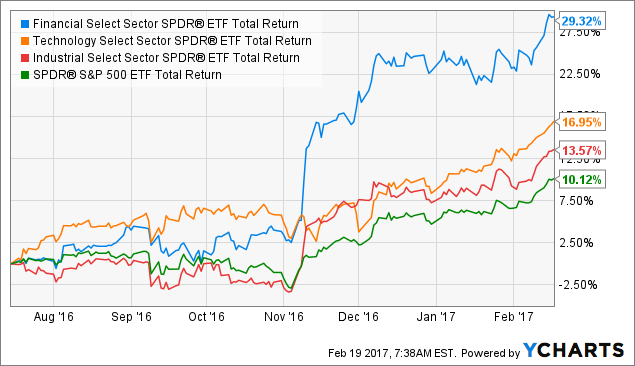 The following six ETFs XLE, XLP, XLV, XLB, XLU, XLY have not returned as much as the S&P 500 since July 2016.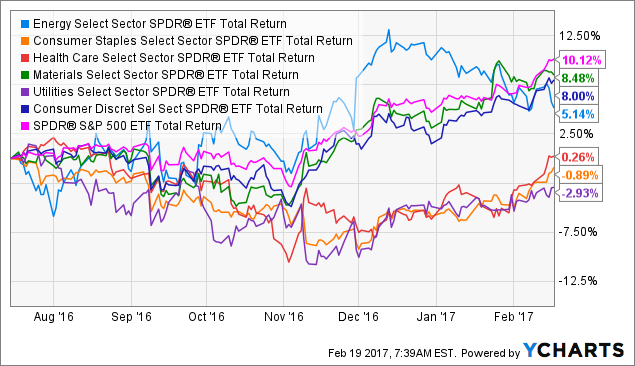 The chart below contains ETFs that represent some interest rate sensitive asset classes. As you can see, these classes are not attractive in a rising interest rate environment. Not even corporate bonds represented by ETFs: VCIT, VCSH or preferred stock ETF (NYSEARCA:PFF) are providing attractive returns.
These short-term observations are not to suggest these asset classes should be eliminated entirely, because they provide ballast, diversification, and dampen portfolio volatility. However, the long duration Treasuries EDV, TLT, IEF are at considerable risk for more downside should interest rates continue to rise.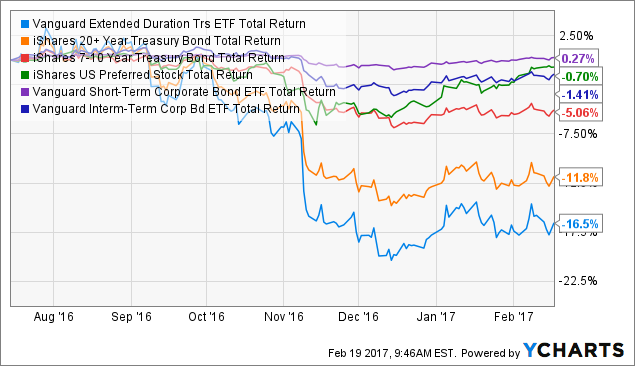 Traditional banks such as JPM, C, BAC, WFC, UBS have clearly provided nice returns for investors in this rising interest rate environment as investors expect even higher interest rates in the future based on possible economic stimulating fiscal policy and a perceived reduction in burdensome bank regulations.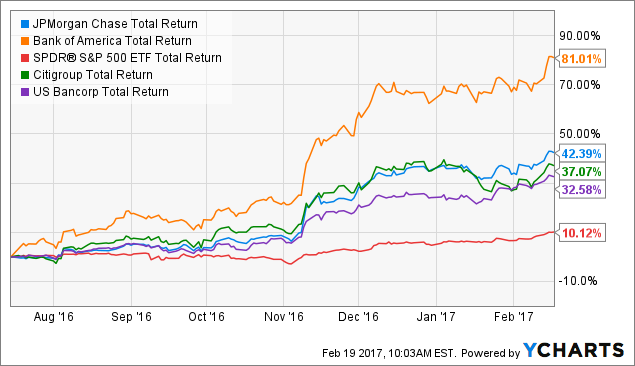 The following ETFs FNCL, IYF, KRE, represent a composite of financial and insurance stocks.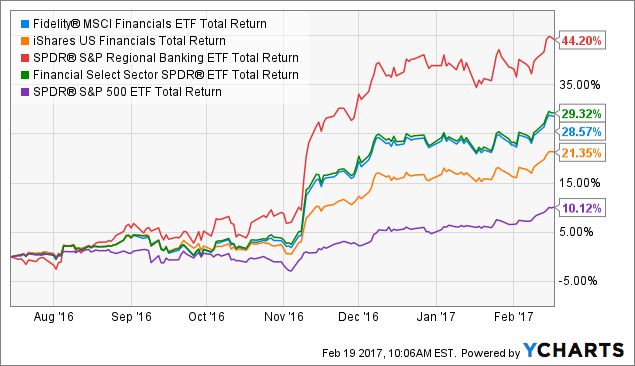 Financial services and insurance companies PNC, MET, LNC, AIG have notably responded well to rising rates, possible future fiscal stimulus and less burdensome regulation. Especially notable is the re-pricing of banks, financial services and insurance companies after the November election. The risks appear to be on the downside in these groups should investors' lofty expectations for fiscal stimulus and more favorable regulations not be met.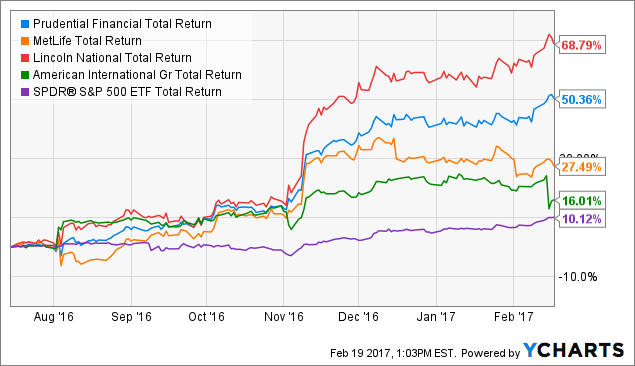 The real estate sector represented by ETFs VNQ, IYR, ICF, RWR have returned less than the SPY. It is no surprise this sector is considered a bond proxy by many. For a more comprehensive study of the effects of rising interest rates on the real estate sector, see the articles of my colleague: The Fortune Teller.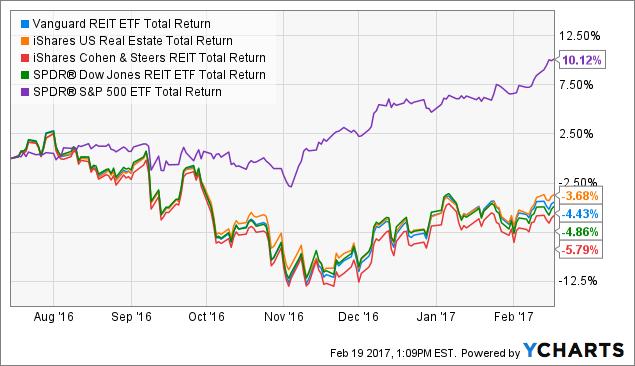 Bank loans are another group of assets responding well to rising interest rates. Bank loans are generally below investment grade and rated BB or B mostly. The higher the credit quality of the portfolio of bonds, the lower the yield.
Senior bank loans have rising interest rate protection inherent. Loans are structured with a floating interest rate based on LIBOR to protect the issuer from rising interest rates and inflation. For example, a bank's interest rate charge is LIBOR + 6%, and supposing that LIBOR is 2%, then the loan interest rate is 8%. The loan rates are adjusted periodically according to a set schedule.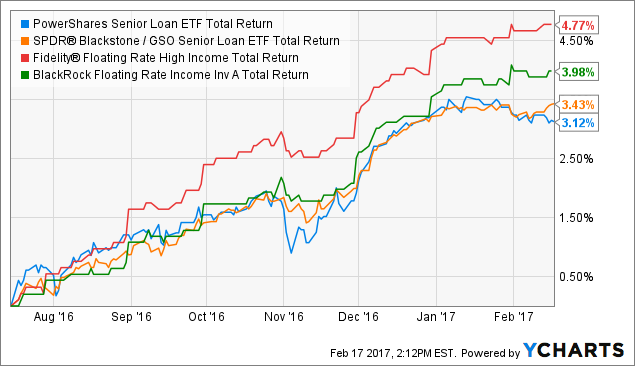 High-yield bonds are producing returns for investors over the period of rising interest rates. The average return for these five funds is 5.8% over a seven-month period. High-yield bonds generally perform during rising economic health as credit defaults should be minimized. However, these bonds can get volatile to the downside during times of financial stress as in 2015 and early 2016.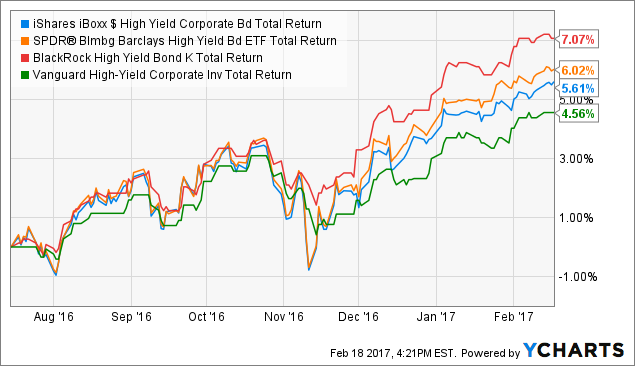 Business development companies, BDCs, allow investors to participate in the debt and equity instruments of what are largely private companies. They are registered investment companies that must distribute around 90% of their profits to shareholders effectively providing a high yield.
High-quality BDCs generate, in part, floating rate senior loans that are below investment grade and are considered to have between B and CC credit ratings. Because loans are floating rate, they have rising interest rate protection inherent. However, because of their lower bond credit ratings on loans, there is a higher risk of default, especially in a weak economy.
I used an ETN, ETF, and four of my own holdings ARCC, SUNS, MRCC, NEWT to gauge the response to rising interest rates. This group is responding well to rising interest rates. I would caution on individual company selection since there are many companies in the sector that are not performing well, some are cutting or not "covering" dividends and have decreasing net asset values.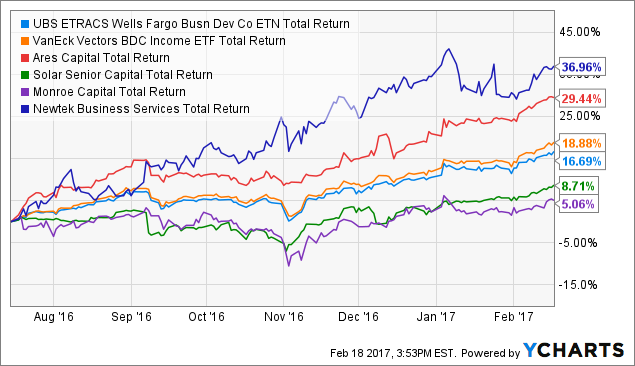 Mid-stream energy-based master limited partnerships ("MLPs") are performing very well during this current period of rising interest rates.
MLPs are not considered bond proxies. MLP yields have a low correlation to rising 10-year Treasury yields. As such, they have performed well historically against rising interest rates. I wrote an entire article in a previous post on the historical performance of MLPs against higher interest rates and inflation.
Although the broader energy complex in the context of oil and natural gas companies has retreated, midstream master limited partnerships, represented by Alerian MLP index, have risen notably.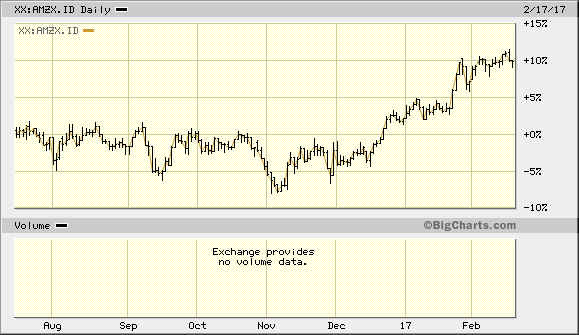 Source: BigCharts
There are many very good investment vehicles to take advantage of these high-yielding equities in addition to direct MLP unit purchase. These instruments provide a simple vehicle to avoid dealing with K-1 tax report filing.
Exchange-traded funds AMLP, MLPA, MLPX, EMLP, MLPJ, AMZA for MLPs returned an average respectable 10% over the seven-month period.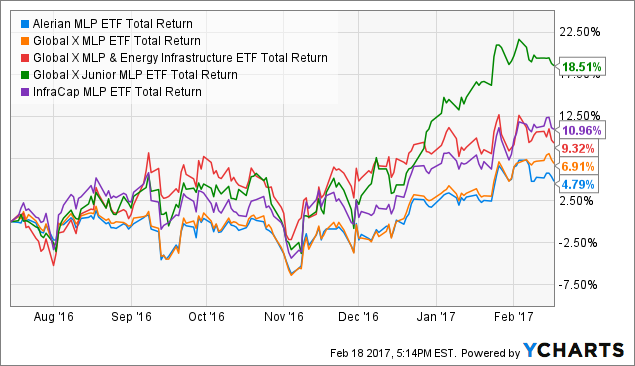 Closed-end MLP funds have performed even better than their ETF counterparts. The average return for this grouping is 24%. Closed-end funds TYG, TTP, KYN, NTG, FEN, FEI are well managed and generally employ leverage to reach these returns. These funds also avoid K-1 tax report filing. For an overview of MLPs' role in the energy transportation value chain, as well as an energy outlook for pipeline assets, see my article here.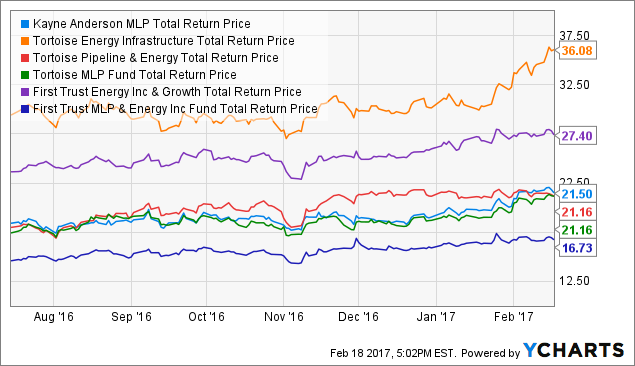 My own MLP holdings include: TEP, SXL, EQM, TGP, GMLP, EPD, MPLX, SEP, PSXP. This group, on average, is responding well to rising rates as expected.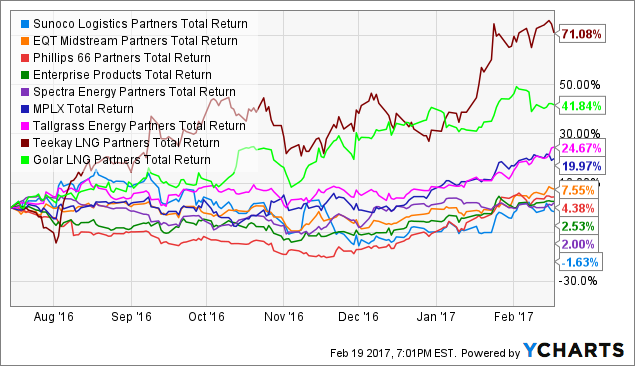 I am, in large part, an income investor; however, I tilt my portfolio holdings towards stocks that I believe will participate in expanding gross domestic product (NYSEMKT:GDP) as well. I like to gain capital appreciation as well as hedge my interest-rate sensitive assets with those that can grow with GDP. This is not an inclusive list of all my holdings, but merely a showing of how these plays are performing in a slowing rising interest rate environment.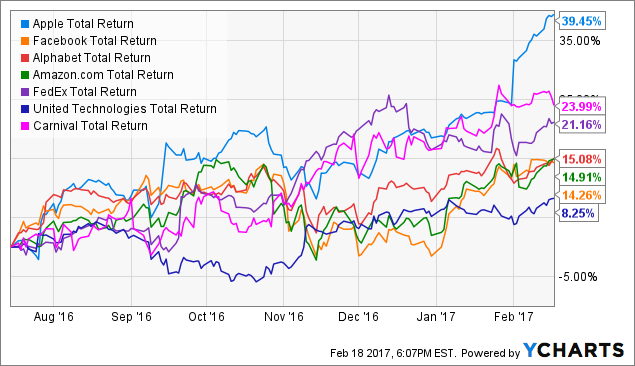 I periodically run this exercise every two months to keep aware of groups that are responding well to the current and projected macro environment. This allows me to tilt my holdings slightly away from groups that are expected to underperform and towards groups that are expected to perform well.
I have tilted my holdings to a generous weighting in: financials, BDCs, bank loans, high yield bonds, MLPs, industrial, consumer discretionary, and technology. I am now underweight to equalweight: utilities, consumer staples, real estate, and sharply underweight government bonds.
I always maintain a diversified portfolio because it is difficult to predict consistently which asset classes will perform in the future. Many times the asset classes that perform well in the first-half of the year give way to another set of asset classes in the second-half of the year.
Many of the asset classes mentioned in this article have had good price appreciation in the last seven months. A good deal of favorable expectations about the economy, energy prices, fiscal stimulus and reduced environmental and financial regulations are priced into these assets.
My forward view is: interest rates are likely to continue rising slowly throughout the year. I expect these asset classes that are responding well to rising interest rates to continue performing.
The scope of this article only includes the time-frame from July 2016 to February 17, 2017. Obviously, this is a short-term observation to understand the asset classes that are responding favorably to higher interest rates and inflation as well as economic growth and higher projected corporate earnings.
These short-term observations should be placed in the very important historical longer-term context for each asset class. The longer-term performance of each asset class is a key aspect of accumulating wealth, and large shifts in asset allocations, because of short-term observations, should be avoided. Smaller tactical shifts in asset allocations are generally recommended.
However, I am waiting for a catalyst to re-price some of these assets lower for adding to positions. Every year, there seems to be a catalyst that lowers asset prices. Last year brought financial stress related to plunging crude oil prices in the early part of the year. Then, BREXIT caused volatility and asset re-pricing mid-year. A catalyst may arise from an unpredictable U.S. president, or upcoming populist elections in Europe, which may upset the traditional political balance and introduce volatility into the markets.
I am planning this same exercise in two months henceforth. If you would like to follow along, hit the follow button above to receive notifications of my new articles.
Disclosure: I am/we are long XLF, XLY, XLI, JPM, FFRHX, VWEHX, SUNS, MRCC, NEWT, ARCC, TEP, SXL, EQM, TGP, GMLP, EPD, MPLX, SEP, PSXP, AAPL, FB, GOOGL, AMZN, FDX, UTX, CCL. I wrote this article myself, and it expresses my own opinions. I am not receiving compensation for it (other than from Seeking Alpha). I have no business relationship with any company whose stock is mentioned in this article.
Additional disclosure: This article is intended to provide information to interested parties. As I have no knowledge of individual investor circumstances, goals, portfolio asset mix, diversification. Readers are expected to complete their own due diligence before purchasing any stocks mentioned or recommended. I am not a certified market technician.

Investing in public securities is speculative and involves risk, including possible loss of principle. The reader of this article must determine whether or not any investments mentioned in this article are suitable for their portfolio, risk tolerance and accepts responsibility for their decisions.