Thesis:
Energous (NASDAQ:WATT) could potentially have zero competition for long-range wireless charging in the consumer electronics market. The consumer electronics market is expected to grow to $838 billion by 2020, according to Grand View Research. If, and this is a big if, Energous receives FCC approval for their proprietary wireless-charging technology they could dominate wireless-charging in the consumer electronics market. Also, they are poised to enter other markets:
Medical devices - CVR Medical
Hearing aids - SK Telesys
Smart ID cards - SK Telesys
Anything else in the world with a battery or electric wire that can be used with 5.5 watts of power or less.
The reason I say zero competition is because there is no long-range wireless-charging technology available today. There are companies with close-range and up to "several feet" charging that are working on getting their technology in the hands of consumers already. However, there is nothing for charging up to 15 feet away from a base station, such as Energous' FCC pending WattUp. For a list of other companies working on all types of wireless-charging check out this article, there's quite a few. The big sell for Energous is the fact that they could be first to market in what many refer to as "practical" long-range charging, i.e., charging further than centimeters to three feet away from base stations. First-to-market would give Energous the ability to build out their infrastructure before competitors - think base stations in homes, cars, coffee shops, airports, etc. If a competitor were to jump ahead of Energous in bringing their long-range charging to market first it would be hard to play catch up. But it would be a surprise because no one else has shown off their tech in action and applied for FCC approval.
Valuation:
Because there are so many different electronic component companies, there is no way to compare company A to company B. Electronic component companies have to be compared against peers that have similar technology and end markets. This presents a problem valuing Energous because there is not a long-range wireless-charging end-market/company as of today. However, a good peer comparison for Energous is CEVA, Inc. (NASDAQ:CEVA), the largest licensor of digital signal processing technology. CEVA chips are used in many of the end markets that Energous is seeking. CEVA is similar to Energous because they are the largest licensor of their respective technology in a niche market. CEVA has competition to deal with despite their leading position in digital signal processing. If Energous' WattUp technology is approved by the FCC, they would have zero competition for so-called "practical" wireless charging, arguing for a higher valuation than CEVA. Because of Energous' first-to-market position, no other long-range wireless-charging technology in the market, and growing patent portfolio, the company could find itself in an extremely rare position of zero competition and extremely high growth.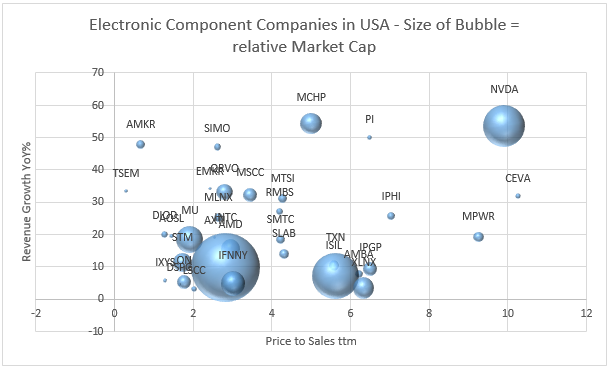 Other than waiting for FCC approval, Energous is waiting to reveal a partner that is a top-10 consumer electronic company. Many have speculated the unknown company is Apple (NASDAQ:AAPL) without any proof. When the CEO of Energous has been asked what the unknown partner is, he says he is unable to say what company it is. Apple has never stated or even hinted that they have a relationship with Energous.
Let's run a just-for-fun, hypothetical best-case scenario for Energous, which assumes Apple is the unknown partner, with the understanding that Apple only has a 10% chance to be the partner at this point in time. There is no way to know who the partner is for sure:
Apple sold 212 million iPhones and 43 million iPads in calendar year 2016. Forget about their other devices for now. Being conservative, assume Apple sells 250 million devices, iPhones, iPads, Watches, Computers, etc., in the first year it uses Energous' chips. Looking at prices paid to other chip manufacturers it is possible Energous could receive up to 5$ per chip, given the intellectual property revolving around WattUp. However, there is no way to know for sure what price they would receive. Let's explore five different price-per-chip scenarios and a range of valuation scenarios, analyzing the affect each could have on the value of Energous shares: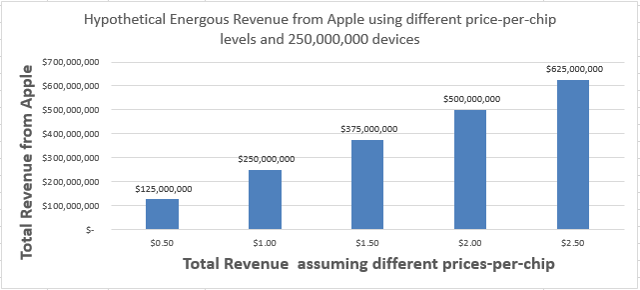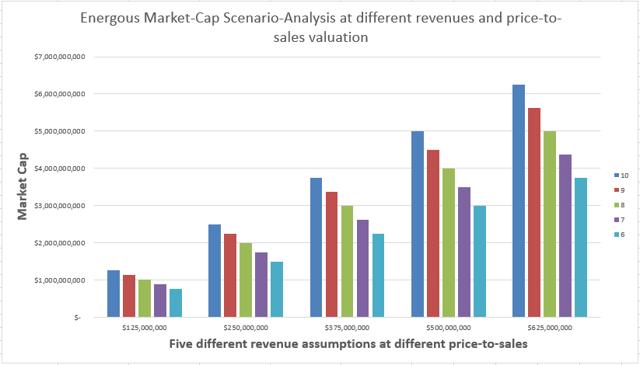 Given potential expansion into every device that uses 5.5 watts or less, the growth possibilities are endless. High expected growth should put a floor on next-twelve-months price-to-sales of at least 6x. However, Energous could have a similar price-to-sales to CEVA, at ~10x.
Even the highest market cap in the hypothetical, $6.25 billion, is nothing to brag about in the land of Apple parts suppliers. This merely gives Energous' market cap further room to grow if they are lucky enough to be partnered with Apple. Here's a look at where Energous would fall with a hypothetical $5 billion market cap.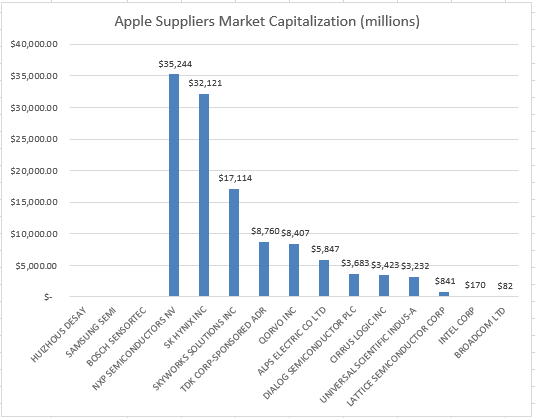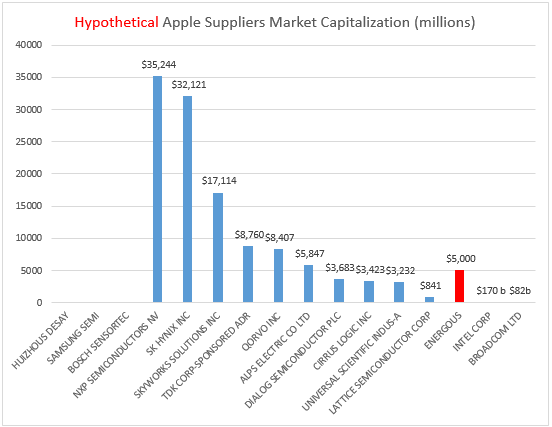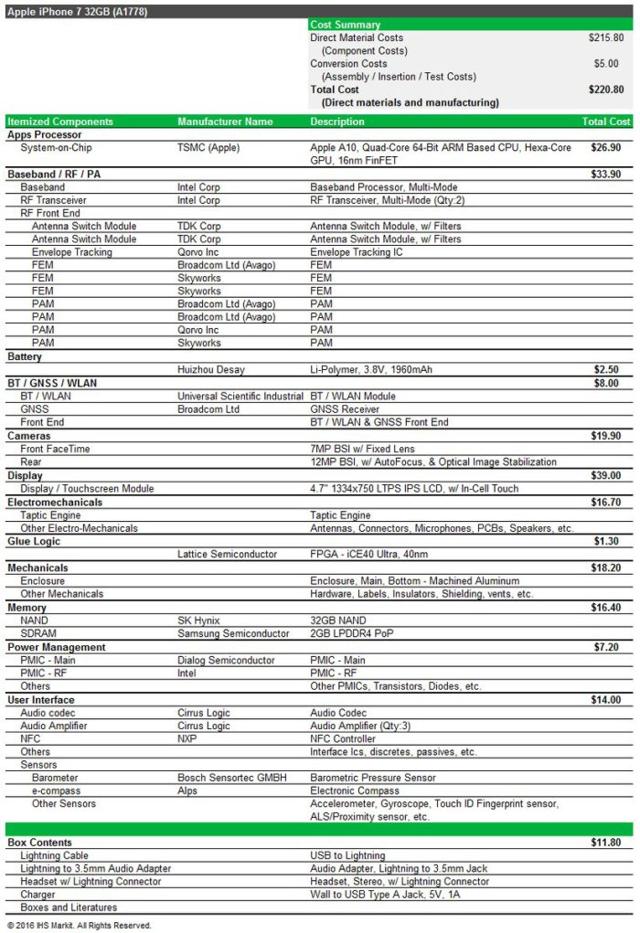 Potential timeline for seeing Energous chips in the market:
It is possible that Energous' chips could show up in Apple/Partner's devices before the FCC approves mid and long-range charging given recent FCC approval of its contact based charging. The three charging ranges that Energous is seeking FCC approval:
contact based (already approved)
mid-range
long-range
All of these different charging ranges use the same chip - a very important detail. If partners have faith the FCC will approve the mid-range technology (it is widely believed if the FCC approves mid-range then long-range will be approved as well at a later date) they can put the chips in their devices ahead of approval. All the typical plug-in charging capabilities will still be included as well. Essentially these companies have nothing to lose, even if mid-range charging is never approved. The device tear-down websites will cover the news about the Energous chips and explain that the FCC has to approve the charging technology before the wireless-charging base stations can be sold. If WattUp is approved, partners would want their devices to be backward compatible.
I need to emphasize the possibility that the FCC does not approve Energous' WattUp mid-range technology. It is speculation when forecasting what happens either way.
How to read between the lines of existing partnerships:
I find it funny the attention some market participants have received who make unsubstantiated accusations that WattUp technology will not be approved because of a mandated safe harbor risk statement referenced on the Company's 10-k and extrapolating it into melting humans. I have no idea if WattUp technology will be approved by the FCC based on the inner-workings of the technology and science surrounding it. However, I bet Dialog (Energous' chip-manufacturing partner) employees, Dr. Jalal Bagherli, Vivek Bhan, Abdulahad Khan and Amit Bavisi, know the inner-workings and science, not to mention other Dialog team members that were not as easily findable on the Dialog Company Website and LinkedIn. These team members and other Dialog expert employees gave the thumbs-up for WattUp's chance at FCC approval to the tune of a $10 million investment into Energous and spending the time/resources to produce their products. Don't forget: Pegatron (Energous' device manufacturing/design partner) went through the same due diligence. Also, If Dialog's and/or Pegatron's due diligence efforts were lengthy, just imagine the scope of one of the top ten consumer electronics company's due diligence. Lastly, is it a coincidence that Apple is the largest customer of Dialog and Pegatron…?


The point to highlighting the due diligence efforts of these existing partners is to show that there are some industry professionals who believe WattUp will be approved by the FCC. Obviously, there would not be so many partnerships forming before FCC approval if there was doubt amongst current partners.
FCC approval presents binary event:
Longs and shorts of Energous can argue about who the unknown partner is, but the future for Energous comes down to FCC approval for their mid-range charging. According to the company, they expect an FCC ruling in the 3Q of 2017. If the FCC shoots down WattUp as unsafe, Energous' value is zero plus the net value of patents after paying salaries/creditors, probably negative at that point. A binary unlocking value event, or value-destroying event, such as Energous' pending FCC ruling, doesn't come around too often, especially a binary event that the options market is underpricing. For example, Puma Biotech (NYSE:PBYI), a small biotech company, has two binary events ahead, binary events that will significantly move the price of the company's stock depending on the outcome:
Roche (OTCQX:RHHBY) is awaiting approval of a competitor drug, estimated to be sometime in Q1 '17. Approval of Roche's drug = bad for Puma's competing drug that is still under review by the FDA. Non-approval of Roche's drug = positive for Puma's competing drug.
Puma is awaiting approval of their own drug, phase three results are expected sometime in the 1H '17. Approval of Puma's drug = good. Non-approval = bad.
Professional analyst estimates for the price of Puma's stock varies depending on the results of these two binary events, from ~$15.00 to ~$140.00. Based on a current stock price of $37.00, these predicted price moves range from down 60% to up 370%. It is no surprise that the options market is pricing in big moves for Puma. The point of the Puma example is to compare options prices of a company to Energous that also has binary events. Energous' two binary events are:
FCC approval of mid-range charging.
Revealing the unknown consumer electronic company partner.
Analysts estimate a potential 370% move for Puma if the bull case plays out. Given the two pending news releases for Energous the options market has to be pricing in huge moves, right? Not exactly. Here's a table showing January 18th 2018 options prices for both Puma and Energous: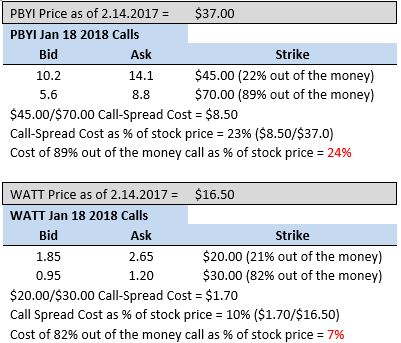 Above is a breakdown of the cost of similar out of the money options and call-spreads for both companies. What stands out is the Energous 82% out of the money calls are 7% of the stock price, while Puma 89% out of the money calls are 24% of the stock price. The price of Puma calls are understandable, but the cost of Energous calls are ridiculously cheap considering the possible upside if the bull case of FCC approval and Apple as a partner comes to fruition.
Haters gon' hate:
Forget about the sales potential (and upside to the stock) if the FCC approves the mid-range charging and the partner turns out to be Apple. Look at the short interest in Energous in the chart below. Somehow Energous has been able to keep a rising trend in the face of 5.5 million shares sold short over the past three years, the majority of the sales coming in the last two years. These short shares represent an astounding 35% of float. What happens if the FCC approves the mid-range charging?

The trade:
Out of the money Jan 18th 2018/2019 Calls are a great way to play Energous' upside potential. Even though I always like to use call spreads, this is a unique opportunity to buy single calls. I like the $30 Jan 28, 2018s and/or 2019s - the January 2018 expiry should capture the FCC's decision on WattUp as the company expects results by September 30, 2017, but the 2019s are sure to capture that decision and possibly the partner reveal. These options strategies will be a total loss of capital if Energous is <$30.00 at expiration - be careful!
Even though I prefer buying calls and long stock positions, an alternative strategy that can profit either way the FCC rules is to sell shares short and use the proceeds to buy calls. For example: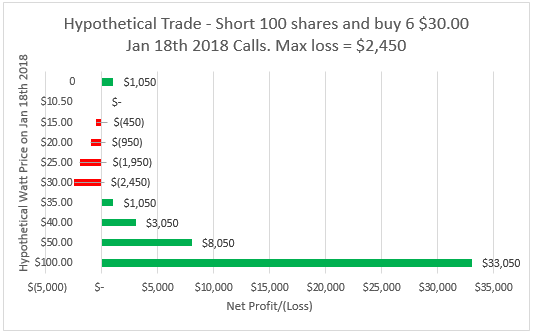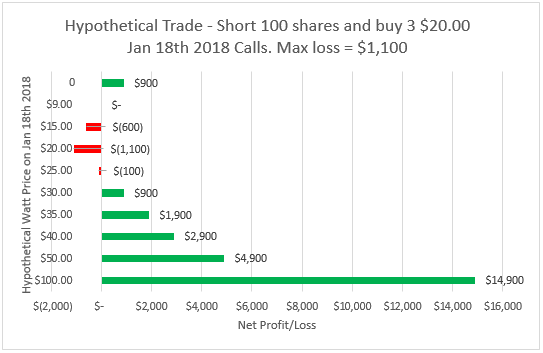 These alternative strategies can prevent short sellers from starting a GoFundMe Page, but also presents a strategy for someone that wants to play both sides.
Outlook and time table:
I am as bullish as an investor can be on Energous. I think they can achieve a net $2.00 per chip from partners and achieve a next-twelve-months price-to-sales ratio similar to CEVA of 10x. Even though there's no way to know for sure, I think they will receive FCC approval and the unknown partner is Apple - see my timeline mosaic at the end of the report for my reasoning. As far as the timetable goes, look no further than comments from Energous management: While difficult to predict with certainty, the company anticipates FCC approval in time to support mid-range WattUp-enabled transmitters to be commercially available by the end of the third quarter of 2017, and they advised that the long-range WattUp transmitter design, which will enable a charging zone of 15 feet, is targeted for integration into partner products as early as the end of 2017.
It is likely then, according to management, that results for pending FCC approval for mid and long-range charging will be known by the end of 2017. Although I wouldn't be surprised if long-range got pushed back in 2018. It is likely the now unknown partner will be known when partner products are sold with long-range charging. Thus, the investment horizon is towards the end of 2017 to the middle of 2018.
Mosaic:
Lastly, here is my mosaic-timeline-theory that explains why I truly believe the partner is Apple and the FCC will approve WattUp mid-range charging.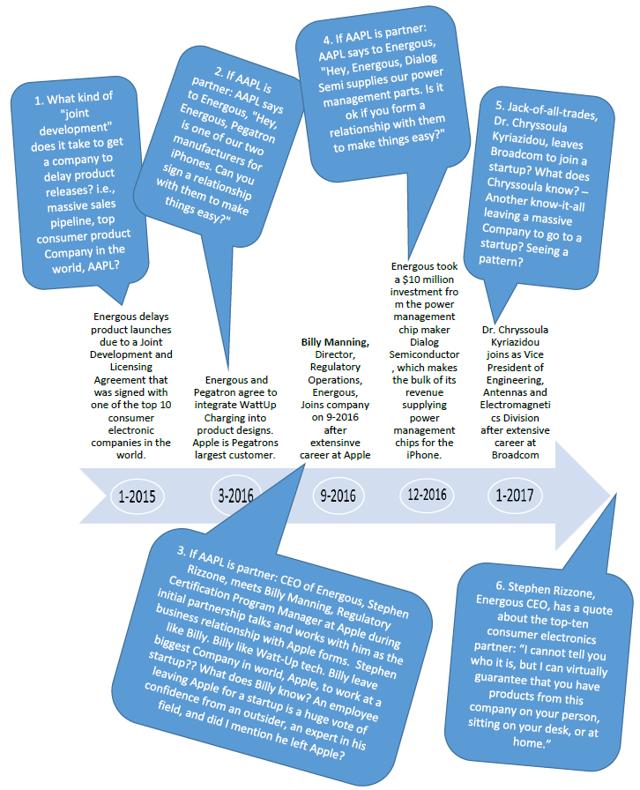 Disclosure: I am/we are long WATT.
I wrote this article myself, and it expresses my own opinions. I am not receiving compensation for it (other than from Seeking Alpha). I have no business relationship with any company whose stock is mentioned in this article.
Additional disclosure: I am also long WATT calls