When A Black Swan Isn't A Black Swan
Includes:
BXUB, BXUC, CRF, DDM, DIA, DOG, DXD, EEH, EPS, EQL, FEX, FWDD, HUSV, IVV, IWL, IWM, JHML, JKD, OTPIX, PPLC, PPSC, PSQ, QID, QLD, QQEW, QQQ, QQQE, QQXT, RSP, RWL-OLD, RWM, RYARX, RYRSX, SBUS, SCAP, SCHX, SDOW, SDS, SFLA, SH, SMLL, SPDN, SPLX, SPSM, SPUU, SPXE, SPXL, SPXN, SPXS, SPXT, SPXU, SPXV, SPY, SQQQ, SRTY, SSO, SYE, TALL, TNA, TQQQ, TWM, TZA, UDOW, UDPIX, UPRO, URTY, USA, USSD, USWD, UWM, VFINX, VOO, VTWO, VV, ZLRG
by: The Heisenberg
Summary
How rare is a large selloff in stocks?
It's a simple question that we probably don't ask enough.
In the current environment, many investors might be inclined to say that given prevailing conditions, a sizable drawdown is unlikely.
One bank "decided to test that."
In the immortal words of the A-Team's John "Hannibal" Smith: "I love it when a plan comes together."
It's always nice when posts essentially write themselves, and it's even nicer when confirmatory research pops up unsolicited in your inbox.
As I'm fond of reminding folks, "confirmatory" research ceases to be "confirmatory" if you search it out. That's why I never use the "search" bar in any of the databases I frequent. It's also why I subscribe to research from the analysts I hate just the same as I subscribe to research from the analysts I love.
Well, as the Heisenberg crowd is no doubt acutely aware, I've been talking a lot lately about the chances of a large drawdown in pretty much everything. Rates, credit, equities - all of it.
The arguments for i) a sharp (and by "sharp" I mean even sharper than we've already seen post-election) repricing of nominal yields and ii) significant spread decompression in both investment-grade and high-yield corporate debt are more nuanced than the argument for why stocks (NYSEARCA:SPY) are due for a correction.
The case for an equities selloff is pretty straightforward: we're stretched on almost every metric you care to consult, volatility is unsustainably low, and if volatility should spike, programmatic selling by risk parity, volatility targeting strats and CTAs will exacerbate the drawdown. Throw in rising political uncertainty and an indeterminate time table for tax reform and fiscal stimulus and you've got a recipe for disaster.
Of course, there's always the "greater fool" theory of investing which, according to Goldman, may be as good a reason as any to stay long stocks.
Ok, so with that as the backdrop, let's get back to "confirmatory" research and loving it when a plan comes together.
When I got back to the desk on Monday evening after a fairly tranquil afternoon (I say "fairly" because there's only so much tranquility to be had after a half dozen espressos and the nicotine infusion from a couple of good cigars), I was delighted to see a new note from Morgan Stanley entitled "How Likely Is A Major Equity Drawdown?".
The answer it turns out is "more likely than you might think." Consider the following brief excerpts (my highlights):
We often hear "a large sell-off is unlikely, based on the levels of 'X'". We decided to test that: A 15%+ correction for the S&P 500 within 12 months occurred around ~20% of the time when a wide variety of indicators were at the same levels they are now. That's close to average, but higher than options markets imply.

Don't forget, the probability of a 15%+ drawdown over ANY 12-month period is 18%: We think investors underestimate the unconditional probability of a major drawdown (defined here as a 15%+ decline from current prices within a year).

What's worrying? Year-over-year changes in oil, real yields and the level of jobless claims are all consistent with a 30%+ probability of a 15%+ drawdown over the next 12 months.
So there's not a whole lot there that admits of any ambiguity, but like a lot of you, I like my research better when it's accompanied by pretty pictures.
Here are some visuals from the above cited note: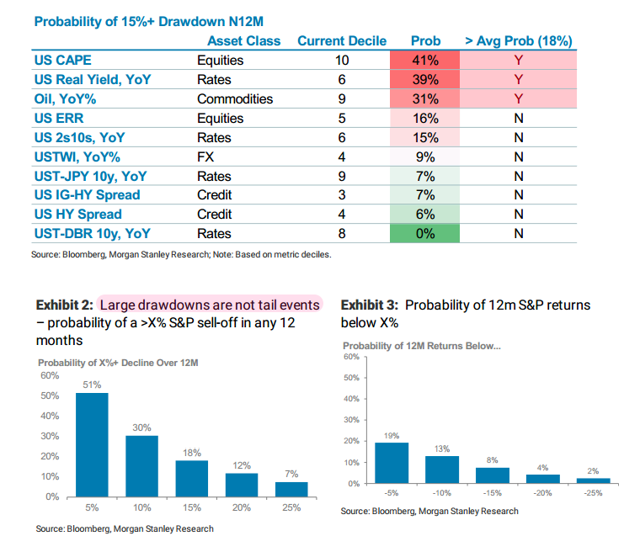 (Charts: Morgan Stanley)
See the bit in Exhibit 2 that I highlighted in pink? That's critical for you to internalize. Big selloffs are not, contrary to popular belief, tail events.
This is probably as good a time as any to remind you that when it comes to diversifying large equity drawdowns, you desperately need the stock/bond return correlation to be negative.
That is, if stocks are falling, you really need bonds to be rallying (yields falling). Otherwise, you're completely out of luck. For those who might have missed it, the following table from Goldman illustrates this point beautifully (note the green highlights):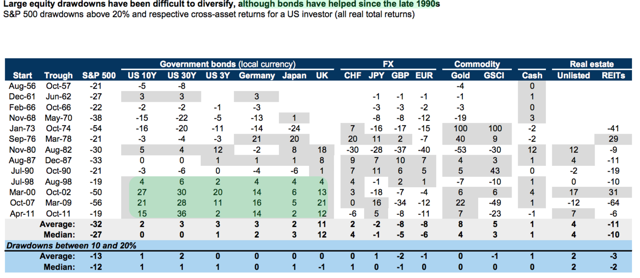 (Table: Goldman)
Once again, I would ask you to consider where yields currently sit when you implicitly assume (and that's what you're doing if you've got a portfolio that's part stocks, part bonds) that Treasurys will help cushion the blow in the event stocks do correct.
To wrap it up (I'm on a conciseness roll today), the takeaway from the Morgan Stanley piece excerpted above is simple: that selloff you thought was a black swan really isn't a black swan.
Disclosure: I/we have no positions in any stocks mentioned, and no plans to initiate any positions within the next 72 hours. I wrote this article myself, and it expresses my own opinions. I am not receiving compensation for it (other than from Seeking Alpha). I have no business relationship with any company whose stock is mentioned in this article.