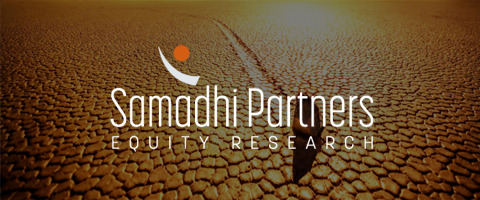 In this edition of the Samadhi Brief, we're taking a look at some interesting recent earnings announcements and highlighting a few tech sector moves that caught our eye. Contributing authors: Fred McClimans & John Freeman.
Earnings...
TripAdvisor Trips and Stumbles. TripAdvisor (NASDAQ:TRIP) released 4Q 2016 earnings on Feb. 15, 2017, reporting revenue of $316m (+2.3% y/y) and earnings of $0.16/share, missing consensus estimates badly on both the top (by $10.5m) and bottom (by $0.15) lines. The stock dropped as much as 9% the following day. While disappointing, our long thesis remains intact on TRIP, based on its defendable, unique position in the online travel ecosystem and its ongoing business model shift toward Instant Booking. The rollout of Instant Booking appears to be a bit slower internationally than in the US, and we expect a significant push into brand marketing in 2017.
Ceva Posts 22% Annual Growth. Ceva Inc. (NASDAQ:CEVA) reported a nice 32% y/y uptick with $21.2m 4Q 2016 revenue, posting a healthy 22% annual y/y growth rate. We are increasingly positive on this "mini ARM" licensor of chip IP.
New Relic Increases Gross Margins. New Relic (NYSE:NEWR) released its 3Q 2017 financials, posting $68.1m in revenue (43% y/y) and EPS of ($.27), an improvement from ($0.37) y/y. Notably, gross margins were 81.46%, up from 79.59% y/y. NEWR continues to expand into attractive, adjacent areas. We believe its stock is also benefiting from the recent acquisition by Cisco (NASDAQ:CSCO) of competitor AppDynamics (at a significant premium).
Radcom Reports. Radcom (NASDAQ:RDCM) reported solid 4Q and FY2016 numbers, but slipped a bit on guidance that we consider overly conservative and that does not fully reflect the magnitude of its potential upside over the next 24 months. Q4 2016 revenues were up 196% y/y to $8.0m and FY2016 revenues were up 58% y/y to $29.5.
Microsoft Gets Cloudy. Microsoft Corp. (NASDAQ:MSFT) announced a solid Q2 2017, highlighting a commercial cloud annualized revenue run rate exceeding $14.0b. Revenue for the quarter was $24.1b, with EPS of $0.66. All signs point to MSFT gaining traction in the cloud business, with Azure adoption up to 34% from 20% last year.
In case you missed it...
Google Raves. Diane Greene, SVP of Google Cloud (NASDAQ:GOOG), raved about GOOG's cloud future at Goldman Sachs' Technology and Internet Conference. Greene, the founder and former CEO of VMWare (NYSE:VMW), touted the efficiency, security, and machine learning capabilities of its cloud platform as drivers for its ongoing push into the enterprise space.
Facebook Vs. LinkedIn. Facebook (NASDAQ:FB) announced it is releasing a new "jobs page" in the US and Canada, allowing users to seek employment and connect with recruiters directly on the social media platform. Could this be a LinkedIn competitor on the heels of FB's Workplace initiative?
BlackBerry Dips to Zero. A Gartner report showed BlackBerry (NASDAQ:BBRY) as having officially reached 0.0% smartphone market share. While an attention grabbing headline, we believe this is a good thing, allowing BBRY to focus on its key value, software and its IP portfolio.
Verizon Drones On. Verizon (VX) has acquired Skyward, a firm in which Verizon Ventures had previously invested. Skyward offers drone fleet management software, and will become part of Verizon's Airborne LTE Operations group, which is part of its IoT business. Of note: VZ already does approximately $1b in IoT-related revenue, and we see plenty of potential in providing both management and communications services for industrial drone fleets.
Oracle Downgraded. It was reported that Zack's Investment Research downgraded Oracle (NASDAQ:ORCL) from hold to sell this week, citing near-term profitability impacts due to the ongoing cloud transition as well as litigation concerns. Of note, ORCL was just hit with a $150m lawsuit this week, in which sales representatives are alleging that they were strong-armed into paying back commission money they had already received.
This comes after last week's news that ORCL filed a notice of settlement on Feb. 08, 2017, with the U.S. District Court in San Francisco, stating it had agreed to settle a lawsuit with Svetlana Blackburn, a former senior finance employee, who claimed she had been dismissed for being unwilling to "fit square data into round holes" when it came to Oracle's cloud-based revenue, potentially showing this revenue in a more optimistic light. The terms of the settlement have not been disclosed.
This case, brought last June 2016, highlighted one of the many challenges in understanding cloud revenue models: Not every firm defines cloud in the same way, and while software and services may be "offered via cloud," that does not always imply a true subscription-based business or revenue model.
For legacy software vendors that grew up in the "buy it, use it, depreciate it" enterprise market, answering the question of how cloud revenue is defined and calculated is surprisingly controversial.
Note, this case dealt with revenue recognition procedures and not unlawful activities, but underscores a larger issue facing Oracle, one involving the legacy commercial database market, which we believe is facing a rapid decline. For deeper insight into the demise of the commercial database market, and its potential impact on Oracle, see the companion piece The Death of the Commercial Database: Oracle's Dilemma.
Disclosure: I am/we are long BBRY, CEVA, FB, GOOG, MSFT, NEWR, RDCM, TRIP.
I wrote this article myself, and it expresses my own opinions. I am not receiving compensation for it. I have no business relationship with any company whose stock is mentioned in this article.
Additional disclosure: This information is intended as an informational newsletter only. No investment advice is offered. Samadhi Partners, a provider of equity research services and newsletters, is a commonly-controlled affiliate of Samadhi Capital Partners that offers a long/short and long-only strategy. Samadhi and/or its affiliates may have positions in stocks mentioned and/or traded in these names as of today. I am/we are short ORCL.