There is this to be said about the Many. Each of them by himself may not be of [much] quality; but when they all come together it is possible they may surpass the quality of the few best.
~ Aristotle, Politics (around 340 BC) via Arthur Herman, The Cave and the Light (2013)
The new president's first weeks in office confirmed that he will be unlike any president we've had since perhaps the 1980's. It began with his inauguration speech, in which he pledged America-first policies and giving power back to the people. He then shocked the public by actually delivering on his election campaign promises. The ensuing protests were a reminder that we live in a democracy, first described by Aristotle in Athens 2350 years ago. It's not new, and it works.
Still, we are likely witnessing a turning point in American - and probably world - history. This is not an abrupt shift to be anxious about, but perhaps a new chapter succeeding the previous while continuing under the same democratic principles. But what will this new chapter look like in our economy and markets? Here are three trends that a beginning to emerge.
1. Optimism surge.
Optimism surged among investors, business owners, and consumers alike, as I wrote in recent posts. The S&P 500 (SPY, IVV) rallied by 9% since the election. The NFIB's Small Business Optimism index is the most vivid example of surging business confidence (see chart) - its 11-point jump was the largest since the index began in 1986.
Business Optimism Index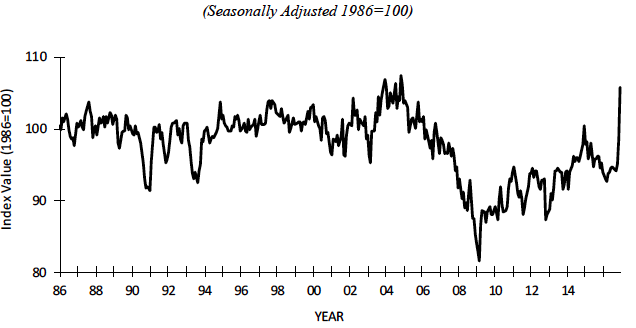 Source: National Federation of Independent Business
2. Higher inflation.
I wrote extensively about rising inflation pressures since mid-2016 (see here, for example). CPI inflation continued to rise in January, jumping to 2.5% (see chart), and core CPI, excluding food and energy, edged up slightly to 2.27%. As I wrote in previous blongs, the base effect from commodity prices was going to push total inflation to core - this has now happened. The 10-year Treasury yield, around 2.4% today, is below inflation rate - that is to say, no longer compensates for declining purchasing power of money. This suggests more upside for interest rates in the coming weeks. The market's expection of a Fed rate hike in March rose to 40% (I expect it to happen).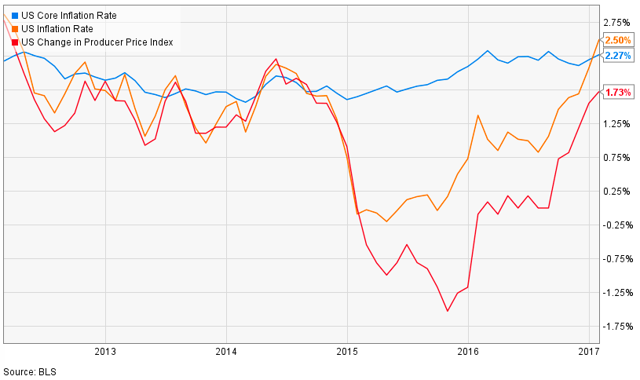 3. An up-shift in growth.
President Trump's team pledged to boost economic growth to 4% based on pro-business policies, lower taxes, and reduced regulation. Although it's too soon to tell, the widespread surge in optimism suggests that it might work. Higher consumer confidence is generally followed by higher spending, which accounts for 70% of our economy. We are beginning to see higher consumer spending: very positive retail numbers were reported last week by the Commerce Department. Sales rose 0.4% in January, more than 0.1% consensus in a broad-based advance. Excluding autos and gasoline, sales increased by 0.7%, the biggest gain since April. This followed a 1% gain in the prior month that was larger than previously reported 0.6%.
In closing, I'd like to leave you with this thought. The recovery since 2009 has been weak in many respects despite continued government deficit spending and life support provided by the Fed. With the policy rate still near zero and a record $20 trillion in debt, there was no reasonably good way of removing that life support. Then, the election of a Republican pro-business president provided a way out. Still not completely understood (given the divided political sentiment), the sudden and remarkably strong surge in optimism provided a positive outcome no one expected.
What it means to bond investors
In my last January blog, I wrote: "My expectation is for a move to 2.8% on the 10y, but unlike the Nov.-Dec. jump, I expect it be slow and volatile." Rates stayed in a range between 2.3% and 2.5% since then: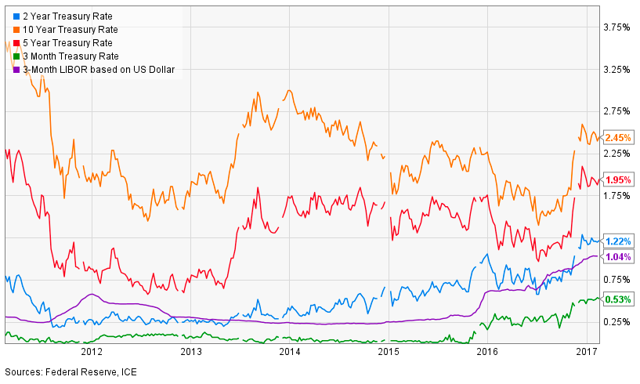 To active fixed-income investors (that is, those not satisfied with buy-and-hold approach) we continue to recommend maintaining portfolio duration well shorter than aggregate bonds (AGG, BND) in order to minimize exposure to rising rates. Our Tactical Income strategy stays invested in 2-3y corporate bonds (such as VCSH, SCPB). The strategy did very well in 2016 due to its minimal duration exposure.
We just reduced the portfolio's leveraged loan (NYSEARCA:BKLN) position from 40% to 20% consistent with our overall scaling back of risk exposure. Leveraged loans are senior secured floating-rate loans which means that they have minimal exposure to rising rates. However, high-yield spreads tightened significantly in 2016, and may widen (which means prices would fall) on any risk-off shift in markets.
Disclosure: I/we have no positions in any stocks mentioned, but may initiate a long position in VCSH, BKLN, SPY over the next 72 hours.
I wrote this article myself, and it expresses my own opinions. I am not receiving compensation for it. I have no business relationship with any company whose stock is mentioned in this article.
Additional disclosure: Disclosure: Roman Chuyan is the president and general partner of Model Capital Management LLC, a Registered Investment Advisor. This article is for informational purposes only. There are risks involved in investing, including loss of principal. Roman Chuyan makes no explicit or implicit guarantee with respect to performance or the outcome of any investment or projections made by him or Model Capital Management LLC. There is no guarantee that the goals of the strategies discussed in this article will be met. Information or opinions expressed may change without notice, and should not be considered recommendations to buy or sell any security.