It has been an eventful couple of months for the Canadian dollar (NYSE:FXC). Like many currencies, the Canadian dollar has been on a roller-coaster ride since Donald Trump won the U.S. election. It collapsed in December as the prospect of Trump's reflationary policies caused the U.S. dollar (NYSEARCA:UUP) to strengthen drastically. But the lack of a plan from Trump has since caused the U.S. dollar to weaken, allowing the Canadian dollar to recover in full. But what is next for the currency known affectionately as the loonie?
What has caused the recent volatility?
Much like the rest of the world's currencies, the Canadian dollar was directly impacted by Donald Trump's victory in the U.S. election. During his campaign, Trump talked up his plans to make America great again with a trillion-dollar splurge on infrastructure projects, a cut to the corporate tax rate, and a tariff on foreign goods. Doing so would almost certainly cause inflation to rise rapidly, resulting in at least three rate hikes by the Federal Reserve in 2017, in our opinion.
This is because if Trump does follow through on his infrastructure plans as we think he will, then it will almost certainly be funded through debt. By bringing more money into circulation, this will lead to general prices going up due to there being more money chasing the same quantity of goods. This in turn leads to inflation rising. Furthermore, we believe a tariff on foreign goods is likely to result in further price increases, once again causing inflation to rise.
But the fact that Trump has not outlined his plans yet and instead focused on immigration has many in the market concerned that there is no plan forthcoming. This lack of a plan has led to the U.S. dollar giving back its post-election gains, allowing beaten-down currencies like the loonie to rebound.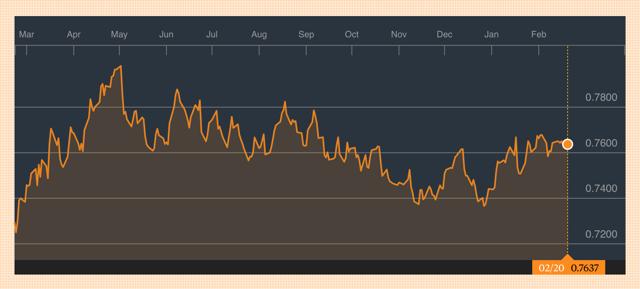 Sourced from Bloomberg
The commodity currencies such as the Australian dollar (NYSE:FXA) and the loonie were given a further boost in the last month by rising commodity prices. As commodity prices continued to increase due to sustained demand in China, these currencies were given some much needed support.
What's next for the Canadian dollar?
The next market-moving data release isn't too far away for the Canadian dollar. On Friday, Canada's inflation data for January will be released. If previous months are anything to go by, we believe the market could be expecting another miss.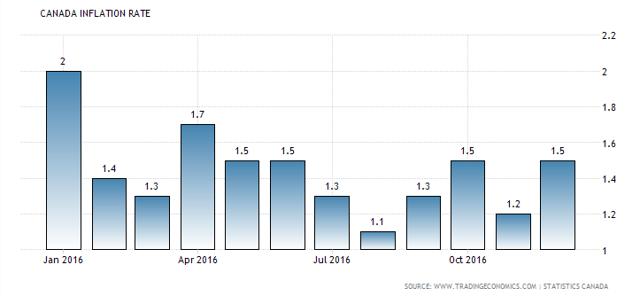 Sourced from Trading Economics
The current consensus forecast is for inflation of 1.6 percent, a slight improvement on last month and a step closer to the Bank of Canada's target rate of 2 percent. But for each of the last two months, inflation has come in lower than the consensus forecast, as shown below, causing the Canadian dollar to drop on the news.

Sourced from Trading Economics
Inflation of 1.6 percent is a level that is neither too high nor too low to start talking about rate hikes or rate cuts. But as we sense the market has already priced in a lower-than-consensus reading, we believe the Canadian dollar could jump to $0.77 if the data hits the consensus estimate. If the currency does strengthen, we think traders should use this as an opportunity to start a short trade because we feel confident that the long-term direction the currency will take is down.
Our long-term view is for a weaker loonie
Although it has been a long time coming, we remain confident that President Trump's plans on infrastructure, corporate tax, and border tax will be released within the next month and put into place soon after.
As we mentioned earlier, the inflation that these policies generate is likely to require several rate hikes by the Federal Reserve, possibly as soon as next month. Especially after U.S. Federal Reserve Chair Janet Yellen said last week, it may be appropriate for the central bank to raise interest rates sooner rather than later as "waiting too long to remove accommodation would be unwise, potentially requiring the FOMC to eventually raise rates rapidly, which could risk disrupting financial markets and pushing the economy into recession."
At present, the market has only priced in a 26.2 percent probability of three rate hikes in 2017, according to CME Group. Once the market starts to price in three rate hikes in 2017, we expect the U.S. dollar to surge higher against all major currencies and few more so than the Canadian dollar due to the potential yield differentials. We expect the loonie will fall down to the $0.72 level it tested at the start of 2016, as shown below. This is approximately 5.2 percent lower than the current exchange rate.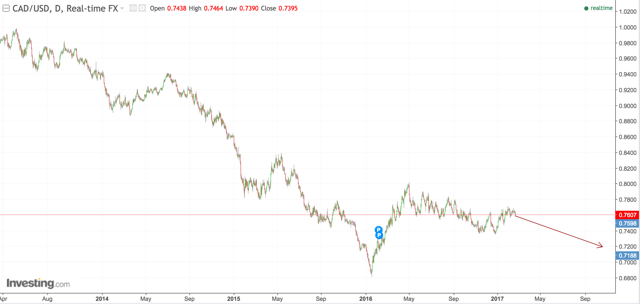 So although we see the potential for the Canadian dollar to strengthen in the near-term, we feel confident that the long-term direction is down. We feel this makes it a great candidate for a long-term short trade.
Best of luck with your trades!
Disclosure: I am/we are long UUP.
I wrote this article myself, and it expresses my own opinions. I am not receiving compensation for it (other than from Seeking Alpha). I have no business relationship with any company whose stock is mentioned in this article.
Additional disclosure: Short FXC