Massive investments in Mainland China are finally showing benefits as the ratio of integrated circuits made in China versus those imported into China increased from 27.0% in 2015 to 29.1% in 2016, according to our annual update of the report entitled "Mainland China's Semiconductor and Equipment Markets: A Complete Analysis of the Technical, Economic, and Political Issues."
"China produced 130.3 billion ICs in 2016, up from 113.2 billion ICs in 2015, up from 102.0 billion in 2014. China's imported ICs were 317.7 billion ICs in 2016, up from 305.5 billion ICs in 2015, up from 285.7 billion pieces in 2014."
This is a turnaround from last year, which I discussed in a February 22, 2016, Seeking Alpha article entitled "China Is Still Falling Behind In Becoming Self Sufficient In Semiconductor Production."
Figure 1 from The Information Network shows the percentage of ICs manufactured in China versus how many chips are needed by end users building smartphones, TVs, etc. As I stated above, this ratio increased to 29.1% in 2016.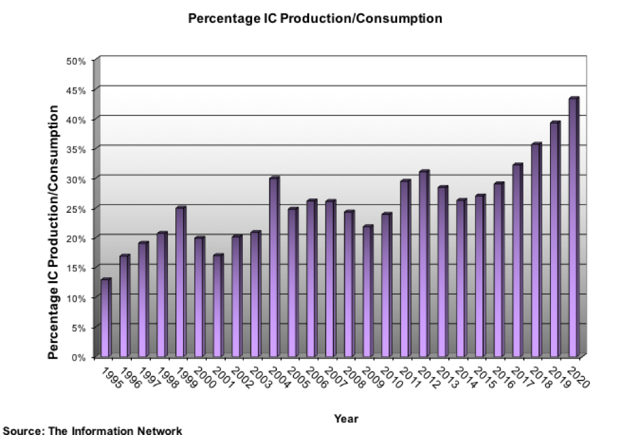 I discussed this shortfall and my correlation with an analysis by Bain & Company in a Seeking Alpha article of August 28, 2016, entitled "Bain Is Right About China's Semiconductor Market And Applied Materials' Outlook Is Flawed."
Semiconductor fabs
Driving the growth of ICs made in China are a large number of fabs that are in construction and planning production over the next few years, as shown in Table 1.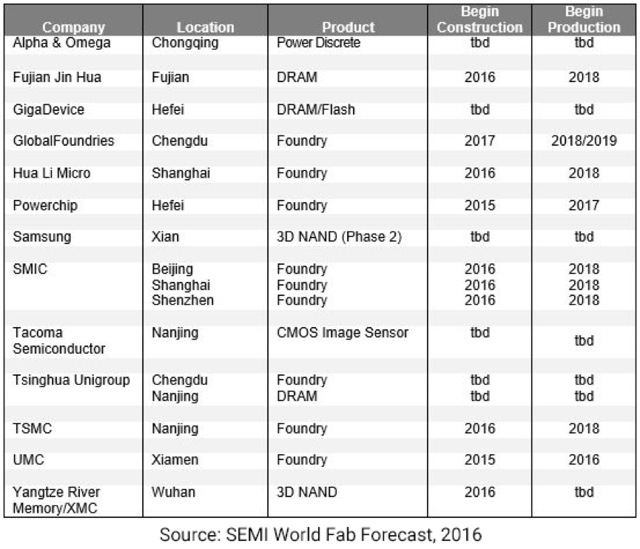 It must be remembered that traditionally semiconductor shipments grow on the order of about 5 percent a year. Chips made in China means that these chips won't be made in Taiwan, Korea or elsewhere. The keen investor will recognize that the base of chips needed will change to China, not the number of chips. Memory chips made in three new Chinese fabs means more chips on the market, impacting revenues of Micron (NASDAQ:MU), Samsung (OTC:SSNLF) and SK Hynix, whose shares have risen because of spot price increases due to limited supply.
Equipment suppliers
The wafer front-end (WFE) semiconductor equipment that supplies these fabs is sold by numerous manufacturers, including (in alphabetical order) Applied Materials (NASDAQ:AMAT), ASM International (ASMI), Hitachi High Technologies, KLA-Tencor (NASDAQ:KLAC) Lam Research (NASDAQ:LRCX) and Tokyo Electron. Revenues in the semiconductor equipment market for 2016 were nearly $7 billion, representing 20% of the global equipment market. The market is comprised of equipment such as lithography, etch, deposition and inspection.
But a raising tide doesn't necessarily raise all boats. Traditionally, semiconductor manufacturers buy "best-of-breed" equipment when a new technology node is reached which are referred to as "technology purchases."
However, if new capacity is needed, referred to as "capacity purchases," they will buy more of the same equipment already used on the production line.
Equally important, semiconductor manufacturers have their "preferred suppliers," meaning they will move to the front of the queue when it comes to technology purchases because of their positive experience with a particular supplier, their rapport with supplier engineers, and their internal maintenance employees who know the ins-and-outs of a particular supplier's equipment.
The construction of a new fab by a new Chinese company now wipes the slate clean. There is no longer a history of buying from a specific supplier. Equipment suppliers now need to claw their way through the front door, which opens the specter of strong price concessions to get the business, impacting the bottom line.
Advanced packaging
On a different note, much of the advanced semiconductor packaging is done in China. There are more than 150 foreign and domestic packaging companies located in China, including listed Amkor (NASDAQ:AMKR), SPIL (NASDAQ:SPIL) and Texas Instruments (NYSE:TXN).
Tied to the packaging industry is the need for back-end semiconductor equipment. I noted in a February 13, 2017, article in Seeking Alpha entitled "What To Expect From Coherent In One Chart," about Coherent, a supplier of lasers for advanced packaging."
According to The Information Network's report entitled "High-Density Packaging (MCM, MCP, SIP, 3D-TSV): Market Analysis And Technology Trends":

35% of wafers will advanced packaging interconnects in 2017
Flip Chip will grow 6.8% in 2017 to 12.8 million wafers
WLP will grow 15.8% in 2017 to 17.4 million wafers
With its robust IC program, China thus represents a strong growth area for advanced packages, which are used to house and protect the ICs. These advanced packages include 3D, TSV (through silicon vias), FOWLP (fan-out wafer level packaging) and flip chip.
One company with a solid equipment portfolio for the advanced packaging market is Rudolph Technologies (NASDAQ:RTEC). I discussed the company's lithography technology compared to a similar product from Ultratech (NASDAQ:UTEK) in a June 1, 2016, Seeking Alpha article entitled "The Other Face Of Lithography - Ultratech And Rudolph Technologies."
In its recent 10-K filing, RTEC reported revenues of $232.8 million for 2016, up from $221.7 million in 2015, an increase of 5.0%.
Illustrating RTEC's commitment to growth in China in sales in both front-end processing and advanced packaging market, revenues increased from $17.2 million in 2015 to $33.6 million, an increase of 96.6%. Revenue from equipment sold to China rocketed from 7.7% of total sales in 2015 to 14.5% in 2016.
By way of comparison, China represented only 8% of Lam Research's global revenues according to the company's latest quarterly earnings report, down from 11% QoQ. China represented just 9% of KLAC's revenues according to its latest quarterly report, down from 13% YoY.
Investor takeaway
China represents the future of semiconductor growth, and the country can be defined as "the world's factory." The country imports 70% of all the chips manufactured in the world, incorporating them in the manufacturing of electronics products. China makes about 85% of smartphones, 82% of tablets, 66% of TVs, and 81% of PCs.
Industry consortium SEMI noted in a recent release just how big China will become in the semiconductor market:
"SEMI is tracking up to 16 potential 300mm fabs to be constructed or beginning to ramp up throughout the forecast, with the investment targeted for the memory and foundry sectors. From 2017 onwards, leading foundries will account for a majority of fab equipment spending for their respective 300mm fabs. This new wave of investment will contribute to China spending through 2020."
New fabs by Chinese owners will disrupt the equipment supply chain. A supplier of deposition-etch equipment used to make 3D NAND devices to MU or SSNLF such as AMAT or LRCX won't necessarily be the supplier to Tsinghua when its memory fabs start purchasing equipment.
In other words, a keen investor will dismiss hyperbole made by CEOs that China represents a long-term growth opportunity for the company. It may represent a long-term growth opportunity for the industry, but could actually be a negative for a particular company.
Smaller equipment companies have had a difficult time competing against larger companies with the latter's installed base of customers. This new, clean slate of suppliers to Chinese semiconductor manufacturers represents a tremendous opportunity for small equipment companies.
One particular company I like is Rudolph Technologies, a semiconductor equipment manufacturer addressing both growth sectors in the China market - front-end and advanced packaging equipment.
By the way to nay-say readers, I don't own stock in any company in order to give my unbiased views of a particular company or sector. I don't hype a stock because I own it and want the price to go up.
To fortify its strategy in developing a strong sales infrastructure in China for both front-end processing and advanced packaging markets, late last year the company opened a new office in Shanghai. RTEC also announced it will sponsor a day-long symposium of presentations in Shanghai called "Yield Forum China." Featuring guest speakers from local fabs, the Rudolph Yield Forum provides process engineers, fab managers and tool owners with new application data and process control techniques that address current process challenges. This proactive synergy is instrumental in understanding customer needs.
In my analysis of the Chinese semiconductor industry and its supply chain, RTEC's strategic focus in China's requirements for processing equipment is ahead of its competitors, which should be reflected in future earnings.
Disclosure: I/we have no positions in any stocks mentioned, and no plans to initiate any positions within the next 72 hours. I wrote this article myself, and it expresses my own opinions. I am not receiving compensation for it (other than from Seeking Alpha). I have no business relationship with any company whose stock is mentioned in this article.
Editor's Note: This article discusses one or more securities that do not trade on a major U.S. exchange. Please be aware of the risks associated with these stocks.