It isn't often that one stumbles upon a company like Altria Group (NYSE:MO). The firm is legendary for their skill at value creation and preservation for shareholders and their recent role in the SABMiller/Anheuser-Busch Inbev (NYSE:BUD) merger just further cements their legacy. Their ownership of SABMiller was a material part of the business and was often underappreciated. Their new ownership in BUD is no different so we will take a moment to examine what this ownership looks like and what it does for investors now and what it can do in the future.
The Deal
BUD's conquest of SABMiller was first announced in November of 2015 and was completed less than a year later, closing on October 10th, 2016. The final tally was $104 billion, but investors may remember it was conducted in British pound sterling, and the whole Brexit situation really complicated the currency exchange. The deal was all cash for SABMiller holders, except for Altria and one other large shareholder.
Per the terms that Altria negotiated with BUD prior to voting on the proposed merger the company was to receive 0.483969 shares of BUD for each one of the 430 million shares of SABMiller they held. This resulted in MO getting 185,115,417 shares of BUD. Since this was only a partial share transaction, MO was also to receive 3.7788 pounds in cash. As I covered here, Altria entered into a currency hedge to protect itself if the pound were to drop and that paid off, because the pound did drop, and big.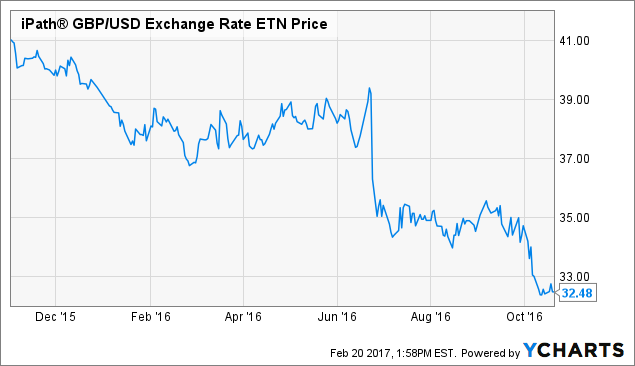 The Aftermath
When the shares converted it left Altria with 9.6% of outstanding BUD shares, though their shares are under lock for five years. Their restricted shares still hold voting rights and are subject to all the dividend BUD pays in the meantime, but Altria cannot sell them until October 20, 2021. It doesn't seem as if MO wants to sell out of BUD, because with part of the cash proceeds they purchased an additional 12,341,927 shares of BUD increasing their ownership stake to 10.2%, or 197,457,344 shares.
When it all shook out, Altria recorded about $4.8 billion in pre-tax profit from the cash portion of the agreement and another $500 million from exercising their FX derivatives. The total pre-tax gain that Altria recorded was $13.7 billion and will be accounted for in their fourth quarter of 2016 books.
At the current share price of BUD, $108.82, their stake is worth $21,487,308,174.08, or about 15% of the entire market cap of Altria. In 2015, BUD paid €3.60/share in dividends, which would have given Altria €710,846,438.40, or over $753 million for the year. In 2015 MO recorded $757 million in earnings from their investment in SABMiller. The dividend income may be slightly less but looking at it's growth it appears that MO should be able to make that up easily if the trend continues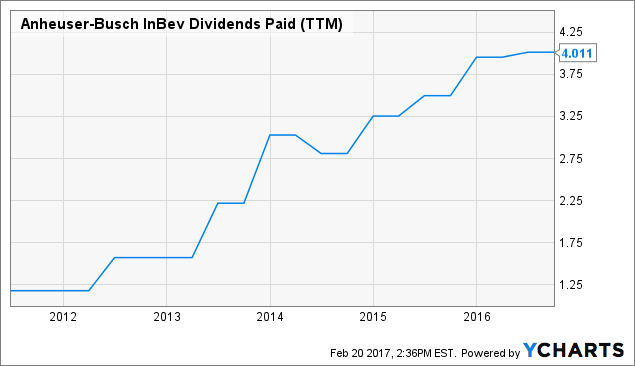 BUD Dividends Paid (NYSE:TTM) data by YCharts
Looking Ahead And Random Thoughts
Right now the Altria we have before us is much less diversified than it was a decade ago, but the BUD stake provides protection from the inevitable climb down in tobacco use. Being such a large position in the company though, Altria is now more exposed to a changing landscape in the alcohol industry as well. There is no shortage of fear that consumer tastes are starting to shift from beer drinking and that the pricing power once enjoyed by Anheuser-Busch is reaching its pinnacle. The evidence certainly points in that direction, but there are many levers that BUD and MO both have to ensure their dominance of each industry.
A main facet of the Anheuser-Busch business is their distribution network, which is a virtual monopoly. If you enjoy discussing a moat, then this Wall Street Journal article discussing AB/Inbev's distribution agreement is right up your alley. By providing incentives to distributors to make it so that 98% of the beers they deliver are BUD products smaller brewers are left with almost no way to get their product on shelves. And with BUD buying up several craft brewers the average consumer likely has no idea that their "craft" brew is actually BUD owned and all but forced into their guts. This is an incredible strength and in the next several years should pay off well for BUD and MO in kind.
In the past, Altria was diversified into other industries like food through their Kraft (NASDAQ:KHC) holding. Today, tobacco and alcohol are pretty much all that Altria play in, and to some that may be a bad thing. While these are pretty "recession-proof" industries, they are no-growth, and in the case of tobacco, negative growth industries. All that Altria can hope for in their tobacco is that they gain market share and maintain pricing power in the United States. For alcohol, it is about the same, though Altria can hope for more foreign sales in alcohol combined with market share growth and pricing power. No-growth and negative growth isn't always bad - it pretty much provides its own moat to keep new challengers out of the space.
In Closing
The SABMiller/AB Inbev merger was a great move for Altria to get the hidden value of their stake in SABMiller realized on their books and brought forth for investors. The 10% stake in the largest beer maker and distributor in the world gives them access to a wonderfully lucrative market. Investors seemed to have liked the move as well, bidding shares up to well over $70 and all but ignoring the historically sky-high valuation the company now has. Altria, as always, remains one of those buy and hold companies to anchor a portfolio, but at the valuation today it is understandable if investors chose to sit out and watch for the time being.
I hope you all got something out of this article. I do appreciate the time you took reading it. If you are one of those who follow me here, I appreciate it; if you'd like to include yourself amongst those individuals, please hit the "Follow" button next to my name as well as following other contributors whose work you enjoy. As always, please leave any feedback and questions you may have in the comments below. Best of luck to you all.
Disclosure: I am/we are long MO, BUD.
I wrote this article myself, and it expresses my own opinions. I am not receiving compensation for it (other than from Seeking Alpha). I have no business relationship with any company whose stock is mentioned in this article.