Finding an attractively valued stock is getting harder as new market highs are reached nearly every day. Let's explore why Target (NYSE:TGT) and Macy's (NYSE:M) may be two of the few left. The obvious thing to highlight is Target's dividend yield, which currently stands at 3.65%. No other major retailer pays a dividend like this except Macy's, which is why we will take a look at both in the next section. Macy's currently offers an even more impressive 4.67% yield. So which of these two offers the best opportunity to initiate a position now?
Valuation
From a valuation standpoint, we are going to see that Target comes out ahead (unless your growth estimates vary significantly to the numbers used in the analysis). There are two different tables provided below. In the first one, the long-term growth estimate used for each company is the average of the estimates provided by analysts covering the respective company. The first table also uses the company's current P/E ratio in the future stock price calculation.
There are only two differences in input data for the second table. First, the growth rate used is the same for both companies. Secondly, a P/E of 15 was used in the future stock price calculation. There are a few reasons for providing a second table in which the same growth rate is used for both companies. Firstly, it is important to remember that the growth rates are only estimates, so it is worthwhile to see how the numbers look under various growth scenarios to compare the results to the first table.
Try out your own growth estimates if they vary by a significant margin. The P/E of 15 was used in the second table for a similar reason. We do not know what multiple the companies will trade at in the future. Both have had a P/E of 15 at some point in the last five years.
Looking at the results provided in both tables, we see Target is trading at or below the calculated present value while Macy's is trading above it. Macy's is even significantly overvalued if you believe in the negative growth outlook for the company. Here are the formulas used in the calculations:

The number 10 is used in the equations because we are considering a 10-year time period.

Using Current P/E in the Future Stock Price Calculation: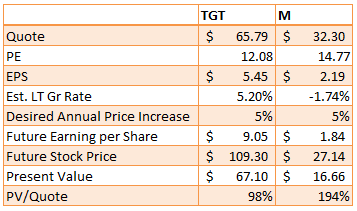 Using 15 as the P/E in the Future Stock Price Calculation: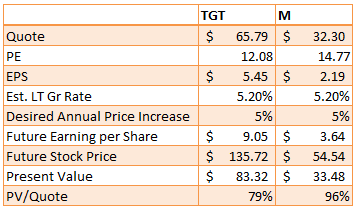 The next table shows how Target stacks up compared to its industry peers.

From a valuation standpoint, Target looks attractive. While it's not extraordinary, considering its current financial strength, historical performance, it seems like Target is worth further investigation. It should at least be able to maintain its current dividend given the payout ratio is a fairly comfortable 41.00%.
Another way to look at the safety of Target's dividend is using their latest EPS of $5.45. Given that the annual dividend payout is $2.40 per share, there is a currently a coverage ratio of 2.27. Anything less than two would indicate the dividend is at risk. Target has been increasing its dividend for over 40 years. The annualized dividend growth rate was 13.7% for the last three years.
In the current elevated stock market, it is difficult to find a company with similar performance metrics trading at a P/E of 12.08. Target's five-year P/E range starts at 11.69 and goes to 19.08, so we are on the cheaper end of that range now. However, there are reasons for the low multiple as we will see in the next section covering risks.
Risks (i.e. Amazon)
Amazon (NASDAQ:AMZN) poses a major risk to the brick and mortar retailers. While Macy's is almost in a free fall, other major retailers have suffered also while Amazon has surged as a powerful disruptive force. The five-year graph below exemplifies this. In this time period, the S&P provided a 72% return. The major retailers like Wal-Mart (NYSE:WMT) and Target provided a meager 18% return in comparison.
The question anyone considering Target has to answer is if this negative sentiment has finally produced an opportunity for those willing to take the risk. Of course, the other view is that Amazon is going to continue to apply even more pressure by entering the arena of the traditional retailer by even setting up its own brick and mortar stores.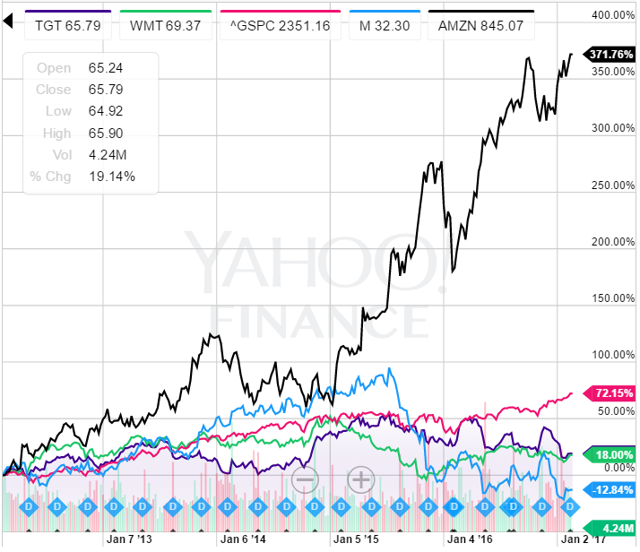 Source: Yahoo! Finance
One of the main concerns mentioned by analysts are Target's clothing sales and the impact Amazon is having on them. Apparel accounted for 19% of 2015 sales for Target. In fact, apparel and accessories have accounted for 19% of Target's sales for the last three fiscal years. During this time period, overall comparable sales have been fairly stable neither increasing or decreasing substantially.
Comparable sales were down 0.4% in 2013, up 1.3% in 2014, and up again by 2.1% in 2015. Target's more diversified sales make up is one of the reasons it has not experienced the same level of difficulty as Macy's. According to Macy's 2015 annual report, over 80% of sales came from apparel and accessories. This segment is receiving greater e-commerce pressure than some others like household essentials.
Of course, Amazon competes with Target in other areas like electronics (included in hardlines). The image below provides a breakdown of Target sales by product category.

Source: Target 2015 Annual Report
Amazon even has several concepts they are testing related to groceries and other merchandise with small stores or delivery partnerships. One of these is delivering fresh groceries through its AmazonFresh subsidiary. The bottom line is that an already extremely competitive area is getting more competitive with Amazon having the size and distribution network to really compete. This concern and uncertainty help explain the underperformance of the major retailers in recent years. It will definitely be interesting to see how this plays out.
Conclusion
If you are an investor seeking a dividend stock trading at what might be a more reasonable level than the bubbly market, you may want to consider Target. However, the section on risks above may give you enough doubts to at least decide to not go all in at once. Perhaps, a better approach may be to take an initial position now with the possibility of buying more later, as who knows, there may be an even lower price coming in the near term with Target holding their 2016 fourth quarter earnings call on February 28th.
The ultra-competitive nature of the business and Amazon infringing more on their turf may make you think Target and the big retailers are looking at long-term underperformance compared to the general stock market. If this is the case, then by all means steer clear. However, keep in mind that frequently, the best opportunities in a stock or sector present themselves during times of fear and uncertainty.
Disclosure: I/we have no positions in any stocks mentioned, and no plans to initiate any positions within the next 72 hours.
I wrote this article myself, and it expresses my own opinions. I am not receiving compensation for it (other than from Seeking Alpha). I have no business relationship with any company whose stock is mentioned in this article.