Introduction
Within the dividend growth section of Seeking Alpha, there has been much discussion regarding the selection, construction and management of portfolios consisting of companies that pay increasing dividends over time. Many of the articles discuss the criteria used to select the companies for the portfolio including current yield, future growth prospects, years of dividend growth, and target purchase prices. Because contributor portfolios are constructed over varying time frames and may have differing goals, unique portfolios result, which should be expected, but make establishment of a singular strategy for reader use difficult.
Intended Outcomes
We construct portfolio solutions for our clients, which may include income as an objective, and are interested to see if a selection strategy can be established which selects similar constituent groups over time that produce the desired performance and income results.
As a beginning, we are constructing and managing a portfolio that includes the companies found in the S&P 500 Dividend Aristocrats index. This portfolio will serve both as a possible client solution and as a benchmark for comparing future portfolios where we test differing criteria for company selection.
Index Definition
The S&P 500 Dividend Aristocrats Index (MUTF:INDEX) is managed by S&P Dow Jones Indices (www.us.spindices.com) and is generally comprised of S&P 500 constituents who have increased their dividends for 25 years or more.
The Index is equally-weighted and is rebalanced quarterly (January, April, July and October).
A reconstitution of the Index occurs in January each year, with any changes effective at the end of the month along with the quarterly rebalance.
Minimum portfolio constituent size is 40 and the 25-year requirement may be relaxed to 20 years to meet this requirement.
A complete description of the Index and its construction and ongoing management can be found under Methodology at the Index main page.
Current Index Constituents
S&P recently announced the January reconstitution results with two new companies - General Dynamics (NYSE:GD) and Federal Realty Investment (NYSE:FRT) - being added and one company (NYSE:HCP) being eliminated. Total number of constituents has increased to 51 companies.
Index Investable Products
The Proshares S&P 500 Dividend Aristocrats ETF (BATS:NOBL) is an investment product that tracks the Index and has an inception date of October 9, 2013. NOBL has a current expense ratio of 0.35% and contains approximately $2.7 billion in client assets with a quarterly distribution schedule which may or may not include gains and losses. More information can be found at www.proshares.com.
Portfolio Construction
We constructed our portfolio assuming $102,000 in total assets resulting in each position initially being targeted at $2,000. A $9 trade fee was assumed in determining individual company share counts.
Share count for each position was rounded down due to fractional shares, which resulted in a material position in cash in the portfolio. To reduce the overall cash in the portfolio, we sorted the 51 company portfolio holdings by determining each stock's individual cash position relative to the company share price. We added a single share to each of the company's share counts with the highest percentage until we arrived at an overall cash position we were comfortable with.
The final portfolio allocation and other data can be found here .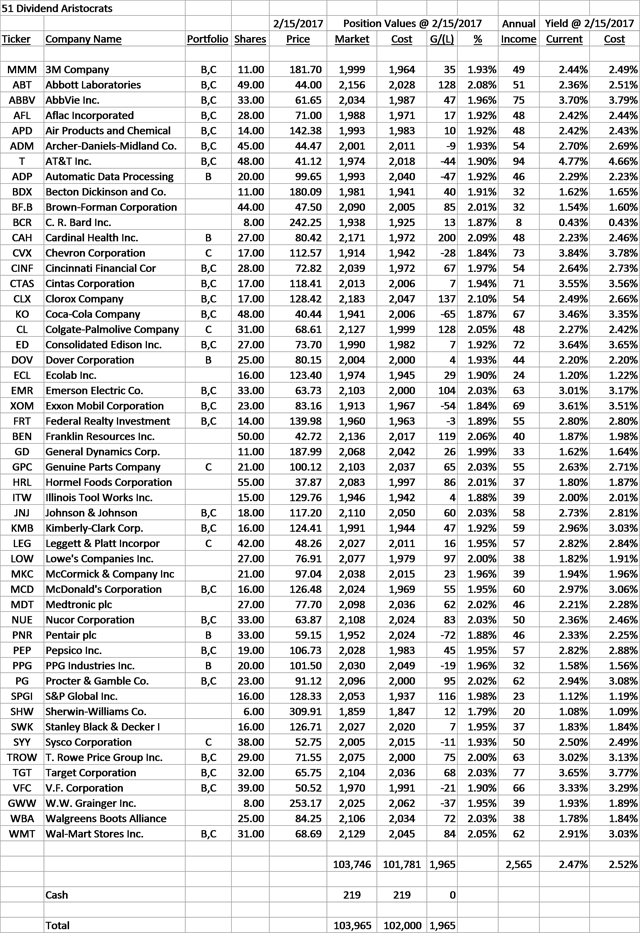 The current yield of the portfolio is 2.47% as of February 15, 2017 based on information currently available, and all positions were purchased January 27, 2017.
Portfolio Management
Our goal in ongoing portfolio management is to adhere to the methodology described by S&P Dow Jones Indices as best as possible with an eye towards cost minimization whenever possible.
We will review the portfolio allocation each quarter in the same manner but may only rebalance those positions at the portfolio allocation extremes. This approach may result in the performance of our portfolio being different from that of the Index itself.
We will also perform an annual review at the time S&P Dow Jones Indices announces any changes in the constituent group itself and will follow a similar rebalancing strategy. We will reinvest the dividends received at no additional cost.
Portfolio Variants
To reduce overall trading expense, we will also track two additional portfolios which will consist of subsets of the Index.
The first portfolio will consist of 30 company stocks and will be generally selected to replicate the sector weightings found in the Index itself once per year. Within each sector, companies will be selected based on highest yield.
The second portfolio will also consist of 30 company stocks from the Index and will be selected based on highest yield regardless of sector. Selection of the 30 constituents for the two additional portfolios will occur in January of each year.
The portfolio constituents for these two additional portfolios are designated on the portfolio summary.
A portfolio management approach where rebalancing is only considered along with the portfolio reconstitution each January may also be considered across all three portfolios as a means to reduce future trading expense.
Reporting
We will produce a monthly report which summarizes performance metrics for the portfolio including dividends received, dividend increases and portfolio total return. While dividends will be reinvested in the actual portfolio, we will report performance metrics assuming reinvestment and dividends being paid out each month. Quarterly and annual summaries will also be provided.
Disclosure: I am/we are long MMM, ABT, ABBV, AFL, APD, ADM, T, ADP, BDX, BF.B, BCR, CAH, CVX, CINF, CTAS, CLX, KO, CL, ED, DOV, ECL, EMR, XOM, FRT, BEN, GD, GPC, HRL, ITW, JNJ, KMB, LEG, LOW, MKC, MCD, MDT, NUE, PNR, PEP, PPG, PG, SPGI, SHW, SWK, SYY, TROW, TGT, VFC, GWW, WBA, GWMTX.
I wrote this article myself, and it expresses my own opinions. I am not receiving compensation for it. I have no business relationship with any company whose stock is mentioned in this article.
Additional disclosure: We and/or our clients may own any of the companies mentioned in this article. This article is in no way a solicitation or a recommendation but is merely for the reader's information.

Past performance does not guarantee future results, and there is no assurance that the portfolio's investment objectives will be met. All investments involve risk including loss of principal. Some of the information provided herein is obtained from publicly available sources and is believed to be reliable, but no representation or warranty is made as to its accuracy or completeness.

Investment advisory services provided through V Wealth Advisors LLC, a registered investment advisor doing business as "Wilborn Advisors".