Moonshot Monday #2 - The Tesla Network Is Uber's Worst Nightmare
This is the 2nd edition of Moonshot Monday, a weekly article/video I post about a long-term partnership idea between two companies. Last week's was on Shake Shack and Impossible Foods.
Intro - Tesla And Uber Partners? Or Rivals?
Back in July 2015, Uber (Private:UBER) CEO Travis Kalanick was attributed with saying he would buy 500,000 self driving Tesla's (NASDAQ:TSLA) in 2020. This set off a spark of media frenzy, and even prompted Morgan Stanley analyst Adam Jonas to bring up the report on Tesla's subsequent Q2 2015 earnings call.
After referencing the article, Jonas asked Musk the following question:
Is this a real business opportunity for Tesla supplying cars to ride-sharing firms? Or does Tesla just cut out the middleman and sell on-demand electric-mobility services directly from the company on its own platform?
Musk declined to answer, but left a mysterious cliffhanger "hmm, that's an insightful question."
After these two pieces of news, rumors on the state of a potential Uber and Tesla partnership went silent for some time.
Musk Unveils Tesla Network As Part of Master Plan Part 2
In July 2016 Elon Musk unveiled his Master Plan Part 2, laying the groundwork for his vision of what Tesla will become over the next decade.
Perhaps the most intriguing part of this plan was the introduction of a new service called the Tesla Network. Here is a snapshot of the part of the Master Plan where Elon explains his vision for this new service.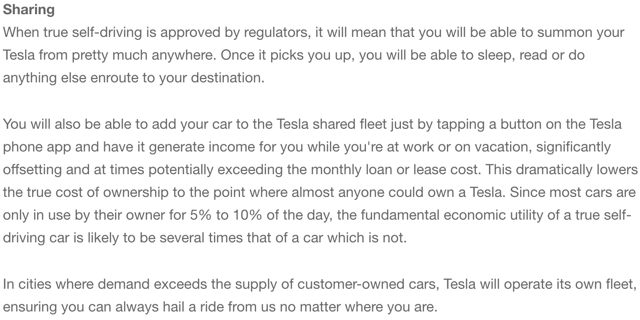 After reading through the new Master Plan, Musk's answer to Jonas became much clearer. Selling 500,000 self-driving Tesla's to Uber is enticing from a surface-level sales perspective, but omits the bigger picture.
Offering the Tesla Network as a stand alone app will allow Tesla offer transportation services to a whole new subset of customers that don't have the capital to buy a car outright.
Perhaps Elon's biggest innovation surrounding the Tesla Network is that it will be a revenue opportunity for its customers.
If a Model 3 owner rents out his car for an average of six hours per day while they are at work, that would result in 1,800 hours of driving annually (assuming 300 work days). Even with net revenue of just $5 per hour, that would result in $9,000 in income for a Model 3 owner in just one year. With a projected sticker price of $35,000, that's more than 25% of the total cost of the car.
Tesla Puts Its Foot Down
In October 2016 as Tesla began delivering its first vehicles with fully autonomous hardware to customers. As a part of this launch it included a disclaimer about the monetization capabilities of autopilot. Here is the screenshot from Tesla's Autopilot webpage.

This is a direct attack on Uber and Lyft (Private:LYFT) and explicitly states that the Tesla Robotaxi will be exclusive to the Tesla network.
This powerful statement shows how much power Tesla commands by building the auto industry's most advanced hardware.
This disclaimer was originally put out in late 2016, insinuating we will get more details on the Tesla Network in 2017.
The Ride Share Platform Opportunity
With fully autonomous vehicles, the economics of the auto industry will be flipped upside down.
With remarkable parallels to the way Airbnb was able to unlock the value of consumers under-utilized real-estate assets, ride-sharing will same effect on the auto market.
The burden of paying a large upfront sum to purchase a vehicle will quickly become a thing of the past, as the ubiquity of ride-sharing services continues to proliferate.
The safety, efficiency and cost effectiveness of robot taxies at scale make the transition to full autonomy inevitable.
The consumer's excitement of never needing to buy a car, and having the cheapest but most efficient Uber ride of your life a tap away, is equally as daunting for traditional auto markets.
Disruption is coming at full speed ahead, and the ramifications will be far reaching and abrupt for each player.
There is some speculation that ride sharing services will be so efficient they will actually decrease the number of new vehicles sold annually. This means there will be even more competition for an ever fewer number of unit sales.
Although this may be scary for companies like Volkswagen (OTCPK:VLKAY) or GM (NYSE:GM) whose businesses are built on selling cheap cars at very high volume, it could be a boon for companies like Tesla that lead in autonomous technologies.
A study put out by the University of Virginia projected that in a 100-square mile radius over the city of Austin, Texas, you would need 32,000 autonomous taxis to take a 10% marketshare of all rides in the area. If this future plays out, the US alone will likely need 1M+ robotaxis operating across the country, spelling a huge opportunity for Tesla.
Valuation
In its latest July 2016 funding round, Uber was valued at a whopping $68B. Tesla's market capitalization at $277 per share (assuming 170M shares outstanding) is $50B.
This is perhaps the most intriguing part of the Uber/Tesla rivalry. Uber is currently valued 36% more than all of Tesla, based on the potential of its ride-sharing platform alone. Some of this discrepancy is most likely due to the fact that Uber is still private while Tesla is subjected to the scrutiny of Wall Street as a public company. However, the difference is still glaring.
Tesla's car business already is nearing a $10B revenue-run rate, and its battery/solar business is yet another rapidly growing multi-billion dollar revenue stream. Uber has none of these exciting growth initiatives, and is on the cusp of being displaced by Tesla as the ride-sharing leader. Whether your conclusion is that Tesla is vastly undervalued or Uber is vastly overvalued, the conclusion is the same the financial markets love the idea of a ride-sharing business.
If Tesla commits to rolling out the Tesla Network and is able to successfully translate it into a meaningful revenue stream or an additional incentive for consumers to buy their cars, it will significantly increase the company's valuation.
Conclusion
When Tesla announces its Q4 earnings on Wednesday after the close, we will get more details on the company's plans for the coming year.
The Tesla Network is Tesla's most exciting growth initiative and has the potential to dramatically alter the market's perception of the company's business model and the slice of the $1T transportation industry's future profits it will command.
Disclosure: I am/we are long TSLA.
I wrote this article myself, and it expresses my own opinions. I am not receiving compensation for it (other than from Seeking Alpha). I have no business relationship with any company whose stock is mentioned in this article.