Toronto-Dominion Bank (NYSE:TD) is the second largest of the Canadian banks by market cap. The company provides a diversified array of financial services operating via three segments: Canadian Retail, U.S. Retail, and Wholesale Banking. TD was founded in 1855 and is headquartered in Toronto, Canada.
Note: All numbers in this article are in Canadian dollars (CAD$) unless otherwise noted.
A Closer Look
Toronto-Dominion Bank is the second largest of the Big Five Canadian banks. The company's peers include Royal Bank of Canada (NYSE:RY), Bank of Nova Scotia (NYSE:BNS), Bank of Montreal (NYSE:BMO), and Canadian Imperial Bank of Commerce (NYSE:CM).

The Canadian banks are regarded as some of the safest financial institutions in the world. The companies have a long track record of being conservative and focused on long-term stability and prosperity. Most of these institutions have existed and paid dividends for more than 150 years and make for great core positions in any investor's portfolio.
Toronto-Dominion Bank has been a hit in retail financing in Canada, US and UK. The company made a conscious decision to expand its operations in the US during the global financial crisis, as the management saw an opportunity as financial institutions stumbled/collapsed. Those moves have paid off over the years as the increased revenue from US has provided shareholders with handsome returns.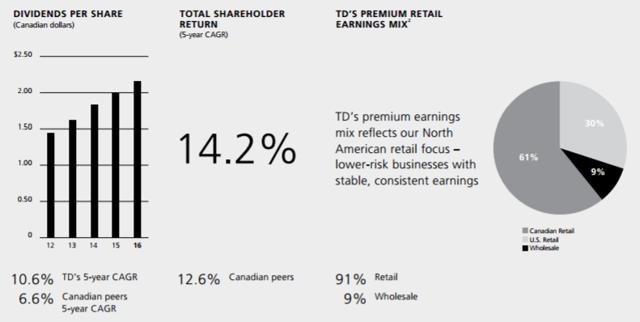 (Image Source: Toronto-Dominion Bank's 2016 Annual Report)
The following chart has been constructed by perusing the segmented information in each year's annual report at TD. This provides us a window into the management's strategy for overall growth. As can be seen, TD continues to expand and generate more revenue in the US, and has now crossed the 35% mark.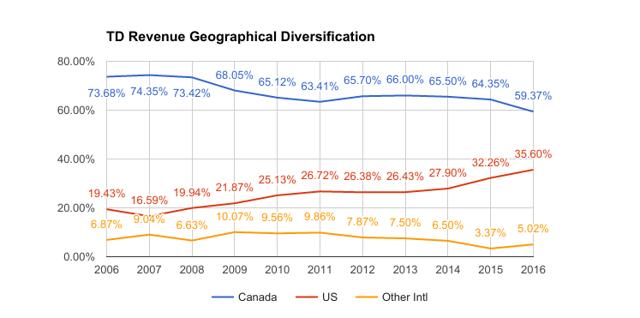 (Image Source: Created by author. Data from TD's annual reports for each year)
Dividend Stock Analysis
Financials
Expected: A growing revenue, earnings per share and free cash flow year over year looking at a 10-year trend. A manageable amount of debt that can be serviced without affecting future operations.

(Source: Created by author. Data from Morningstar)
Actual: Toronto-Dominion continues to churn out good numbers year after year. The company suffered just like any other financial institution during the global financial crisis, but has come back stronger than ever. TD continues to see both revenue and earnings growth year after year providing a good return to shareholders.
TD's yield of maturity is as shown below. A lot of debt repayments are upcoming this year starting in the month of February.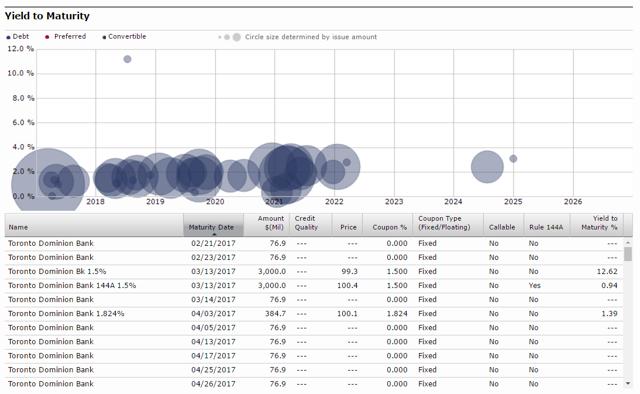 (Image Source: Morningstar)
It is interesting to note that both DBRS and Moody's have a negative outlook on TD, although they all have good ratings for the long term debt.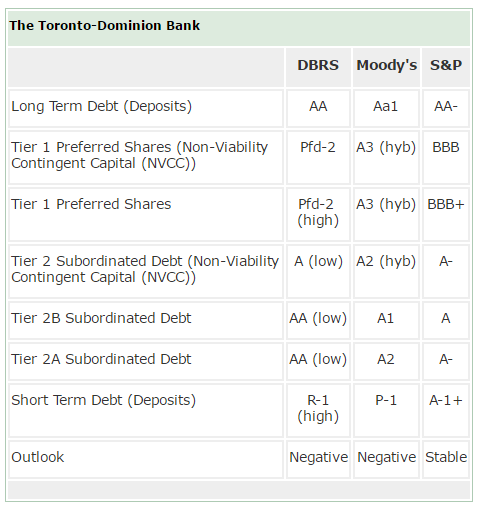 (Image Source: Toronto-Dominion Bank's website)
Dividends and Payout Ratios
Expected: A growing dividend outpacing inflation rates, with a dividend rate not too high (which might signal an upcoming cut). Low/Manageable payout ratio to indicate that the dividends can be raised comfortably in the future.

(Source: Created by author. Data from Morningstar)
Actual: TD stumbled during the financial crisis but has started growing its dividends again. The company has raised dividends for 6 consecutive years. The 1-, 3-, 5-, and 10-yr dividend CAGR (Compound Annual Growth Rates) are 8.0%, 10.1%, 10.6%, and 9.3% respectively.
Outstanding Shares
Expected: Either constant or decreasing number of outstanding shares. An increase in share count might signal that the company is diluting its ownership and running into financial trouble.

(Source: Created by author. Data from Morningstar)
Actual: The number of shares has increased steadily over the years, although it seems to have slowed down in the last few years.
Book Value and Book Value Growth
Expected: Growing book value per share.
(click to enlarge)

(Source: Created by author. Data from Morningstar)
Actual: The book value has increased steadily over the years although a dip was noted in 2012 and 2013.
Valuation
To determine the valuation, I use the Graham Number, average yield, average price-to-earnings, average price-to-sales, and discounted cash flow. For details on the methodology, click here.
The Graham Number for TD with a book value per share of $28.06 and TTM EPS of $4.67 is $54.30.
TD's average yield over the past five years was 3.31% and past ten years was 3.07%. Based on the current annual payout of $2.20, that gives us a fair value of $66.47 and $71.66 over the 5- and 10-year period, respectively.
TD's 5-year average P/E is 13.48, and the 10-year average P/E is 13.44. Based on the analyst earnings estimate of $5.53, we get a fair value of $74.54 (based on 5-year average) and $74.32 (based on 10-year average).
The average 5-year P/S is 3.38 and average 10-year P/S is 3.22. Revenue estimates for next year stand at $19.41 per share, giving a fair value of $65.61 and $62.51 based on 5- and 10-year averages, respectively.
The consensus from analysts is that earnings will rise at 8.49% per year over the next five years. If we round that down to 8% and run the three-stage DCF analysis with a 10% discount rate (expected rate of return), we get a fair price of $83.62.
Images below come from Simply Wall St, a financial visualization tool that has an ingenius way of representing value, future performance, past performance, financial health and dividends -- all in one single image called Snowflake. I recently posted a review of Simply Wall St where I explain the features. If you are unfamiliar with the tool, be sure to check out the review. However, the images used below are fairly intuitive to understand.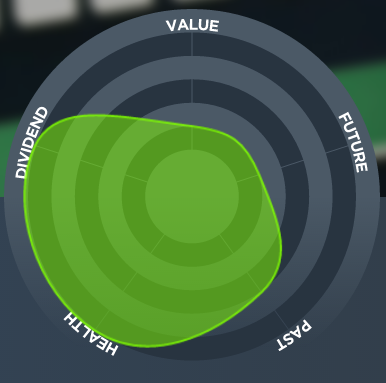 (Source: Simply Wall St)

(Source: Simply Wall St)
Simply Wall St. gives Toronto-Dominion Bank: "Flawless balance sheet 6 star dividend payer," although it also notes that the current share price is deep in the overvalued territory.
Conclusion
Toronto-Dominion Bank is the second largest of the Canadian banks by market cap. The company is well-diversified across both segments and geographies. TD has been a hit with its retail financial products and services - both locally and internationally. The company has concentrated on growing its US segment over the past decade and has delivered. The US segment now makes just over 35% of TD's revenue. The current share price appears fairly valued. If we give equal weight to all valuation metrics used in this article, the fair value for TD is $70.46.
Full Disclosure: Long TD, BMO. My full list of holdings is available here.
Disclosure: I am/we are long TD, BMO.
I wrote this article myself, and it expresses my own opinions. I am not receiving compensation for it (other than from Seeking Alpha). I have no business relationship with any company whose stock is mentioned in this article.