Since 2010, on the Toronto Venture exchange, the number of junior mining companies exploring and developing graphite projects has grown from two to more than eighty. Worldwide, there are now over two hundred proposed graphite mining projects being promoted by junior mining companies.
All of this activity has been driven by an assumed increase in demand for natural flake graphite, a result of an expected move towards electric vehicles. Graphite is the primary component of the anodes of lithium-ion batteries. In fact, a typical lithium-ion battery contains about 10 to 15 times more graphite than lithium.
With all of the expected growth in li-ion battery use, it is easy to conclude that a significant increase in graphite prices is imminent, as happened with spot prices for lithium over the past year. In this article, I explain why I think graphite prices are going to go down, and why almost all of the junior mining companies in the graphite space are destined to fail.
Articles like this one from Benchmark Minerals have helped to fuel speculative demand for graphite company shares:
"taking the most conservative case, Benchmark estimates that over 360,000 tonnes of medium flake graphite will be needed as a feedstock source for the spherical (battery anode) material by 2020"
Interest in North American graphite miners has been generated by articles like this one, again from Benchmark Minerals. The article deals with the expected demand from the Tesla (NASDAQ:TSLA) gigafactory and was repeated extensively by various sources soon after it appeared. A quote from the article:
Conservative case for Tesla plant running at capacity:

Spherical graphite demand = 28,000 tpa

Flake graphite demand = 93,000 tpa

New graphite mines needed (equivalent) = 6

Bullish case for Tesla plant at running capacity:

Spherical graphite demand = 42,000 tpa

Flake graphite demand = 140,000 tpa

New graphite mines needed (equivalent) = 9
However, the predicted demand is based on an assumption that Tesla will switch from synthetic to natural graphite for its future batteries. In fact, there has never been any indication from Tesla that they intend to use natural graphite in future batteries. In this quote from a recent investor call, Elon Musk seems to imply that Tesla will continue to use synthetic graphite and any future improvements in battery technology will likely come from the addition of silicon in the anode.
"This is just sort of a baby step in the direction of using silicon in the anode," Musk said during the call. "We're still primarily using synthetic graphite, but over time we'll be increasing silicon in the anode."
Also, Benchmark's prediction assumes only 30% yield in converting flake graphite to the spherical graphite needed for li-ion batteries. Companies such as Northern Graphite (OTCQX:NGPHF), Syrah Resources (OTCPK:SYAAF), and Magnis Resources (OTC:URNXF) have all achieved yields in excess of 50%, and in the case of Magnis, as high as 70%.
Other companies in the business are much less bullish in their predictions. This article from German based ProGraphit predicts a li-ion battery demand of only 113,000 tonnes for natural flake graphite by 2020, rising to 146,000 tonnes by 2025. Details are given below: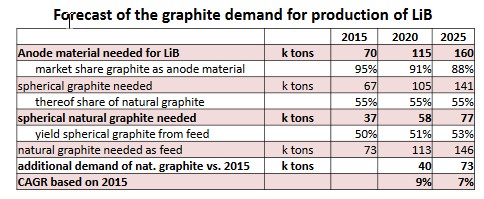 There is a wide gap between ProGraphit's prediction for demand of only 113,000 tonnes by 2020 and Benchmark Minerals' prediction of 360,000 tonnes per year demand by 2020. In a previous article, I made a demand forecast of 180,000 tpa by 2025, based on published predictions of electric vehicle sales growth. Most of the difference in the predictions is accounted for by changing the assumptions with regard to the utilisation of natural versus synthetic graphite, and the yield on conversion to spherical graphite.
The cost savings in going from synthetic to natural graphite only amount to about $400 for a car that might sell for upwards of $50,000. For that kind of saving in a critical component, auto makers are not necessarily going to choose natural graphite (which is cheaper) over synthetic graphite which has more consistent properties.
In an attempt to promote their stocks, many of the junior mining companies selectively quote the bullish predictions, and conveniently omit any facts which don't support their investment case. It is important to look at the assumptions behind the predictions. Demand forecasts have a high degree of uncertainty, and there is a strong tendency to broadcast the more optimistic forecasts, whilst ignoring those that might be more realistic.
The other side of the pricing equation is supply, and it is the supply side that will drive down prices. The world supply of natural flake graphite is about to see a major increase, and that increase will happen within the next two years. That new supply will come from Syrah Resources, which owns half of the massive Balama graphite deposit in Mozambique and is building the world biggest graphite mine and concentrator.
This project is not the figment of some executive's imagination. It does not depend on unobtainable financing to make progress. It is real, it is financed, permitted and under construction. The photograph below shows construction progress in the primary mill and flotation area as of last December: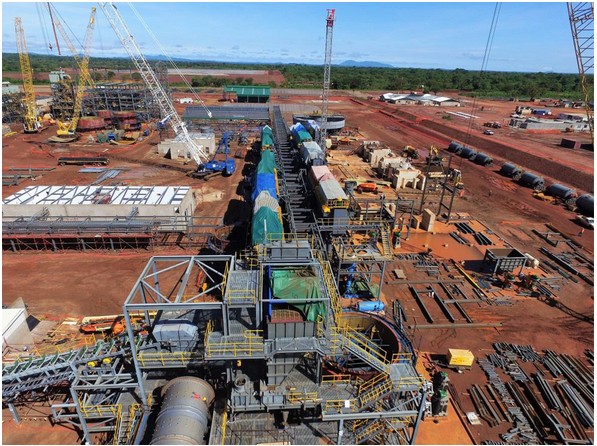 Company presentations indicate that the expected date for commissioning of the plant is Q3 2017, with commercial production starting some time towards the end of 2017.
My own opinion, based on my own knowledge of project construction, and using the published photographs as a guide, is that commercial production is still a year away and ramp up to production of meaningful quantities is more likely to be towards the middle to end of 2018. However, that is not really the point of this article. I am not recommending an investment in Syrah, I am cautioning against investing in most of the dozens of publicly traded graphite juniors that are hoping to jump on this particular bandwagon.
Existing world demand for flake graphite is only around 400,000 tonnes per year. Syrah's proposed production capacity of 370,000 tonnes per year of flake graphite will overwhelm that demand even with significant growth from li-ion batteries. Consider the following:
Syrah is building a plant that will almost double world production of flake graphite, creating an oversupply in the market that will last for several years.
Syrah does not have customers for most of its production.
The Balama mine will have very low operating costs once the plant reaches full production because of high ore grades, low mining costs and soft ore that is easy to mill.
Syrah is well capitalized and can weather a period of lower-than-expected sales without having to raise money or service debt. The company had $163 million in cash as of December 31st, 2016, of which about $100 million is required for completion of the Balama plant. Debt is zero, and the company has negotiated a credit facility for up to $50 million if required.
Syrah will be desperate to acquire customers and sales in order to cover its fixed costs and provide a return on its investment. As the low cost supplier, Syrah will be able to sell at a profit at prices well below current market prices.
In these circumstances, there is only one possible way for flake graphite prices to go, and that is down. The market will very likely be oversupplied for at least the next decade.
To add to the downward pressure on prices, China (which supplies more than 60% of the world's graphite) is lifting a 20% tax which was applied in 2011 on exports of graphite, which will almost certainly mean lower prices in the rest of the world.
An example of the effects of pricing pressure in the industry comes from Leading Edge Materials (OTCQB:LEMIF), formerly Flinders Resources, which re-opened an old graphite mine in Sweden in 2014 but was forced to close in 2015 because of low market prices. There has been no indication from the company as to when or if, the mine might restart. It is very likely that the Woxna mine, which originally closed because of an oversupply of cheap graphite from China, will remain closed indefinitely because of an oversupply of cheap graphite from Africa.
Several graphite companies have completed feasibility studies, including Northern Graphite, Energizer Resources (ENZR), Focus Graphite (OTCQB:FCSMF) and Mason Graphite (OTCQX:MGPHF) going back as far as 2011. Only Mason has made any significant progress in raising the funds necessary to advance their project, having raised about 25% of the estimated capital. The others have been struggling to raise funds to keep themselves alive. All of the studies have used graphite prices which are higher than current prices.
Others, such as Graphite One (OTCQB:GPHOF) and Alabama Graphite (OTCQB:CSPGF) have completed Preliminary Economic Assessments (PEA) based on making purified spherical graphite. I will explain in another article why I think this ploy is simply a tactic to hide the fact that they don't have a viable mining project.
The uncertain product pricing environment will make it very difficult for any of these companies to finance their projects. Without financing, the shares of those companies are virtually worthless.
One possible exception could be Magnis Resources whose Nachu project in Tanzania contains exceptional quality graphite, with a high percentage of large flake sizes which sell at a premium. Magnis is negotiating for funding from a potential Russian customer, which could allow the project to proceed. However, this is not the first time that they have announced possible customer funding for the project, having previously stated that they were negotiating funding from Chinese and Korean sources.
I have exited all of my positions in graphite mining companies, with the exception of Magnis, where I have taken profit to reduce my cost base below zero, but still remain long.
Disclosure: I am/we are long URNXF.
I wrote this article myself, and it expresses my own opinions. I am not receiving compensation for it (other than from Seeking Alpha). I have no business relationship with any company whose stock is mentioned in this article.
Editor's Note: This article covers one or more stocks trading at less than $1 per share and/or with less than a $100 million market cap. Please be aware of the risks associated with these stocks.