The vaccine market is a market dominated by big players such as Merck & Co (NYSE:MRK), Novartis (NYSE:NVS), GlaxoSmithKline (NYSE:GSK), Gilead Sciences (NASDAQ:GILD) and Sanofi (NYSE:SNY), to name a few. In the hepatitis B virus vaccines market they use cost leadership to dominate this oligopolistic market.
Hepatitis B
Hepatitis B is a contagious and infectious disease of the liver caused by the Hepatitis B Virus (HBV), also known as serum hepatitis. The virus is classified under the hepadnaviridae family of viruses.
The symptoms of the disease do not develop until after a few weeks of exposure. Commonly, Hepatitis B is transmitted from an infected person's blood, semen, and to a lesser extent by other body fluids.

Symptoms of hepatitis B (according to Sanofi):
After an incubation period of three to four months, acute hepatitis B is usually associated with a loss of appetite, weakness, nausea, abdominal pain, jaundice, skin rash, and joint pain that last several weeks.
1 to 2% of subjects develop fulminant hepatitis B, a total acute necrosis of the liver, for which mortality rate is extremely high. (7-8)
Following HBV infection, 10% of patients will develop chronic hepatitis (i.e., persistence of HBV in the body) with the potential risk to develop cirrhosis and liver cancer.
The risk of transition to a chronic state is particularly frequent among immunodepressed individuals and newborns.
Hepatitis B is widespread in high-risk populations. Most frequently causes of transmission include unprotected sexual contact, sharing needles among injection drug users, and re-use of contaminated needles and syringes. Exchanging toothbrushes and sharing of razor blades can also transmit hepatitis.
Background
Sanofi Pasteur is the world leader in human vaccines and was in 1981 the first one that designed a plasma-derived hepatitis B vaccine. These vaccines were manufactured by collecting hepatitis B surface antigen (HBsAg) from the plasma of persons with chronic HBV infection.
In 1987 the same Sanofi produced a hepatitis B vaccine based on genetic engineering. This recombinant technology expressed HBsAg in other microorganisms and offered the potential to manufacture unlimited supplies of vaccine.
Until now, North America dictates the preventative Hepatitis B vaccine market. Over a billion doses of HBV vaccines have been distributed globally.
The World Health Organization (WHO) advises that every infant should receive the hepatitis B vaccine within 24 hours of birth.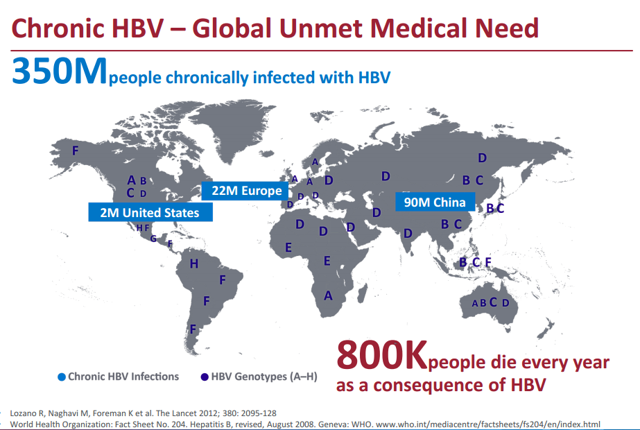 From its discovery in 1965 up to now, the hepatitis B virus has had a considerable impact worldwide. Globally, it is a calculated guess that 350 million people are chronically infected with this virus, and annually almost 800.000 people die as a consequence of HBV. Hepatitis B has a high prevalence rate across many Asian and African countries.
The hepatitis B vaccine market worldwide is estimated to grow well. Especially in Asia, the market will grow significantly in the following years, with China and India leading the way. According to research and consulting firm, GlobalData China will remain the largest hepatitis B market over the next decade, rising to over $1.4 billion by 2024.
Time For An Adequate Cure
The once thought "incurable" hepatitis C is today cured by new combination treatments with combinations that can achieve 100% cure rates.
Experts believe a cure for hepatitis B will also be developed. The only question that remains is when it will happen?
According to Timothy Block, Ph.D., president, and co-founder of the Hepatitis B Foundation and its research arm, the Baruch S. Blumberg Institute:
"Treatments are available," explained Block, "but we have become a little too comfortable with the medications that are currently approved for use." While these drugs are effective, interferon has many side effects and daily antivirals require lifelong use. These drugs work in only half of the infected population and reduce death rates by only about 40 to 70 percent.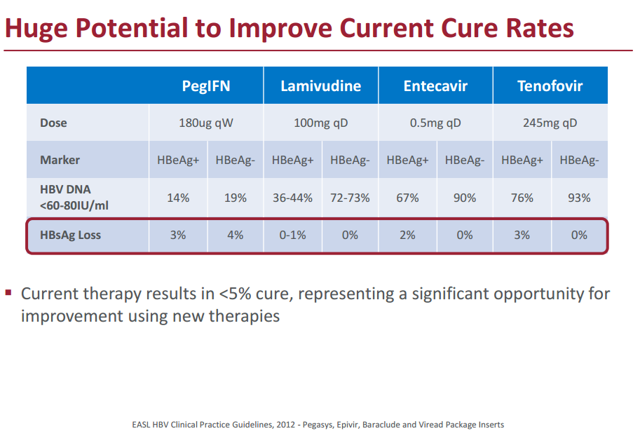 Hepatitis B Drugs In Development
According to pharma analysts, premium therapies tenofovir of Gilead Sciences and entecavir of Bristol-Myers Squibb will give a boost to the HBV vaccine market. The approval of prodrug Vemlidy (tenofovir alafenamide, TAF), on November 10, 2016, by Gilead Sciences in nearly a decade shows that there is a lack of first-in-class and innovative products. But that could soon change.
On the website from the Hepatitis B Foundation, you can find an overview how many compounds are in development for chronic hepatitis B and which one are already approved. I fabricated a table which includes the current pipeline of hepatitis B drugs in development. In this table, you will also see clinical registration identification code when available.
There are 29 new Hepatitis B drugs in development that are different from the approved therapies (interferons and nucleos(t)ides) that are already marketed .
The current promising pipeline consists of drugs that are direct-acting antivirals or indirect-acting anti-virals. Basically, that means you have drugs that target the virus or drugs that target the human host.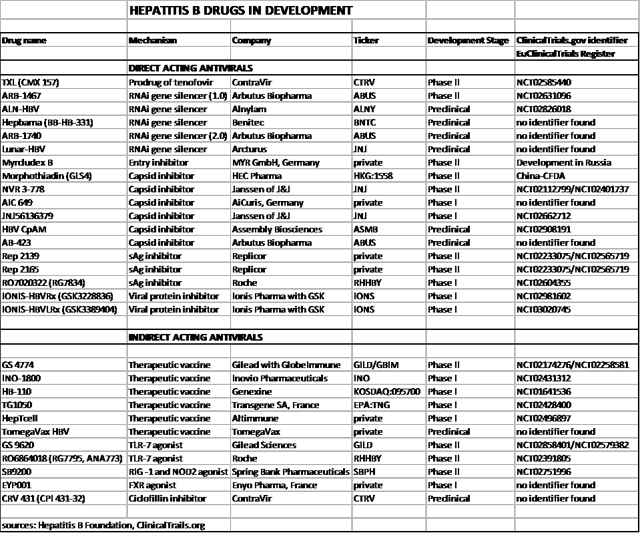 Mechanisms
To understand better the current drugs (therapies) in development, it is interesting to read about the mechanisms used within the antiviral intervention cycle.
The information used below comes directly from Hepatitis B Foundation:
siRNA is short for "silencing" RNA, which are nucleotide drugs that interfere and cause the destruction of the viral RNA. Without viral RNA (which comes from cccDNA) there is no production of viral proteins. Thus, no RNA and no protein means no virus.

Tenofovir ("TDF") Prodrugs are modified polymerase inhibitors (called 'NUCS') designed to get into the liver cells more easily and inhibit HBV. It is expected that TDF prodrugs will be used at lower doses with more suppression compared to current NUC drugs.

Entry Inhibitors interfere with HBV getting into liver cells via attachment to a specific viral protein called 'preS1' and a specific liver cell protein. Myrcludex B is the first drug that looks like preS1 and interferes with HBV attachment to the liver cell.

Capsid Inhibitors interfere with viral capsid formation, which is the protein shield that covers and protects the viral DNA. The capsid is made of pairs of HBV 'core' proteins or antigens, also called 'HBcAg,' which is needed to produce infectious virus.

sAg Inhibitors interfere with the production of HBV surface antigen (HBsAg), which is needed for the virus to enter and exit the liver cell. HBsAg is found in the blood of most infected people and is, therefore, thought to play a role in maintaining the state of chronic infection by suppressing the immune system.

cccDNA inhibitors are considered the 'holy grail' for a cure, but remain very challenging. The chromosome of HBV persists in the nucleus of the infected liver cell as a small cccDNA molecule, which is the natural source of all HBV gene products. It lasts for a very long time, even after NUC drugs appear to be effective in suppressing the virus.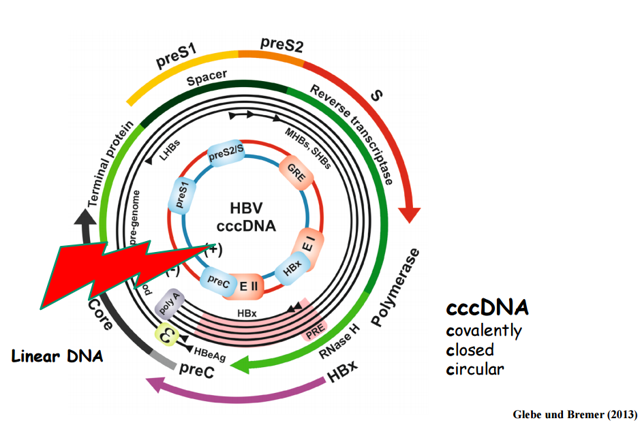 CRISPR/cas and "TALEN" are genome editing systems, which due to their low cost and simplicity have become powerful new tools for discovery. For HBV, these systems can be used to attack and destroy the cccDNA. A problem with these systems is getting them into the infected viral cell nucleus because they are not 'small molecule' drugs.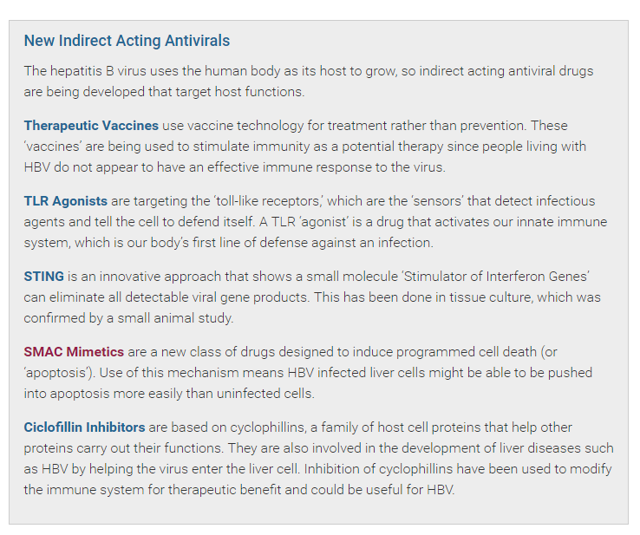 Investment Candidates
There are several investment opportunities in the HBV space, from big pharma names to emerging companies. As you could read already, current HBV treatments don't offer the cure rates one should hope for so looking for attractive emerging candidates could be fruitful going forward.
The first one that looks interesting is a company called Arbutus Biopharma Corporation (NASDAQ:ABUS). Its focus is finding a cure for patients suffering from chronic HBV infection.
In 2015, The Baruch S. Blumberg Institute of the Hepatitis B Foundation licensed certain findings to Arbutus Biopharma. With two drug candidates currently in the pipeline, Arbutus is at the forefront of HBV research. The company's lead candidate is ARB-1467 and is in a Phase II Clinical Trial.
Arbutus RNAi ARB-1467 candidate has been shown shown in preclinical studies to reduce all viral antigen levels as well as cccDNA and HBV DNA. The company's goal is to rapidly and completely terminate the replication of HBV DNA which could in combination with other drugs ultimately lead to a cure.
Investors with a long-term perspective and who are familiar with the investing pitfalls in the biotech industry could take a look at this company.
From the eight analysts that follow the company: two have a Buy rating, four an Outperform and two a Hold rating. The average price target is $7.38. An upside potential of almost 170% from the current stock price of $2.75.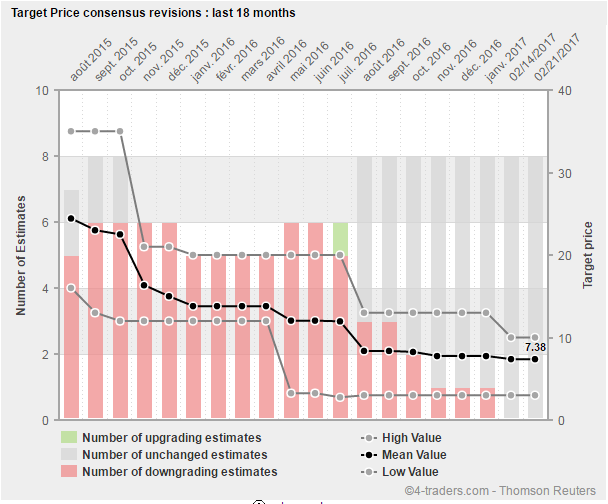 Several contributors have already written about this stock. The last PRO-article: Arbutus Biopharma Corporation Is Poised To Catch Up In The Hepatitis B Race from Clinically Sound Investor is an interesting read.
Another company that came this month in the news is called VBI Vaccines (NASDAQ:VBIV).
On February 7, 2017, the European Medicines Agency (NYSEMKT:EMA) gave a positive review for Sci-B-Vac, a licensed third-generation vaccine for Hepatitis B.
Sci-B-Vac is a vaccine for hepatitis B developed by VBI Vaccines . The company could become the first company that moves into Phase 3 clinical trials because of its data from ongoing studies. Sci-B-Vac is a licensed innovative hepatitis B vaccine that has proved safety and efficacy in over 300,000 patients and is approved and marketed for use in Israel and 14 other countries.
The vaccine mimics all three surface antigens (including pre-S1 and pre-S2 surface antigens), of the hepatitis B virus (HBV), offering enhanced antibody response which may help the immune system to identify one or more components of the virus, providing better protection.
VBI Vaccines has an experienced leadership team with expertise in vaccine development, commercialization, and financing. The company's president & CFO Jeff Baxter has a history of successful exits and is focused on value creation. As former Senior Vice President, R&D Finance and Operations at GlaxoSmithKline he was responsible for strategic management during a period of tremendous corporate growth and shareholder returns.
The company is backed by Perceptive Advisors and Clarus Ventures. Both life science investors have deep scientific and clinical development expertise in the health care sector.

Several contributors have already written intensively about VBI Vaccines. The article VBI Vaccines: Solid Drug Pipeline Backed By Key Investors That Control Billions from Stone Fox Capital is worth mentioning.
Final Note
The HBV drug market has various therapeutic products for the treatment of Hepatitis B, but none of them have proven effective in stopping the infection.
A cure that would destroy or silence cccDNA and provide long-term immunity would be a game changer.
As you could see in the table presented in this article the current pipeline is there but weak due to the lack of first-in-class and innovative products in late-stage clinical development. Despite that, there are still newcomers that could be interesting investment candidates going forward.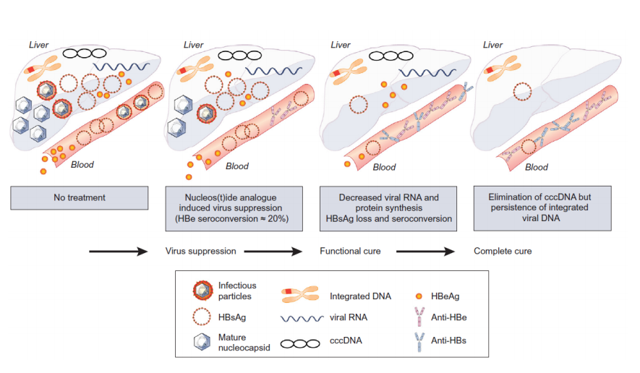 There is still an extremely large need to develop new drugs that attack different pathways of the Hepatitis B life cycle to achieve a cure eventually. Sci-B-Vac from VBI Vaccines could be the first one that makes a real difference.
Sources
The following sources were used to research the information in this article: World Health Organization, Hepatitis B Organization, Hepatitis Central, HBV Advocate, The Vaccine Reaction, GlobalData, ClinicalTrials.gov, EU Clinical Trials Register, WebMD, Hepatitis News Today and AREVIR-GenaFor-Meeting-Cologne, Germany 2016
Disclosure: I/we have no positions in any stocks mentioned, and no plans to initiate any positions within the next 72 hours.
I wrote this article myself, and it expresses my own opinions. I am not receiving compensation for it (other than from Seeking Alpha). I have no business relationship with any company whose stock is mentioned in this article.