In my previous article, I had stated that oil prices (NYSEARCA:USO) (NYSEARCA:BNO) (NYSE:DBO) (NYSEARCA:OIL) (NYSEARCA:OILX) (NYSEARCA:OLEM)(NYSEARCA:OLO) can remain above $50 per barrel only if the OPEC non-OPEC oil deal is extended beyond a period of six months. On Tuesday, OPEC general secretary Mohammad Barkindo said something which made prices go up by almost 1.5%. The WTI and Brent were trading at $54.62 and $56.87, respectively at the time of writing this article. Speaking at a press conference in London, Mohammad Barkindo said that OPEC was sticking to its commitment of reducing its output and he hoped that OPEC's compliance towards the oil deal would increase from the current levels (of around 90%) in the coming months. "All countries involved remain resolute in the determination to achieve a higher level of conformity," said Mohammad Barkindo. In my opinion, the markets may have (again) over-reacted to the statements made by the OPEC general secretary.
Does this mean that OPEC will extend its oil deal?
It is quite clear that OPEC wants oil prices to remain above $50 per barrel in 2017, and this may not be possible in the current supply-demand scenario. "OPEC's comments reinforce hope that a six-month extension of the out-cut pact will be exercised, providing more support for oil prices. All the expected rhetoric it continues to open the door for this deal getting extended beyond 2017," said Robbie Fraser at Schneider Electric. In my opinion, Mohammad Barkindo's latest statement is a testimony to the fact that OPEC is now looking to extend its oil deal beyond six months. If this happens, then it will definitely support oil prices in the near future. If the oil deal is not extended, then the growing U.S. oil production will act as a major bearish factor for oil prices. Oil experts like Daniel Yergin have already predicted that U.S. production is expected to grow by more than 500,000 barrels per day in 2017. And now, a latest report states that the break-even price for several U.S. shale plays is less than what was earlier predicted. In fact, some regions have a break-even price of even less than $23 per barrel. This means that such regions will be profitable even if oil prices fall below $30 a barrel, forget about the $50 per barrel level that we are considering in case of Saudi Arabia-dominated OPEC. This simply means that at current price levels, the U.S. shale oil production will definitely surge in near future.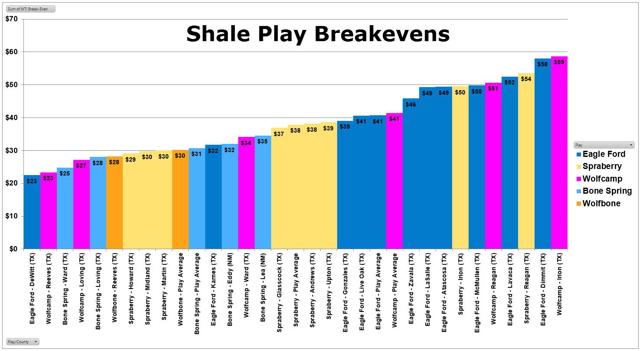 Source: zerohedge.com
Takeaway for investors
It is interesting to note that OPEC's general secretary Mohammad Barkindo said that the U.S. oil production will not balance OPEC's ongoing production cuts. "We are not looking at the U.S. as a risk; we are looking at the U.S. as a partner, a strategic partner in the rebalancing process," said Mohammad Barkindo. In my opinion, this is an absurd statement as OPEC and U.S. are acting exactly opposite to each other. On one hand, OPEC is (desperately) reducing its overall crude oil production in order to rebalance the markets. On the other hand, the U.S. oil production continues to increase at an impressive pace. Although there are indications that OPEC may indeed extend its oil deal for another six months, this will be easier said than done. Because, OPEC members like Iran, Nigeria and Libya may increase their production in near future and there is also a possibility of non-OPEC members to cheat on their agreed production levels. Investors must take note of this.
Disclosure: I/we have no positions in any stocks mentioned, and no plans to initiate any positions within the next 72 hours.
I wrote this article myself, and it expresses my own opinions. I am not receiving compensation for it (other than from Seeking Alpha). I have no business relationship with any company whose stock is mentioned in this article.