Meet The Big Four
In our last article on Canopy Growth, we presented an analysis of the cannabis macro view. According to research reports by Canaccord Genuity and Deloitte, marijuana industry revenue is projected to reach between $5 billion to $8 billion. Representatives from Canada's two major political parties have spoken for expediting the legalization process. While marijuana legalization is gaining much momentum, the process to become a licensed producer is still quite tough to pass. In the last year, Health Canada approved license for merely 23 out of 1200 applicants.

Source: Canopy Growth, Aphria, Aurora, OrganiGram
We see this as a big positive for current licensed producers as it limits market saturation. In particular, existing cannabis players with sizable market caps will be able to grow their business with less competitive threats. In this article, we will compare the revenue growth, cash & debt, and analyst targets for Canopy Growth (OTCPK: TWMJF), Aphria (OTCPK: OTCQB:APHQF), Aurora (OTCPK: OTCQX:ACBFF), and OrganiGram (OTCPK: OTCQB:OGRMF). All financial figures are expressed in USD via Bloomberg.
Market Capitalization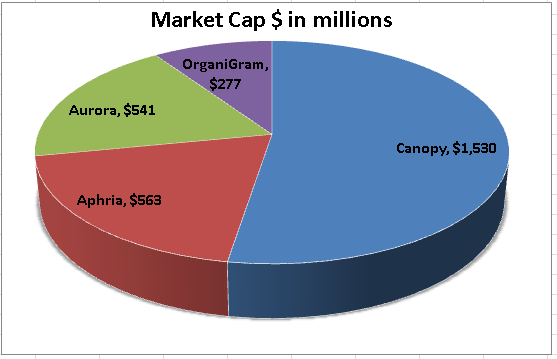 Source: Bloomberg
Canopy's current $1.53 billion market cap is nearly 3 times the size of Aurora and Aphria. Canopy saw shares skyrocket to over $10 in November before slumping to below $7 upon news of legalization slowdown. Aphria has had a great run last week which saw shares rise from the 4.20 range to $5 currently. Shares of Aurora has been flirting around the $2 range for the past month after a meteoric rise from 40 cent to current levels in 2nd half 2016 (all three stocks rose significantly in this period). OrganiGram's market cap took a hit in the last few months when shares dipped from the $2.50 range to current levels, partly due to a voluntary product recall issued by the company for using unapproved pesticides.
Revenue growth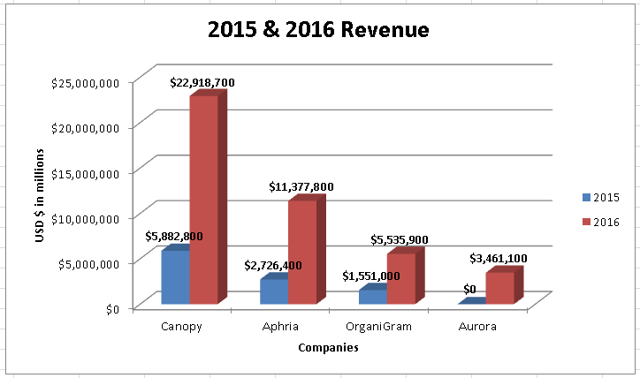 Source: Bloomberg
2016 saw substantial revenue growth from these four players. Canopy, the market leader in 2015, saw revenue grow nearly 290% from $5.88 million to $22.9 million. Aphria saw business flourish as well, with top line growing 317% from $2.72 million to 11.37. OrganiGram's revenue went up 257% to $5.535 million but offers slight disappointment as 2015 revenue was merely $1.551 million. Aurora was still at their research & development stage in 2015 so there was no recorded revenue for that time. The company's first year of operations already raked in $3.461 million, which is substantially higher than both Aphria's and OrganiGram's 2015 revenue.

Given the immature financials of these 4 stocks, we believe examining revenue per share and price to sales would be more meaningful than looking at their price to earnings. Going by revenue per share, Canopy is far and away the leader with $.186. In terms of price to sales, Aphria appears to be undervalued with a P/S of 44.7 compared to the average P/S of 54.
Cash & Debt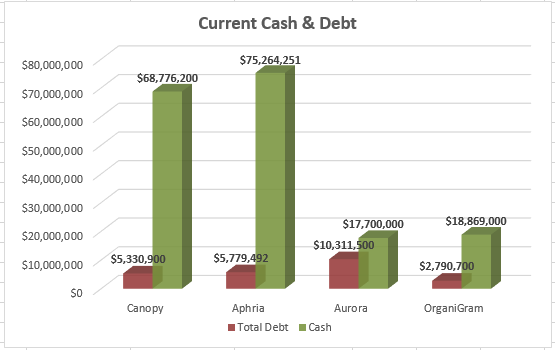 Source: Bloomberg
Canopy and Aphria each have around 13x more cash on hand than debt. With $68.7 million and $75.2 million cash/cash equivalents respectively, Canopy and Aphria appear to be in prime form to expand their operations, increase marketing, or invest in R&D OrganiGram, with $18.8 million, has much less cash on hand compared to the two giants but the company is maintaining a decent 6.7x more cash than debt. Aurora, on the other hand, seems to be much more open taking on debt. The company, with $10.3 million in debt and only $17.7 million in cash, is treading on thin ice compared to its competitors.
Analyst Targets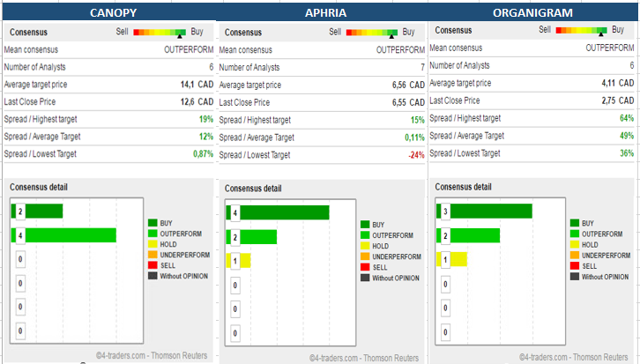 Source: 4-Traders
All three stocks above have an average rating of buy/outperform. Canopy, with a buy or outperform average rating from all 6 covering analysts, has an average price target is $10.76 (CAD converted to USD), which represents a 10.6% upside from its current price of $9.62. Aphria, with 6 buy/outperform rating and 1 hold rating, has an average price target of $5, which offers no upside to the stock's current price. OrganiGram, with 5 buy/outperform ratings and 1 hold rating, has an average price target of $3.14, which offers a substantial 49.5% upside from its current price of $2.10 (due to the recent dip).
**We were unable to find analyst price targets for Aurora.
Please note that analyst price targets are subjected to heavy changes in short periods of time and analyst upgrades seem to spur significant movement in stock prices. The chart below shows Canopy's stock price and analyst target correlation in $CAD.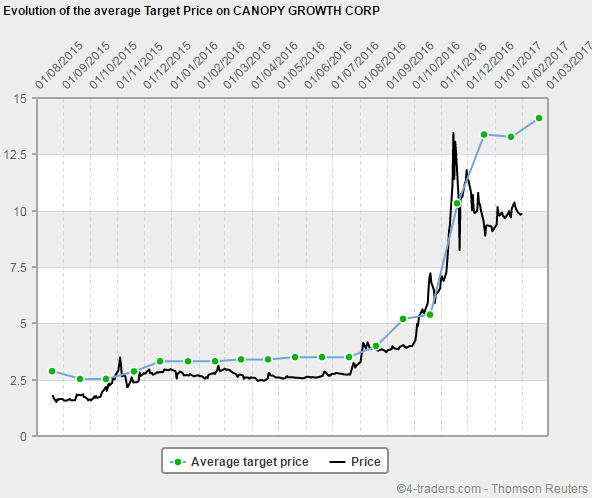 Source: 4-Traders
Our Personal Holdings
We bought into canopy back in the $8 range last November and averaged down heavily when the stock dipped to below $7. After publishing our piece on canopy last week, we gained valuable insight from our readers, did some due diligence of our own, and initiated a position in Aphria. Compared to Canopy and Aphria, OrganiGram and Aurora definitely stand out as investments with more immediate upside and higher risk (in an already volatile industry).
We've recently started using simplywall.st, a platform that generates charts using fundamental data from S&P Capital IQ. Using the stock comparison feature, simplywall.st's "snowflake" chart shows that Aphria has the healthiest balance sheet amongst these 4 prospects while maintaining attractive growth. Aurora seems to offer the highest growth potential at the cost of a mediocre balance sheet.

Source: simplywall.st
We do not own OrganiGram or Aurora because we lack the conviction to invest in riskier picks in an already volatile industry. With that said, we are certainly keeping an open mind and we'd be ecstatic if you folks can provide some insights on the strengths of these two companies that goes beyond their current financial.
Disclosure: I am/we are long TWMJF, APHQF.
I wrote this article myself, and it expresses my own opinions. I am not receiving compensation for it (other than from Seeking Alpha). I have no business relationship with any company whose stock is mentioned in this article.
Editor's Note: This article discusses one or more securities that do not trade on a major U.S. exchange. Please be aware of the risks associated with these stocks.