Tesla (NASDAQ:NASDAQ:TSLA) will announce earnings and possibly tell us a bit more about their coming Model 3 car, its features, its schedule, its costs and its reservation holders. What we learn about Model 3 may be more important to the future of the company and more important to the prosperity of Tesla shareholders than any backward-looking financial results.
Many argue that focus toward the future while ignoring the financial past places shareholders in a state of capitalistic sin, but such is the world of optimistic Tesla investors. Those who have based their Tesla strategy on the axiom that "if news about Tesla isn't bad, then it isn't true" have suffered of late, bringing the axiom itself into question among mainstream investors. Without belaboring the possibilities to be seen in Tesla's financial results, other than to observe that they won't matter much, let's consider three things we may learn about Tesla's Model 3 that actually will matter to the stock price.
The Floor of Model 3
By noticing how thick is the floor of Model 3, we can learn something about how good are the GigaFactory battery cells.
The floors of Model S/X are thick - 4 inches (100mm) or so - because Tesla has arranged the battery cells vertically, and the 18650 cells are 65mm long. When the wiring, module packaging, supporting structure, under-battery armor plate, cabin floor, sound insulation, carpet are all added, the floor gets pretty thick. The thick floors of the Model S/X result in seating position less commodious than it might otherwise be.
Tesla will use their new "2170" cells coming from the GigaFactory in the Model 3. These cells are 21mm in diameter and 70mm long - slightly longer than the 18650 cells used in Model S/X. If these cells are packaged vertically for the Model 3, as they are for Model S, then the Model 3 floor will be at least as thick as the floor in Model S if the battery covers the entire floor area. A Model 3 battery with that much volume also would be heavy, and if improved battery chemistry is used, will have very large capacity. This is a problem because such a battery implies a very heavy, very costly Model 3, which makes no sense for Tesla's business. It is also at variance with what Tesla has said about Model 3 having a less than 60kWh battery in the entry configuration.
I have previously looked at a couple of battery arrangements for Model 3 that would be consistent with a somewhat higher energy density cell chemistry. This article describes two alternatives.
At the Model 3 unveiling, Tesla showed a drawing with eight large, flat battery modules arranged something like this: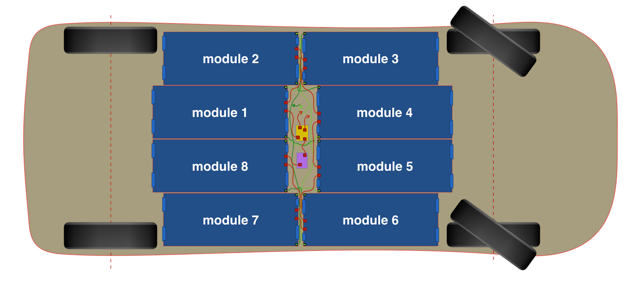 Tesla showed an arrangement of eight battery modules when the Model 3 was unveiled. The length of the modules is constrained by the available distance between front and rear wheelwells.
The only way Model 3 can have a floor thinner than that in Model S would be if the battery cells are laid horizontally. It is also the only way, consistent with dense liquid cooling of the battery that yields a reasonable weight and capacity battery with improved cell chemistry.
A particularly simple battery module arrangement would consist of a single "layer" of cells. The problem with such an arrangement is that it only allows a small number of cells, which would require large but not inconceivable improvements in cell chemistry if Model 3 is to achieve promised range.
Some time back, I shared an analysis of Model 3 battery size as it varies with cell chemistry improvements, taking into account the knock-on effects that lighten the entire car, and not just the battery, as cell chemistry improves. I have updated that analysis for the 21mm diameter X 70mm long "2170" GigaFactory cells. Notice that the "optimistic" example of 525Wh/kg specific energy is for cells demonstrated five years ago. While we should not expect "laboratory" cell chemistry to move immediately into production, five years is quite a while...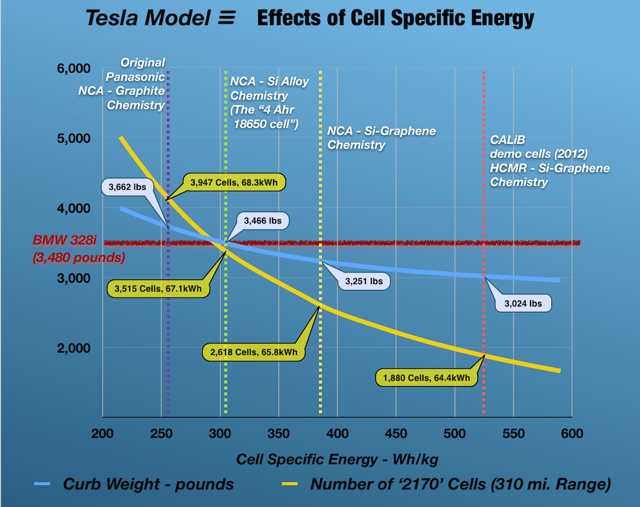 As cell chemistry improves, the battery stores more energy in each kg of cells, the car becomes lighter overall and the number of cells in the battery drops dramatically.
A battery module with a single layer of horizontally arranged cells, sized to fit Model 3's wheelbase and tire size, would hold 220 of the "2170" GigaFactory cells in a 22 Parallel x 10 Series arrangement.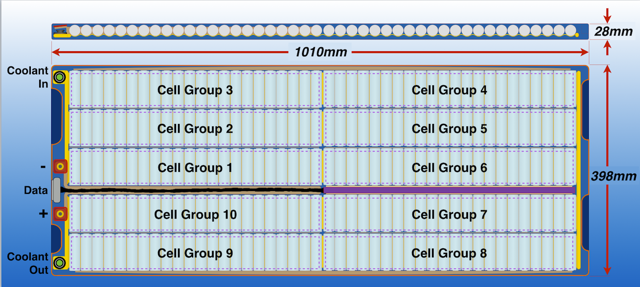 The thin module with a single layer of horizontal "2170" cells is arranged as 10 parallel cell groups of 22 cells each.
Eight such modules would result in a battery arrangement of 22 cells in each parallel cell group and 80 groups in series - a 22P80S configuration. This would be consistent high voltage stable electrolyte cells operating at five volts maximum and a 400V battery voltage compatible with existing SuperChargers.
But this battery with thin battery modules would have only 1,760 of the "2170" cells. This presents a problem in that Model 3 cannot achieve 200-plus miles of range with this battery unless significantly better chemistry allows high energy density cells. Using the earlier analysis, we find the following relationship of Model 3 range to cell specific energy with a battery of 1,760 "2170" cells.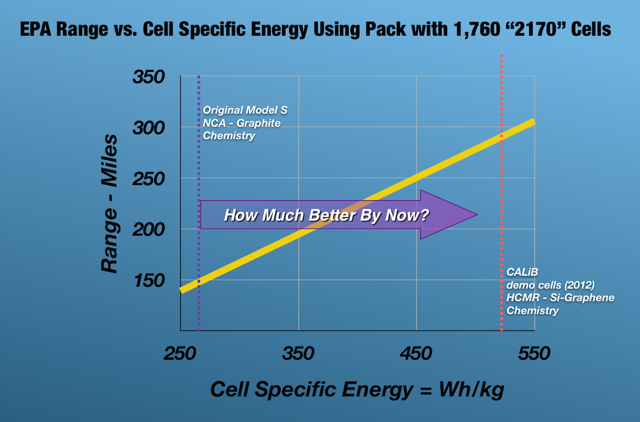 With a thin battery and only 1,760 "2170" cells, Model 3 range becomes dependent on cell chemistry improvements over what Tesla is using in Model S/X today.
Bottom Line
The interesting thing in this analysis is that if we know how thick is the floor of Model 3, and we know its range, we will have a pretty good idea how good is the GigaFactory cell chemistry. The flat module illustrated above is 28mm thick - a bit over 1 inch - and together with mechanical supports, armor under the battery, sound deadening material and carpet, the overall Model 3 floor thickness would be ~50mm (~2 inches). So, if the floor of Model 3 looks to be about half as thick as the floor of Model S, that would indicate Tesla/Panasonic have some really good cell chemistry on tap at the GigaFactory. Great cell chemistry, fewer cells in the Model 3 battery would point to lower Model 3 cost, and hence to happier Tesla shareholders - to the extent that Tesla shareholders actually care about such things.
Where Oh Where Is the Charge Port?
If we look carefully at the charging port/charging port door on Model 3, we can learn something interesting.
When Tesla unveiled Model 3, what we saw were prototypes. Among other things, these prototype Model 3 cars had no external charge ports or charge port doors. If we are shown a more "final" version of Model 3 in coming days, look carefully for the charge port. Is Model 3's charge port small like on Model S/X? Is the Model 3 charge port door a part of the taillight assembly as on Model S/X? Or does Model 3 have a larger charge port door?
The world of electric car charging, particularly fast DC electric car charging, is evolving. There is the CHAdeMO standard, the CSS standard, the Chinese standard, and of course the Tesla standard. But the Tesla "standard" isn't actually standard because the "Tesla plug" is different in the US, Europe and China already. Of course, CSS and CHAdeMO differ from each other and from Tesla anyway.
So far, Tesla has offered adaptors for customers who occasionally need to connect to a CHAdeMO or CSS fast charge station. The hassle of fiddling with adaptors isn't all that big a deal in as much as these other "fast" chargers aren't really all that fast and fiddling with the adaptor is the least of the hassle involved in the arduously slow "fast" charging experience using CSS or CHAdeMO.
SuperChargers are, for practical purposes, the only true fast charging solution, and Teslas are the only electric cars that can be charged at >100kW rates. But this is going to change in the next few years as other carmakers introduce long-range electric cars and true, high-power DC chargers are rolled out from others. How will Tesla "adapt" to the availability of more high power DC charging alternatives?
If we see a large charge port door on Model 3, that may indicate Tesla will include the "charging adaptor" in the car, and thereby make the coming networks of other high power DC fast chargers easily available to Tesla owners. Doing so would at once disarm the notion others will have better fast-charging options because governments or consortia will roll out more fast charging stations.
On the other hand, a smaller "Tesla standard" charge port would indicate that Tesla is doubling down on their SuperCharger strategy. So, look for the Model 3 charge port.
Oh Wow! See the Tesla Spaceship Display
Tesla has promised a much more exciting Model 3 driver interface. Moving all the dashboard instruments to a HUD would be a reasonable expectation, but there is something special to be looked for when we see the more exciting Model 3 interior.
Will Model 3 deliver a conventional HUD, or will Tesla give drivers an augmented reality experience? A basic HUD shows numbers and symbols in much the same way they would be seen on a dashboard display, but "projected into space" ahead of the car. An augmented reality display on the other hand overlays information on the scene, allowing things in the environment to be labeled or enhanced in real time.
The trick, however, is that the augmented reality display must constantly be adjusted as the driver moves their head so that the projected images continue to "line up" with the external scene. To accomplish this dynamic alignment, an augmented reality HUD system must continually track the driver's head and eye position - something often done with a pair of cameras aimed at the driver. So, look for a couple of cameras pointed at the driver to track head/eye motion.
Panasonic has demonstrated just such an augmented reality HUD system.
This Panasonic augmented reality HUD would be a good fit for Tesla's Model 3. Interestingly, the Panasonic augmented reality HUD uses an array of cameras arranged around the car very much like the 8 cameras Tesla is including on all their cars as part of the autopilot hardware. If Tesla is using the Panasonic HUD, that would indicate a deepening relationship between the companies, something of likely interest to investors. And how "cool" the Model 3 HUD turns out to be will be of great interest to prospective Model 3 customers.
Conclusions
We are likely to see and learn more about Tesla's coming Model 3 car over the next days or weeks. This article has described three particular things about Model 3 (floor, charge port, HUD) that merit close examination.
The author does not intend to predict what Tesla will do, what technology they have already in hand, etc. At the same time, there are things that can reasonably be inferred from certain aspects of Model 3 design that we may see or learn about. Some of these things will matter greatly to the success of Tesla and the prospects for investors in the stock.