Belden (NYSE:BDC) looks to be positioned to have a strong year in 2017. First thing to look at is what segments the company operates in and what each segment does. From that point, it will be easier to see what catalysts the company has moving forward. Aside from several catalysts that could be coming down the pipeline, it's important to look at the brand recognition the company has with its customer base. After looking into those areas in detail, I'll compare Belden's valuation to others in its sector.
Taking a Look at Operating Segments
Belden operates through five different segments of business: Broadcast, Enterprise Connectivity, Industrial Connectivity, Industrial IT, and Network Security. The chart below shows each segment's earnings over the past year (numbers were pulled from the Q1 2016, Q2 2016, Q3 2016, and Q4 2016 earnings reports.)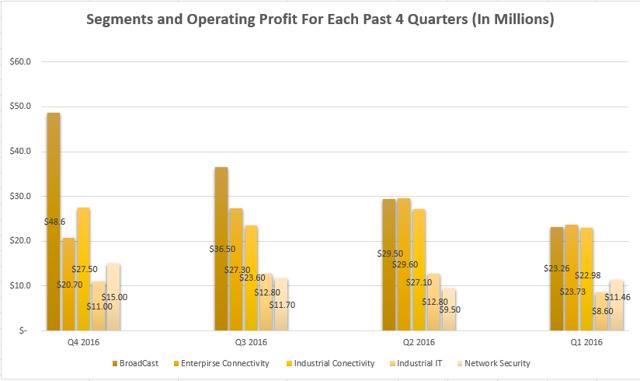 As can be seen from the table above, the Broadcast segment of the business is the largest in net profit. Enterprise Connectivity and Industrial Connectivity usually fall in 2nd or 3rd place. Then Industrial IT, and Network Security are in the running for 4th and 5th.
The Broadcast segment provides products for television broadcast, cable, satellite, and IPTV businesses. The Enterprise Connectivity Solutions segment offers network infrastructure solutions for customers. The Industrial Connectivity Solution segment produces high performance networking components and machine connectivity products. The Industrial IT segment creates advanced networking systems for industrial purposes. The Network Security Solutions segment provides cyber security for networks.
Catalysts Moving Forward
Belden's Broadcast and Enterprise Connectivity segments are fairly solid and should continue to grow at a similar pace. One thing to keep in mind with the Enterprise Connectivity division is that sharp spikes in copper prices can cause reduced profits from time to time. These decreased profits though seem to be easily managed by the company by simply passing the costs on to customers. The Industrial Connectivity and Industrial IT segments of business could see a catalyst coming soon. Management says that a recovery in the oil and gas could cause income from its industrial-focused segments to increase. Since oil and gas is predicted to begin expanding again in 2017, this could help grow profits in the industrial segments of Belden.
The network security segment presents a real growth opportunity for Belden. It has partnered up with cyber security company FireEye (NASDAQ:FEYE) and this segment is growing at an aggressive pace. Just from the third quarter to the fourth quarter, profits from this segment increased by more than 25%. The entire cyber security industry is expected to grow by 12-15% each year over the next few years and, if large scale cyber-attacks continue on corporations and government agencies, there's a chance for even greater growth. Belden will be well positioned to profit off of this increasing trend to better secure networks.
Good Products & Strong Brand Along With Great Customer Interactions
Upon looking up reviews on Belden's products, most seemed positive in nature. In my personal life, I have contact with several electricians, and I asked them about Belden and what they thought about the products the company offers. The response I received was "well it's still working since we installed it" which may not sound exactly incredible to someone from the outside looking at this situation, but coming from these sources, it is high praise. It also seem to have solid brand recognition. People in the industry easily recognize the name, and typically have a positive view towards it. I think this is aided by the company's efforts to talk to its consumers. Upon visiting its website, it's easy to find the company blog where people can find all sorts of informative articles on the industry. Many manufacturers really don't have the type of connection that Belden seems to have with its customers.
A Look at Valuation
In the telecommunications equipment industry, the average forward P/E ratio is 24.60, and the average trailing P/E ratio is 50.77. Belden's forward P/E ratio comes in at 13.73, which is considerably more attractive than the average amongst its peers, and the trailing P/E ratio is also significantly better at 23.09. This leaves plenty of room for Belden's share price to increase just because the company is undervalued to some degree.
Conclusion
In my opinion, Belden looks like a solid buy going into 2017. The environment in which it operates has plenty of positive catalysts with improving oil and gas, and then the exposure to the growing cyber security industry. The company seems to have a solid brand in the industry in which it operates. Then on top of all that, it is at a pretty attractive valuation compared to others in its sector. I would expect this stock to perform well moving forward.
Disclosure: I/we have no positions in any stocks mentioned, and no plans to initiate any positions within the next 72 hours.
I wrote this article myself, and it expresses my own opinions. I am not receiving compensation for it (other than from Seeking Alpha). I have no business relationship with any company whose stock is mentioned in this article.