By VWArticles
We are terrible short-term forecasters, and so is everyone else we know.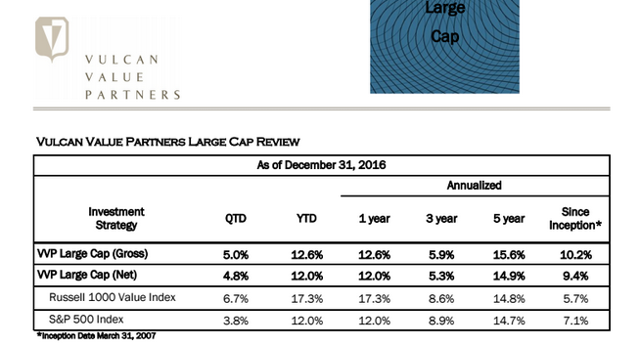 The lesson 2016 should teach us is to be humble and take the long view.
There are two building blocks to our long-term results. The first is the underlying value growth of the companies we own. Since our companies produce strong free cash flow, our companies' values can and do grow faster than their earnings growth rates. The second building block is the weighted average price to value ratio of our portfolios. It is also our most important risk measurement. The deeper the discount, the larger our margin of safety and the greater our prospective returns.
Looking out into 2017 and, more importantly, over the next five years, we expect our companies' value growth to be in the upper-single digit range, which is below our historical double-digit value growth rate.
For 2017, we expect an improving economy in the U.S. to be offset by continued strength in the U.S. dollar and mixed economic results outside the U.S.
Our five-year expectation incorporates a recession occurring sometime over our investment time horizon. Cash levels are a residual decision for us.
Last year, our price to value ratios were in the mid-to-upper 60s except for Small Cap, which was nearly 70%.
We are feeling much better about Large Cap, Focus, Focus Plus, and All Cap. All of these strategies have price to value ratios in the upper 60s, compared to the mid-to-upper 60s a year ago.
New positions - McKesson (NYSE:MCK), AmerisourceBergen (NYSE:ABC), CBRE Group
Sold - Marriott International (NYSE:MAR), Qualcomm (NASDAQ:QCOM), T. Rowe Price (NASDAQ:TROW), and United Technologies (NYSE:UTX).
Smalls Caps - purchased five new positions and exited eight positions during the fourth quarter.
New purchases include CEB, Inc. (NYSE:CEB), Choice Hotels (NYSE:CHH), Trade Me Group (OTC:TRMEF), Halfords Group (OTCPK:HLFDF), and Outfront Media (NYSE:OUT).
See other fund moves in letter…
VVP Quarterly Letter 16.12.31
Disclosure: None.