In this analysis, we'll review the currency carry trade and how it can be a great barometer of market risk sentiment and how it is often correlated to the S&P 500.
It's not surprising the currency carry trade and the S&P are positively correlated. However, when this correlation breaks down and the carry trade moves in the opposite direction of the S&P, equities have historically faced corrections. And last week, we entered a breakdown in the correlation.
In full disclosure, this analysis is limited to only the currency carry trade and its impact on the S&P. It is by no means comprehensive. Obviously, there are a myriad of factors that drive equities.
The currency carry trade does not drive equities indices. However, it's an excellent barometer of risk sentiment in the market, and can give us fantastic insight as to the direction of global investment flows.
For those invested in the SPDR S&P 500 Trust ETF (NYSEARCA:SPY) or the CurrencyShares Japanese Yen Trust ETF (NYSE:FXY), the currency carry trade can help you manage your risk more effectively.
What is the carry trade?
The carry trade is when an investor borrows in yen at zero interest rates to exchange into another currency with the intention of investing in the markets of the newly converted currency.
For example, when I was a forex currency risk manager, I once helped a wealthy client borrow in yen so that he could invest in the U.S. equity markets. As a result, he converted yen to dollars on day 1 and invested the dollars in the S&P 500. And when the exchange rate began to move against him, he would sell his investment and convert the dollars back to yen, thus unwinding the trade.
Technically, investors don't have to borrow in yen, but rather, can execute an FX trade whereby they sell yen and receive another currency.
However, with the carry trade, investors have currency exchange risk, since they will ultimately need to unwind the original currency conversion when they're done with their investment. If the exchange moves adversely during the investment period, they could wipe out all of their gains from their investment.
Today, a popular carry trade is to sell yen for New Zealand dollars to invest in commodities, since New Zealand is a commodity exporter.
If the NZD/yen rate is rising, more money is flowing into NZD versus the yen, and this typically signifies a risk-on market. In other words, when investors are bullish and willing to take on more risk, the NZD/yen rate rises. Conversely, when the markets are jittery and risk-averse, the NZD/yen rate falls - meaning money is flowing out of NZD and back into yen, which is considered a safe haven asset.
How much is the S&P correlating to the NZD/yen rate?
Monthly Chart Analysis:
As we can see, the S&P 500 at times (not always) has correlated positively with the New Zealand dollar/yen exchange rate. And at times, the currency moves in lockstep with the S&P. This makes sense, since at times when the market is risk-on, investors typically buy equities and commodities.
The correlation is not always 100%, and of course, it can break down.
However, by watching the NZD/yen exchange rate, we can determine whether the market is risk-on or risk-off before going long or short the S&P 500.
In executing your risk management strategy, if the NZD/yen rate is falling, i.e. by double-digit percentages, the currency barometer is signaling the market has become increasingly more risk-averse.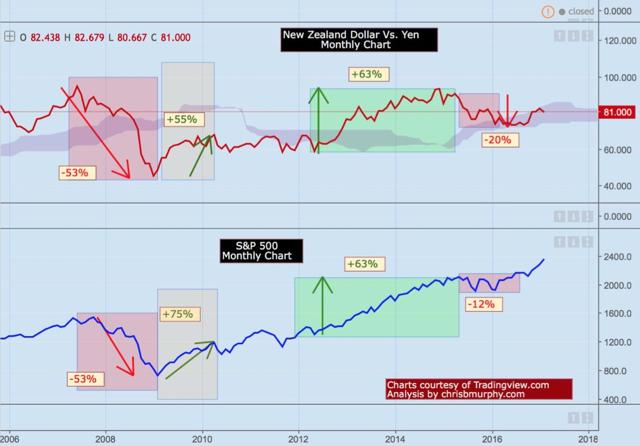 Monthly chart with MACD added:
During the financial crisis in 2009, the NZD/yen MACD fell below zero (highlighted purple circle on MACD). The S&P fell in lockstep.
Please bear in mind: the currency carry is not a predictor of the S&P. However, this illustration demonstrates that in times of uncertainty, if momentum plummets in the currency carry trade, the S&P is hard-pressed to rise in such a risk-averse environment.
Today, NZD/yen MACD is below zero, which typically translates to waning momentum, although it appears to be attempting to bounce back above zero (light blue circle on the MACD). The S&P 500 also surged higher. A cross back above the MACD zero line could translate to an increasingly bullish risk-on market.
When looking at monthly charts, they're great for trend analysis, but they're very long-term in nature. Any trend change could take weeks or months to play out.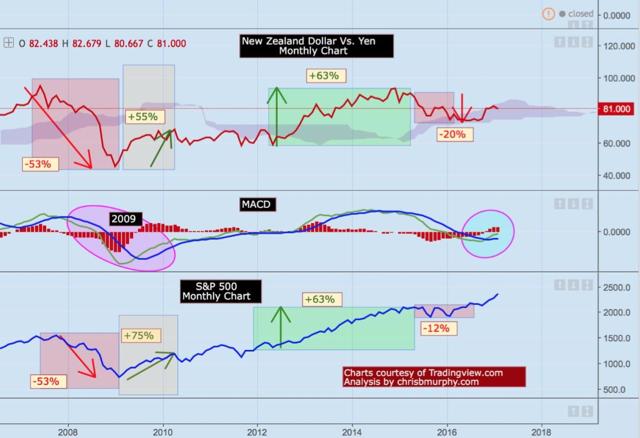 Post-Election Bump Analysis (Daily Chart):
Here's a closer look at the post-election bump using the daily chart of the NZD/yen.
We can see the divergence where NZD/yen is starting to break down, making lower highs while the S&P is making higher highs.
The divergence could be caused by several factors. The correlation could be simply breaking down, or an unwind might be underway in NZD due to country risk.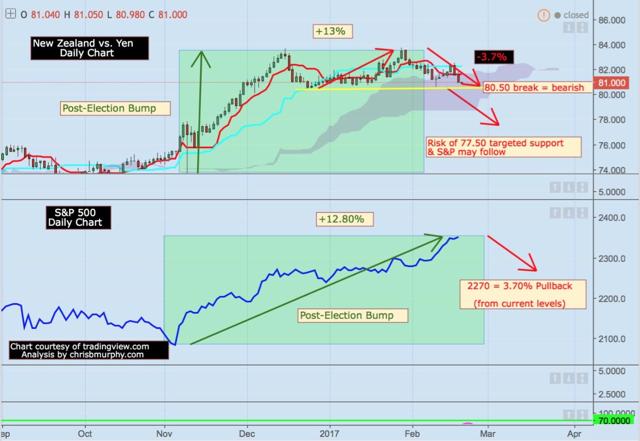 However, the more likely scenario is that the breakdown of NZD/yen is signaling that there's confusion in the markets. Uncertainty over the European political situation, the Fed hikes, and President Trump's policies are just a few of the unknowns for this year.
What to watch:
A further breakdown in NZD/yen below 80.50 would likely be viewed as a bearish signal by investors. With a break of 80.50 lower, we may see a further unwind of the yen carry trade - selling NZD for yen - thus exacerbating the slide.
As a result, if the NZD/yen starts to slide in double-digit percentages, as history has shown, the S&P 500 will likely face serious resistance, become very choppy, and possibly correct lower.
From the chart, we can see that a 4% move lower on the S&P would translate to 2270 from current levels. How much of the NZD/yen slide (currently 3.7%) shows up in the S&P will depend on whether we're seeing unwind in the carry trade or merely an NZD/yen pullback.
From a risk management standpoint, the yen carry trade is a great barometer for global investment flows. Of course, it's not an all-encompassing barometer, since there are a myriad of factors that drive equity markets.
However, if you see a double-digit move lower in the yen carry trade, it typically translates to a risk-off scenario, and equities and commodities are at risk of correction. It would be prudent to tighten stops or employ risk management strategies.
For investors, you don't need to be an FX expert, but monitoring the carry trade can help you get a better sense of risk sentiment in the market before placing a trade or deciding when to take your money and run.
More to follow on yields, financials, equities, FX, and risk management techniques designed to prevent that dreaded "bad" trade. If you like this article and would like to read more of my market analysis, please click the "Follow" button to the right of my name at the top of this article.
Good luck.
Disclosure: I/we have no positions in any stocks mentioned, and no plans to initiate any positions within the next 72 hours.
I wrote this article myself, and it expresses my own opinions. I am not receiving compensation for it (other than from Seeking Alpha). I have no business relationship with any company whose stock is mentioned in this article.