The global nuclear power generation industry is in crisis. The nuclear power companies are not undertaking many new ventures while most of the projects in progress are on the rough patch. According to Bulletin of The Atomic Scientists, 60% of 55 nuclear reactors currently under construction around the world are facing delays and budget overruns. The fact is indicative of strong headwinds faced by utilities and nuclear contractors.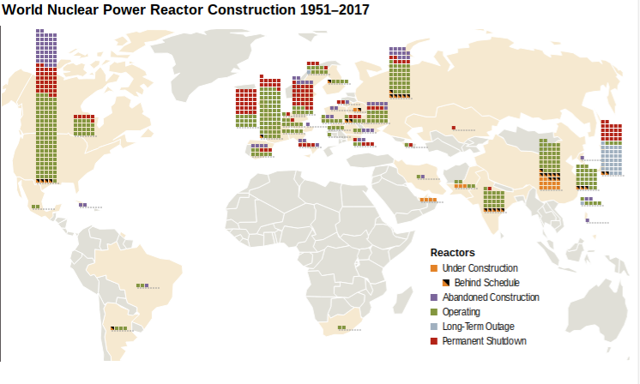 Source: Bulletin of The Atomic Scientists
The dynamics are also challenging in the world's largest nuclear industry. The U.S. nuclear power generation market is struggling to remain relevant as significant losses have triggered the premature closure of a handful of nuclear facilities in the recent past. Several nuclear and fossil fuel plant operators, including the largest player Exelon Corporation (NYSE:EXC), are experiencing increasing pressure on earnings and cash flows due to falling electricity prices, lackluster power consumption growth, and high debt burden.
The reactor fleet is aging in the U.S. While the global average age of the nuclear fleet is 29 years, the age of 44% of total nuclear reactors in the U.S. has exceeded 40 years. It means increasing costs of generation & maintenance and stiff competition from renewables will continue to weigh on the profitability of nuclear power plant operators, particularly Exelon (owns 25% of 99 nuclear reactors in the U.S.). Considering the increased chances of premature closures in the midst of collapsing wholesale prices, Exelon is comparatively a risky utility. However, the fundamental improvements due to ongoing initiatives to reduce the business risk will provide upside potential to long-term shareholders.
Different Approach
In a recent conference with the Wall Street analysts, Maria G. Korsnick, president and chief executive of Nuclear Energy Institute, pointed out that new technologies, such as Small Modular Reactor (SMR), regulatory support, and public-private partnerships for project financing can help carbon-free nuclear energy to survive the competition.
However, Exelon has taken a different approach to addressing the challenges ahead and reduce the business risk. The company is not dumping massive cash flows in new nuclear generation facilities, which is a smart move as electricity consumption growth will remain subdued with the increasing investments in energy efficiency projects. The recent report from PJM shows that summer and winter peak load growth is expected to average 0.2% and 0.3%, respectively, over the next fifteen years - well below the previous forecast.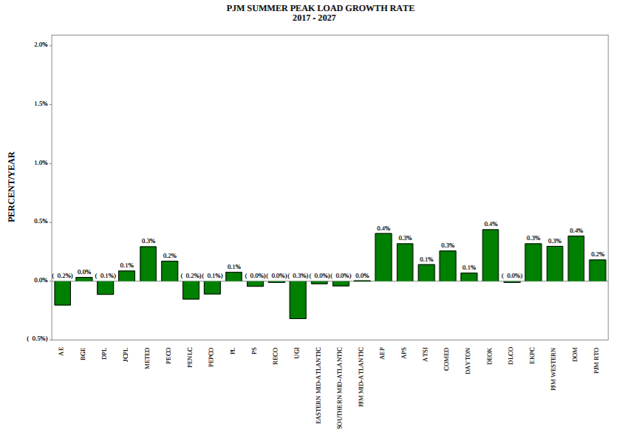 Source: PJM
The improving economics of utility-scale and rooftop solar and cheaper cost of electricity generation from combined cycle gas-fired power plants are also influencing Exelon's investments in nuclear generation. And here is another valid reason. The industry participants are working on next-generation of nuclear projects, but the lll+ generation pressurized water uranium fission reactors are behind schedule with significant cost overruns. That said, considering the current state of industry and Exelon's significantly high long-term debt/EBITDA of 4.5x, I think the management will focus on natural gas and renewables for a more balanced portfolio of generation.
Instead of building new nuclear plants, Exelon is focusing on the profitability of its existing nuclear fleet. The recent acquisitions of a couple of loss-making nuclear reactors have strengthened the case for financial support from the New York regulators for its three nuclear plants. Similarly, the Future Energy Jobs bill passed in Illinois will help Exelon compete against heavily subsidized solar and wind energy.
However, the bill, which is set to take effect as a law on June 1, 2017, is facing resistance. The advocacy group and competitor companies have filed a federal lawsuit. The legality of the state's interference over wholesale electricity rates is in question. The plaintiffs have a strong reference case of Hughes v. Talen Energy Marketing, which the U.S. Supreme Court struck down in 2012.
However, the fact that Exelon's nuclear fleet accounts for 90% of state's total carbon-free energy will be a pivotal point of the case. Moreover, without the regulatory support and financial subsidies, the premature closure of several poor performing reactors due to extended losses will trigger job losses, which goes against Donald Trump's agenda of creating more jobs. Furthermore, the average residential electricity price in the state of Illinois is fairly in line with the national average, but the overall average price is significantly cheaper. Clean energy is still expensive, and these arguments will defend the zero emission credits and subsidies allowed to Exelon.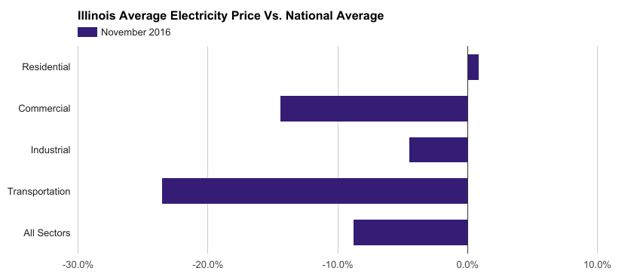 Source: EIA
Visibility
Several major electric utilities like Duke Energy (NYSE:DUK), Southern Company (NYSE:SO), and Dominion Resources (NYSE:D) have significantly increased the exposure to the regulated electric market. For instance, Duke Energy has divested its deregulated assets and now regulated revenues account for 93% of the company's top-line. Similarly, Southern Company has increased its regulated rate base and contribution of wholesale power business has dropped to 12%. Thus due to reduced risk of earnings volatility, these significantly regulated utilities are relatively safer options for defensive investors.
Exelon still earns half of its revenues from deregulated electricity business, which means further weakness in wholesale prices due to sustained level of low prices for natural gas and falling costs of solar PV will negatively impact the revenues from deregulated assets.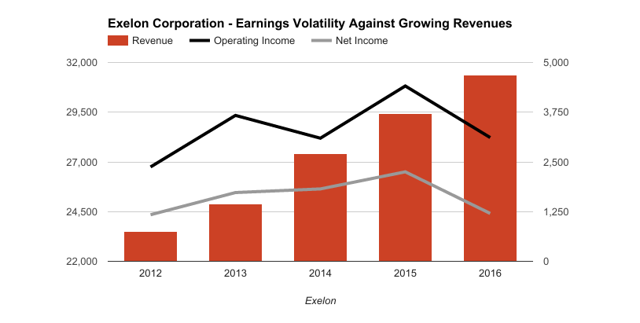 Source: Sec Filings
However, Exelon is making encouraging progress with its ongoing transformation to improve the earnings visibility, which is evident from the fact that earnings contribution from rate-regulated assets has increased from approximately 38% in 2014 to more than 50% in 2016. The addition of PHI's regulated distribution and transmission assets will help reduce the volatility and accelerate sustainable bottom-line growth. Furthermore, the potential improvement in PHI's return on equity will provide much-needed support to dividend growth in the coming years.
The overall revenue and earnings predictability will increase due to the implementation of decoupling mechanism for zero emission credits, which will help Exelon close the gap between allowed ROE and earned ROE. The regulatory approval for pending distribution rate cases will also boost the overall return on equity of Exelon in 2017.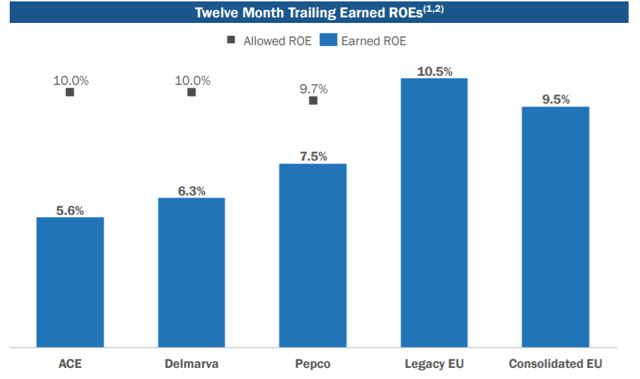 Source: Exelon Presentation
Exelon has allocated a billion dollar to its generation business, but its massive $20 billion investments in electric and natural gas infrastructure improvements and modernization projects over the next four years will increase the rate base at a 4-year CAGR of 6.5%. Thus, the expected $9 billion increase in rate base, including 70% decoupled rate base, combined with growing return on equity will accelerate mid- to high-single digit growth over the long run.
Distributed Solar
In the U.S., solar PV generation capacity almost doubled to 14,626 megawatts in 2016 due to robust growth in utility-scale solar installations. While the overall U.S. solar energy market is booming, the state of Illinois is lagging behind. According to the Solar Energy Industries Association, the solar capacity in Illinois state will increase by 240 megawatts between 2016 and 2020, which is not impressive at all considering the unprecedented growth momentum in several states.
The Solar Energy Industries Association is forming new Midwest State Committee that will push solar energy market in seven states, including Illinois. However, the new Renewable Portfolio Standard (RPS) under the Future Energy Jobs bill will spark interest in the renewable energy market in Illinois. The Renewable Portfolio Standard requires that the utilities will add new cumulative solar and wind capacities of 3,000 megawatts and 1,300 megawatts, respectively, by 2030. This requirement is an opportunity for Exelon to expand its portfolio of renewables.
Exelon generates 10% of total electricity from renewables, but the contribution will increase considerably in the coming years. Exelon is more focused on distributed energy, which is evident from the fact that distributed generation is over two-third of total solar capacities. Exelon's distributed and community solar generation business will grow even faster in the future due to planned generation CapEx of $1 billion between 2017 and 2019. The increasing investments in new technologies, such as distributed solar and smart grid, to enhance the energy efficiencies will allow the company to earn growing rate of returns under the Future Energy Jobs bill.
Hold The Stock
Exelon has struggled to grow earnings due to falling wholesale electricity prices, but its fundamentals will improve steadily with the expansion of regulated rate base, regulatory support for poor performing nuclear power plants, and shift towards a more balanced portfolio of generation.
The stable cash flow generation is a bright spot of Exelon. The expansion of EBITDA margin has boosted the operating cash flow from $4.46 billion in 2014 to $8.45 billion in 2016. The increase in revenues associated with the New York and Illinois zero emission credits program coupled with ongoing operating costs optimization efforts will generate incremental free cash flows of $7 billion from Exelon's electricity generation business over the next four years. The free cash flow growth will allow the company to accelerate dividend growth along with deleveraging of its balance sheet. The annual dividend growth of 2.5% through 2018 is disappointing, but the expected improvements in earnings and cash flows will allow the company to steadily accelerate dividend growth over the long-term.
Exelon has significantly outperformed the Philadelphia Utility Sector Index (UTY) in the past three months, though the price is flat so far in 2017. The stock price may remain under pressure in the near-term due to weak earnings outlook for the first quarter of 2017. The management expects to report earnings per share of $0.55 to $0.65 for the first quarter of 2017, significantly less than the consensus estimate of $0.73 per share. However, the expansion of regulated rate base, improving business risk profile, decoupling, and growing return on equity will enable the company to generate sustainable earnings growth, which will support the stock price. Thus, I would reaffirm my opinion that holding Exelon for the longer run will provide a decent upside.
Disclosure: I/we have no positions in any stocks mentioned, and no plans to initiate any positions within the next 72 hours.
I wrote this article myself, and it expresses my own opinions. I am not receiving compensation for it (other than from Seeking Alpha). I have no business relationship with any company whose stock is mentioned in this article.