In today's piece, I compared and contrast the deposits of Turquoise Hill Resources (NYSE:TRQ) vs. Northern Dynasty (NYSEMKT:NAK), as Turquoise Hill is probably the best comparison given its characteristics and remote location. I will start with Turquoise Hill's Oyu Tolgoi deposit first.
If we look at TRQ's 40-F, we learn the following (page 13):
Turquoise Hill is an international mining company focused on the operation and further development of the Oyu Tolgoi copper-gold mine in southern Mongolia, which is the Corporation's principal and only material mineral resource property. The Oyu Tolgoi Mine is held through a 66% interest in Oyu Tolgoi LLC; the remaining 34% interest is held by Erdenes.
For investors unaware, Erdenes is the Mongolian government. As of the end of December 31, 2015, Rio Tinto (NYSE:RIO) owned 50.8% of the project. In other words, since the Mongolian gov't owns 34% then the remaining 66% project interest is split 32.47% TRQ shareholders and Rio Tinto 33.53%.
Let's look at Oyu Tolgoi's reserves and grade.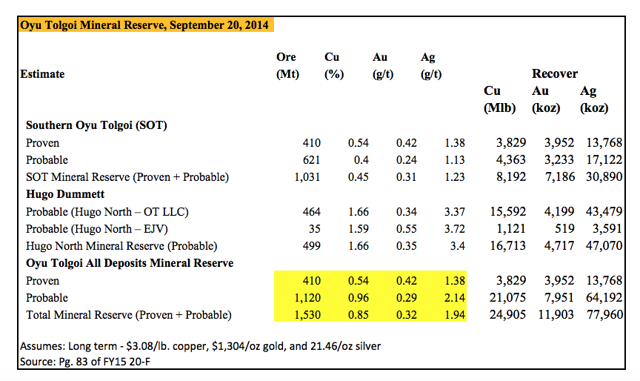 Here are some slides from TRQ's January 2017 investor slide deck.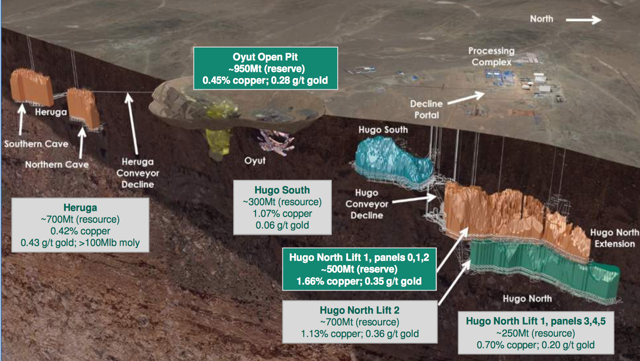 Source: Page 9
Here is an excel chart that I created from the slide referenced above.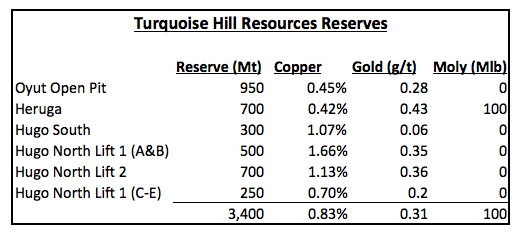 Next look at slide 10 which displays the timeline for the build out of each phase. As you can see, most of the future phases are 10 years out and beyond and require significant capital expenditures.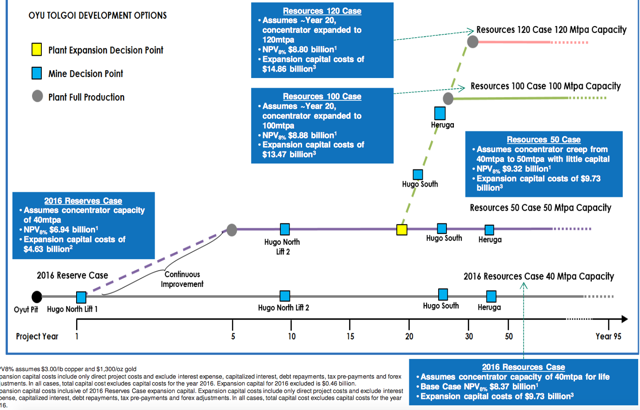 Slide 11 indicates current production milestones.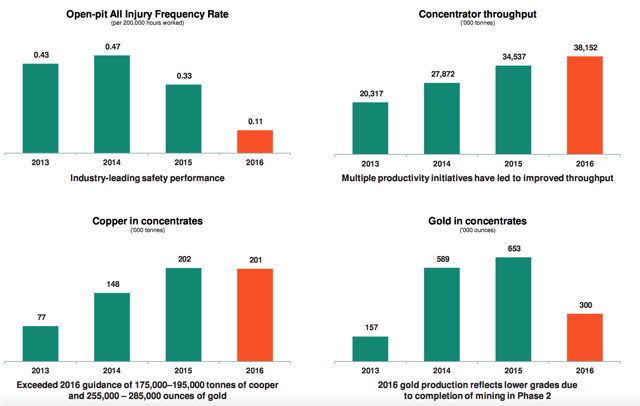 Slide 13 has production guidance for 2017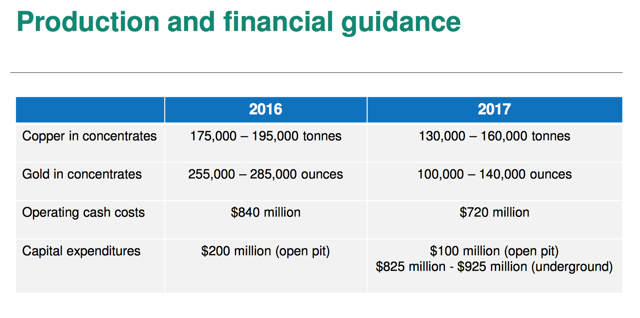 Finally, let's look at slide 20 which geographically displays Oyu Tolgoi. Remember this mine is in the middle of nowhere and all of the infrastructure, including electricity, had to be built to operate the mine.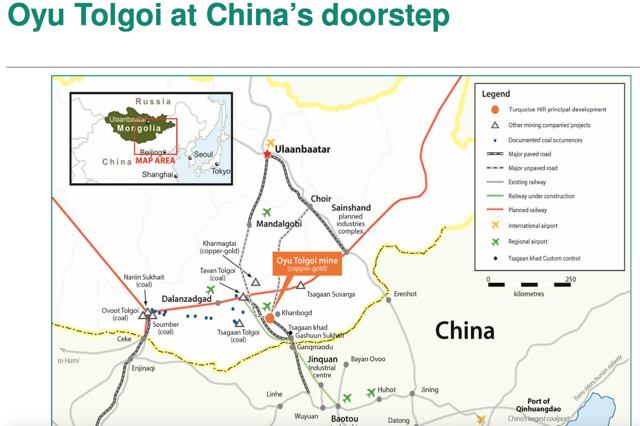 Let's look at Turquoise Hill's valuation. So TRQ shareholders own a 32.47% project interest in Oyu Tolgoi. Its current market capitalization is $7.25 billion and enterprise value is $9.7 billion. Remember this mine is ramping up in phases and each new phase requires significant capital expenditures. The only way for TRQ to fund its pro-rated share is to issue more shares as Rio Tinto has robust cash flow to fund its pro-rated share.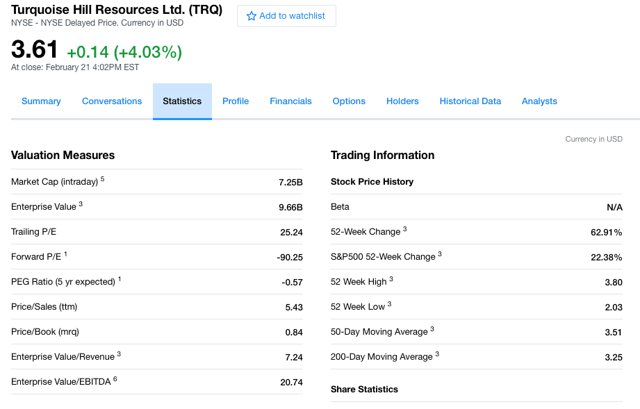 Source: Yahoo Finance
Also, there are rumors from time to time that Rio Tinto is close to fully buying out TRQ's stake to own the full 66% of the projects, but at this point these are rumors. The most recent rumors surfaced in June 2016 and never materialized.
Pebble Mine
Here slides from NAK January 2017 investor slide deck.

Slide 9
As we can see, Pebble would be the world's 9th largest copper reserve, well ahead of TRQ's Oyu Tolgoi.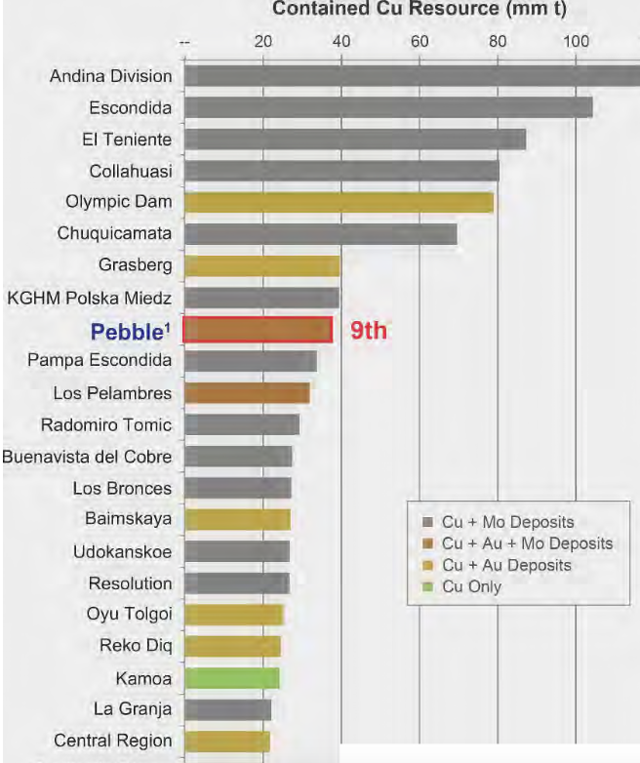 As we can see, Pebble would be the world's 2nd largest gold and silver reserve, with nearly 4X the resources of TRQ's Oyu Tolgoi.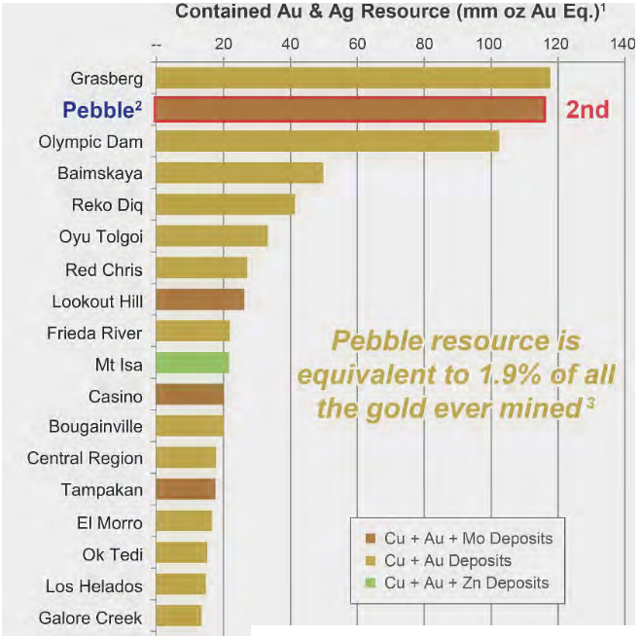 Slide 5
As we can see, Pebble's mine is nowhere near Bristol Bay, yet the environmentalists pretend the deposit is within 1 mile of it.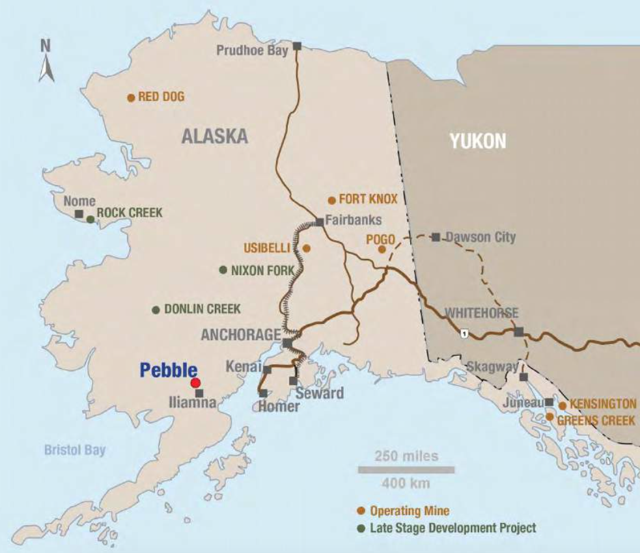 Slide 6
Next let's look at the timeline. Remember that NAK was in litigation with the EPA before the outcome of the U.S. presidential elections.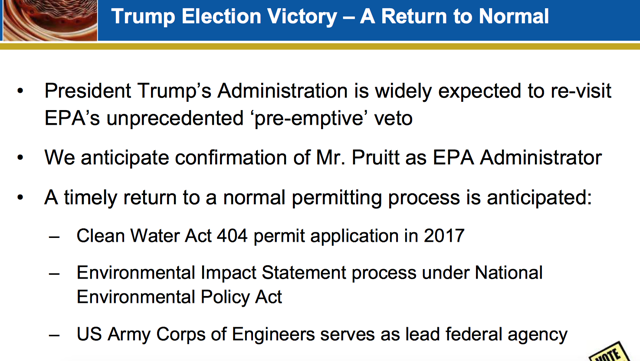 Here is the permitting timeline if/when the EPA pre-emptive veto gets thrown out.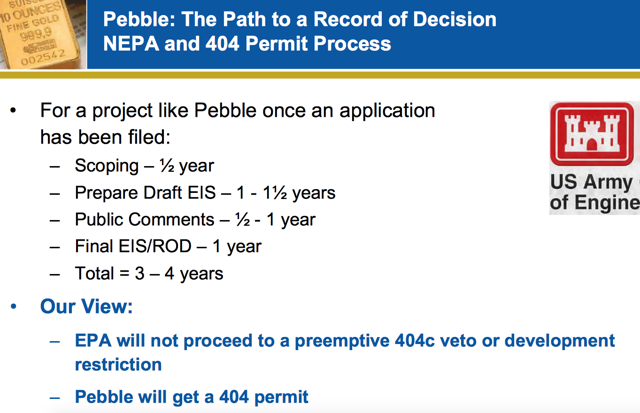 NAK's in-situ values are 1 per lb of copper and $14 per oz of gold.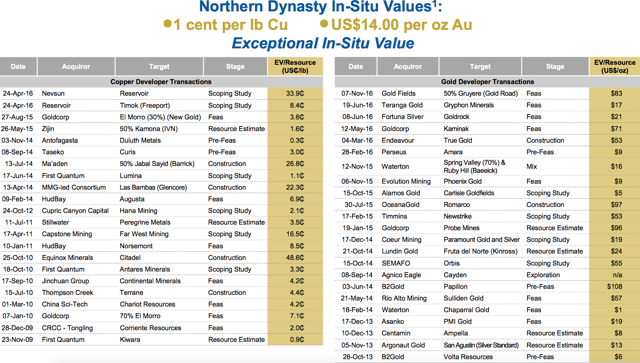 Slide 16
And finally slide 52 we can see the different grades for Pebble Deposit.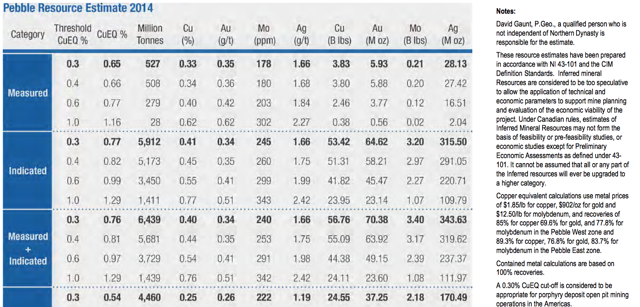 Northern Dynasty's Valuation
NAK has roughly 365 million fully diluted shares outstanding. With yesterday's closing price of $1.63, we are looking at a market capitalization of $595 million.
Takeaway
As I mentioned last week, we bought back half a position in NAK at $2.65 after the Kerrisdale report sell off. Yesterday, we added another 3/10th position at $1.62. With everything that I have read, Northern Dynasty's mediation case is very compelling and has been well chronicled by major newspapers like the Wall Street Journal.
With a less environmentally ideological Scott Pruitt at the helm of the EPA, I fully expect the EPA's pre-emptive veto will get thrown out and then Northern Dynasty can commence its application for permitting. Next Northern Dynasty will encounter and embrace the robust and stringent permitting process to ensure the project protects Bristol Bay and can be stress tested for 3 standard deviations events. Ultimately, the Army Corps of Engineers will have the final and decisive vote for approval or rejection.
Given that Pebble Mine is in a better jurisdiction than Oyu Tolgoi and that its reserves are far in excess of TRQ's, I think it is laughable that Kerrisdale can suggest that its Pebble mine is not commercially viable. Of course, Oyu Tolgoi is fully permitting and has been producing since 2014, but the significant next phases for Oyu Tolgoi require significant CAPEX and TRQ shareholders only own a 32.47% project interest. I am not sure what the correct NPV value is for Pebble mine given where it stands in permitting purgatory, but clearly shares of Northern Dynasty are trading at a significant discount to Turquoise Hill. Lo and behold, the world's second best miner, Rio Tinto, is the leading owner, developer, and financier of Oyu Tolgoi. Unequivocally, shares of NAK offer a tremendous buying opportunity at $1.63, as they recently were trading as high as $3.38, only a few weeks ago (pre-Kerrisdale report). If Northern Dynasty can de-risk the permitting, I would argue there would be a food fight to buy the 100% rights to Pebble Mine.
Disclosure: I am/we are long NAK.
I wrote this article myself, and it expresses my own opinions. I am not receiving compensation for it (other than from Seeking Alpha). I have no business relationship with any company whose stock is mentioned in this article.