Following up from my previous article, which looked in some detail at 2U (NASDAQ:TWOU), this article turns its attention to four more U.S. listed edtech stocks that might catch your eye: K12 (NYSE:LRN), Chegg (NYSE:CHGG), John Wiley & Sons (NYSE:JW.A) (NYSE:JW.B), Instructure (NYSE:INST), and the U.K. listed Pearson (NYSE:PSO). As a basket, these stocks are up 44% over the last year, and just under 4% this year, and that's including Pearson's rather poor showing in both yearly (-12.71%) and year-to-date terms (-21%). The average market capitalisation of these companies is just over $2.4bn, with the lowest ranked being Instructure ($676m), and the highest the troubled Pearson ($6.75bn). Investing in edtech is also quite a risk and requires a sharp eye, as it is not, so to speak, a ride you can just sit on for a long time and rake in your earnings. As a basket, these companies, hit by Pearson's very poor long-term stock performance over the past five years (-45.96%), have climbed only 9% against the S&P's 72%, and, with the exception of Instructure (up 99% over the past five years), researching when to pull back and when to invest was not only shrewd, but absolutely necessary in order to make a solid return. There are definite returns to be made from an edtech investment, this article's basket has for instance outperformed the S&P (+24%) in the past year, inclusive of Pearson, but attention is most certainly the watchword.
Basket of 5 e-learning Stocks - S&P Significantly outperforms all but one. Source: Bloomberg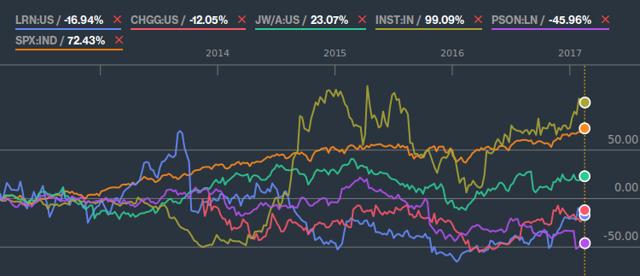 In terms of why edtech companies have tended to underperform the market in the long term, Credit Suisse (NYSE:CS) research analyst Trace Urdan suggests that to some degree blame can be apportioned to market scepticism: 'private investors see K-12 tech as the last frontier for disruption […] [b]ut public investors are more concerned with earnings today.' Until edtech is adopted at a much larger scale than it has been until now, 'public market investors are going to be very, very sceptical.'

Christopher Nyren, founder of Educated Ventures, notes how the public market's scepticism is hurting long-term venture capital investment.
Whilst such under-performance is certainly an investment concern, as stated in this article's introduction, with careful management of your portfolio, gains are most certainly there to be made. And let's not forget that this is a market that will grow - especially considering, as MarketWatch notes, the relative value of the education industry at large (over $5tn) when compared with the percentage of it that is digitised (2%). Even without new markets, simply by increasing the digital share of the education market there are significant gains for companies to make. Indeed, despite Mr. Vedrenne-Cloquet's quote below, also mentioned in MarketWatch's report is projected edtech market growth until 2020: 17% to a level of $252bn.
Benjamin Vedrenne-Cloquet, Co-Founder, EdTechXGlobal, explains why he believes the edtech market will take some time to really boom:

The 5 Stocks - 1 Year Share Price. Source: Bloomberg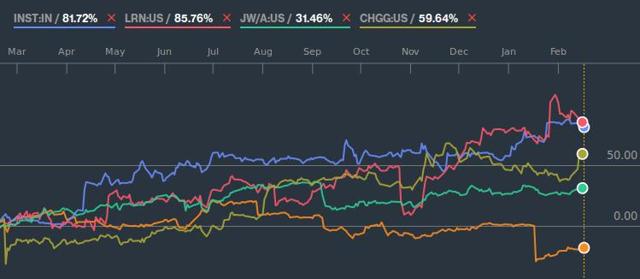 The 5 Stocks - 1 Month Share Price. Source: Bloomberg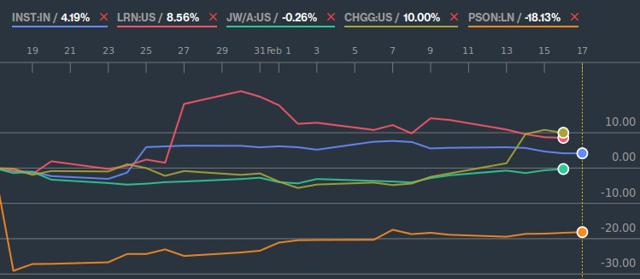 The Companies:
K12:
K12 - 1 Year Share Price. Source: Bloomberg

K12, the Virginia head-quartered company, with a market capitalisation of just under $732m, sells online schooling and curriculae to states and local governments, offering alternative education services, from early years to the end of high school. It is the largest education management organisation in the U.S, in terms of student numbers, and in terms of returns, it had an excellent 2016, seeing its value rise by 85.76%. In the year to date this figure is 4.9%. FT Forecasts, below, suggest that a target price of $20 a share is a reasonable assumption, suggesting a 10% rise for the company over the year, but other analysts are more optimistic. Stockinvest.us suggests that despite recent sell-offs, that the company is currently at the lower end of a rising trend, and offer a price target of between $22.45 and $26.72. BMO Capital Markets has also raised K12 in its ratings, suggesting the company will outperform the market, whilst hedge fund, such as Formula Growth and Russell Investments Group have increased their positions by upward of $4m.
The FT's forecast for K12

Much like many alternative learning service providers, K12 hopes to capitalise on Donald Trump's position as U.S. president, and whilst he seems to have his hands full at the moment, given his choice for education secretary - Betsy DeVos, a firm believer in private investment in the education sector - they may have reason to be. K12's quarter four report was also positive, with revenue up and $3.99m above forecasts, and its public school enrolment figures rising by 2.4%. The company may experience a short-term dip. However, as the U.S. government turns its support even more in favour of the private sector in terms of education and the edtech sector continues to expand, K12 is well placed to capitalise - and it certainly would seem to be worth a potential place in an edtech portfolio.
K12 Financials. Source: FT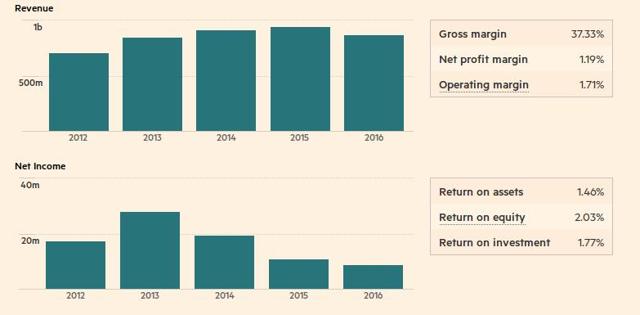 Chegg:
Chegg - 1 Year Share Price. Source: Bloomberg

Santa Clara-based Chegg has had a good year, with shares rising 54% in the past twelve months and almost 9% year-to-date. The company has a market capitalisation of $733m, and its share price has been on a consistently upward trend with some troughs, with November highs of $8.57, falling back somewhat over the following months to around $6.90, but shares have recently returned to around the $8 mark. The company with a student-first learning platform is all about changing the dynamics of higher education to increase its affordability and accessibility, whilst at the same time generating a return for itself and its shareholders. Its programs range from textbook-related support - including rental services, digital and physical - to tutoring and homework assistance. It also supports young scholars in their search to find scholarships and the right college, as well as internship support, and has acquired other companies through M&A to support its efforts. This includes Imagine Easy, which helps students improve their literacy.
Chegg Share Price - 6 Months. Source: FT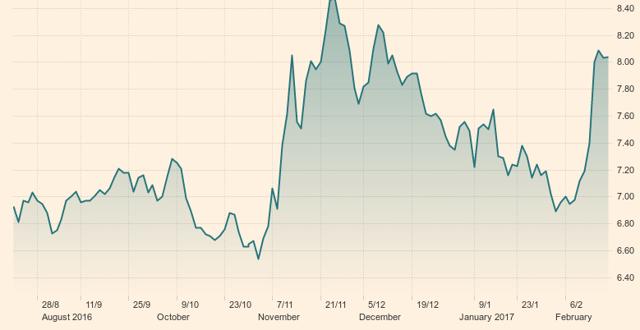 Forecasts, such as those from the FT, BMO Capital, Barrington Research and JPMorgan (NYSE:JPM), all suggest that Chegg will outperform the market in 2017, with target prices ranging from $10 to $12.50. Medium term levels of support are expected, from its present price of $8.06, at $7.50 with resistance at the $8.30 level. The company's losses have decreased year-on-year for the past three years, and whilst revenues have suffered a recent dip, over $250m in revenue for the company is a steady performance. Cash reserves are up, the balance sheet posts a strong $77m, and earnings are forecast to rise quarter on quarter. Whilst not a gold-rush stock, it does seem that if forecasts hold CHGG is in line for a solid year, and if and when the edtech industry properly takes off, the company ought to benefit.
CHGG Forecast Revenues Per Quarter. Source: FT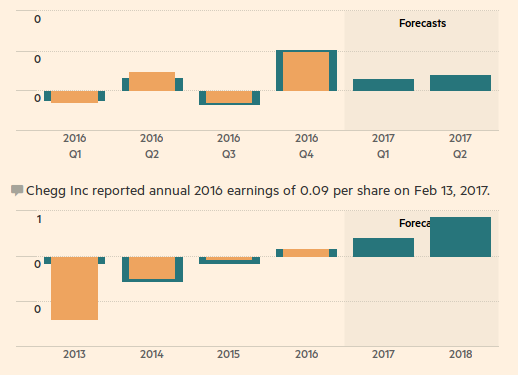 John Wiley & Sons:
John Wiley & Sons - 1 Year Share Price. Source: Bloomberg

John Wiley & Sons, a $3.2bn market-cap company, is a big player in traditional academic and educational publishing, which anyone who was a "research-hog" during their student days will be familiar with via the Wiley Online Databases. The company's products are marketed at academics, professionals, teachers, and students, and whilst not an edtech pure play they offer exposure to the traditional education market and the edtech market, which makes them an interesting "mixed" purchase. The company has had a solid year in share price terms (+34%) and its year-to-date growth has been reasonable (+3.6%). Dividends are also a fair 2.19% and analysis, including from Sidoti, recommends JW/A as a buy, whilst Zacks notes its continuous expansion and redevelopment as a more digitally oriented company as an extremely positive sign for John Wiley & Sons' future. Indeed, according to Insider Monkey, several major hedge funds, including Millennium Management, one of the ten largest in the world, have increased, or taken a position in, JW/A of late, meaning they believe it has room for upward growth. Whilst not necessarily the most exciting stock - it can be quite difficult, even in your area of specialism, to get that excited about academic publishing - Wiley, the New Jersey-based company, seems a solid, if not spectacular stock in line for growth in 2017, with target prices ranging from the FT's $66 (+16%), to Sidoti's $67 (+17%). It might feel a little like investing in the tortoise, whilst ignoring the Achilles or the hare, but a strong traditional education player, turning itself more and more to the digital world, is an interesting proposition.
Zacks' Research on Wiley's restructuring:

JW/A Financials. Source: FT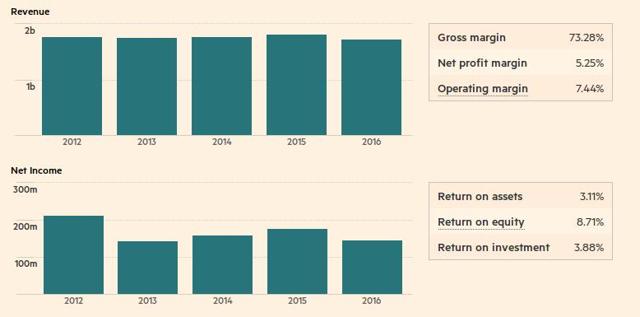 Instructure:
Instructure - 1 Year Share Price. Source: Bloomberg

Instructure, up just under 53% in the past 12 months, and 20.72% in the year to date, is the strongest performing stock in this article's basket, over the long term, up 99% over the last five years. The company, with a market capitalisation of $676.332m is currently trading between $23 and $24, and a large number of analysts rate the stock as a strong buy, including Jefferies Group, Needham, Oppenheimer Holdings and Raymond James, offering a target price of between $27 and $30 (+15%, or +24% respectively).
Instructure Forecast - FT

The Salt Lake City-based company is the developer of a cloud-based software which competes with systems such as Blackboard and Moodle, and also offers the Canvas Network, a massive online course platform. A relatively young company, less than ten years old, Instructure has seen its products steadily increase in terms of market share. In the first two years of its operation, over three hundred colleges and K-12 districts had firmly signed up to its services. The company that floated in 2015 continues to innovate, with product developments that include mobile phone applications for its learning environments. Reports from PR Newswire highlight that almost 50% of the top online bachelors programmes use Instructure's software, including those of Penn State and Embry-Riddle Aeronautical.
Instructure Financials. Source: FT.
Final results for 2016 have also come in, as of February the 6th, and the news is positive, with revenues up 51% for the year, and 45% for the fourth quarter, on a year-over-year basis. The Utah-based company also noted in its report a number of key new clients coming on board, from the Tasmanian Department of Education, to an increased deal with K-12 schools, and corporate deals with names including PwC. Instructure, if you're willing to take a position, seems to be a potential 2017 growth stock, and one worth watching.
Pearson
Pearson - 1 Year Share Price. Source: Bloomberg

Pearson is the outsider stock considered in this article, given its U.K. listing, and the doom and gloom that has surrounded the stock for some time now. Profit forecasts have been cut. The company itself has predicted years of gloom in the U.S. market. It has put some of its valuable assets including the iconic Penguin Random House business up for sale, and thereafter its stock plunged by record levels. In the year to date, Pearson has lost over 20% of its share price value and over the past year this figure is a hardly more positive -12%. The company has a market capitalisation of $5.4bn (GBP), and the obvious upshot is its strong dividend history at 7.8%.
The Pearson Plunge. Source: Bloomberg.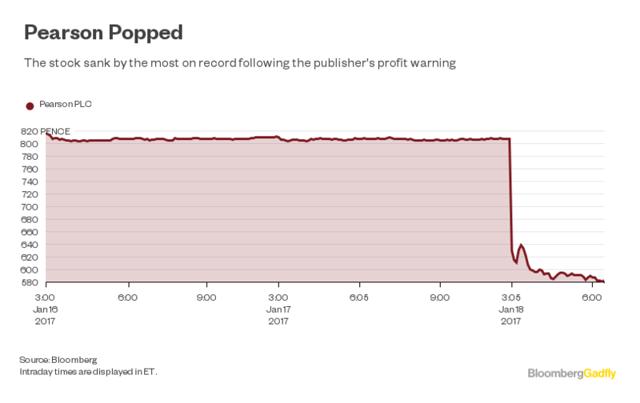 Pearson's fall contrasts with a long record of optimism espoused by its CEO John Fallon, who faces continual scrutiny at present. And, with its share price falls taken into account, such scrutiny is warranted. Enrollment figures in the U.S. have hit Pearson's testing business and textbook sales are down.

Brave, if not wholly optimistic words from Pearson's CEO. Source: Bloomberg
Pearson is most certainly not an edtech pioneer, nor a pure play by any standards, however the company, like John Wiley & Sons, is pivoting in the digital direction, out of necessity. If the big company can survive the immediate headwinds, it could thrive again. That said it is the worst-performing stock in the FTSE 100 in the new year, and has fallen more than any other in the past five years. Its bonds, due in May 2025, have also suffered of late, down 2 cents on the euro, and debt insurance costs have jumped upward of 20 basis points. That means its contracts were the worst performing on the Markit iTraxx Europe Index during the month of January 2017.
Pearson Financials. Source: FT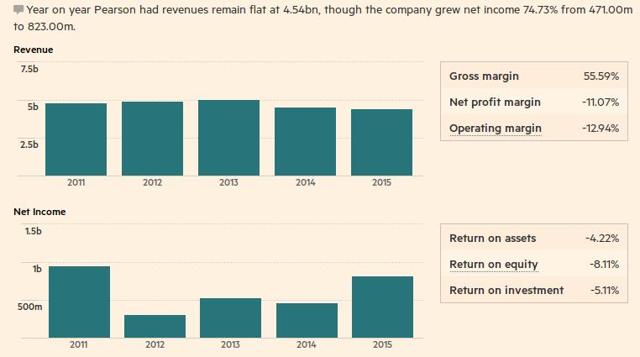 Why, then, consider this stock at all when analysts ask whether Pearson's executives can even handle structural shifts in higher education? The company is under threat from falling enrolments, and increasing competition from the likes of Amazon (NASDAQ:AMZN). First of all, the board remains bullish, firmly backing its management's its plans to significantly boost its digital footprint, believing that it can increase its Digital Higher Education Revenues from 50% of its digital revenue to 75% in the next three years, through price-cuts, block purchases and product development. Also, although suffering, the company remains profitable and expects 2017 profits to be between £570m and £630m.
FT Forecast for Pearson.

Whilst undoubtedly wounded, if Pearson can reassure the market that its long-term plan is viable, the company could see its share price rise significantly. The opposite, however, is also true, as the range of the above forecasts demonstrate. Predicted lows of £3.60 mean a 45% potential drop in the company's valuation, whilst predicted highs of £9.75 would generate a strong return on any investment of 47%. Despite the 2017 slump, it is also worth noting the continual rise in Pearson's valuation thereafter, up from £5.89 on the 19th of January, to £6.58 on the 20th of February, an 11% rise - no mean feat. Analysts remain mixed about the company's stock, with many taking a neutral position. This excludes Societe Generale (OTCPK:SCGLF), which continues to class Pearson as a buy, with a target price of up to £10.30 - a forty-eight percent rise. Even those with neutral ratings, such as JPMorgan and Credit Suisse, continue to note the potential upsides of a Pearson investment, noting potential highs of up to £9.40 and £7.40, respectively. Whilst the risks with Pearson are, at present, very high, so are the potential upsides. If you are willing to do some research, and find that the company's traditional and edtech plans are solid, then taking a position in the almost 200-year-old London-based company could bring home a significant return.
MarketWatch Ratings Data on Pearson. Source: MarketWatch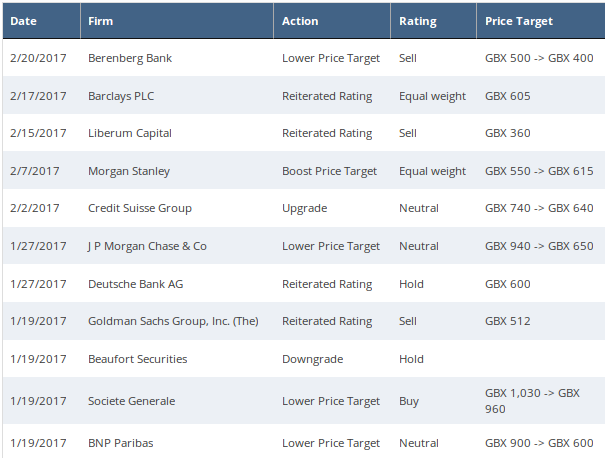 Disclosure: I/we have no positions in any stocks mentioned, and no plans to initiate any positions within the next 72 hours.
I wrote this article myself, and it expresses my own opinions. I am not receiving compensation for it (other than from Seeking Alpha). I have no business relationship with any company whose stock is mentioned in this article.
Additional disclosure: CFDs, spread-betting and FX can result in losses exceeding your initial deposit. They are not suitable for everyone, so please ensure you understand the risks. Seek independent financial advice if necessary. Nothing in this article should be considered a personal recommendation. It does not account for your personal circumstances or appetite for risk.