Retail Sales
Retail sales rose a better-than-expected 0.4% in January, led by electronics, appliance and department stores. Shopping for clothing, sporting goods and health & personal care products also picked up, with restaurant sales rising as well. Meanwhile, online sales were flat. My interpretation of this is that everyone dashed to the mall after the holidays to jump on the discounts that brick-and-mortar stores offered, following the very disappointing decline in December. It's exhausting running around the mall, so most grabbed a meal along the way.
Retail sales for December were revised up from a 0.6% gain to a 1% gain, but when we exclude autos and gasoline, the increase was just 0.1%. The core retail sales figures, which exclude the more volatile auto and gas sales data, continue in a declining trend on a year-over-year basis, as can be seen in the chart below.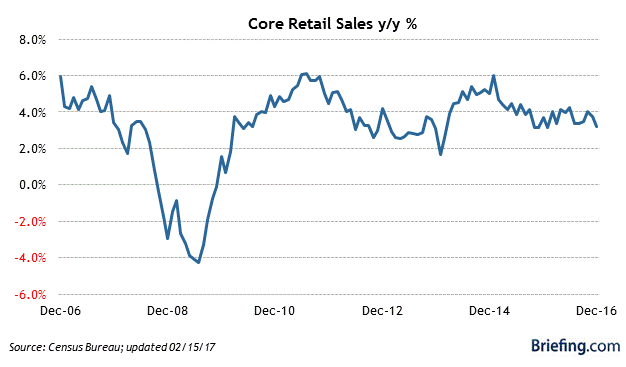 When we look at what is driving year-over-year retail sales growth, which was 4.9% in January, autos and gasoline account for nearly half of that growth. Online sales, which continue to grow at a double-digit rate, account for another quarter of that growth. The remaining increase is attributable to healthcare spending at pharmacies. There is no meaningful growth in any other category. I don't view this as a healthy mix, especially if we have seen the peak in auto sales. The only meaningful increase in discretionary spending outside of autos, which are financed, is in online sales.
Industrial Production
Industrial production declined 0.3% on a month-over-month basis in January, due to a 5.7% slump in utility output, as unseasonal warm weather reduced the demand for heat. The December increase of 0.8% was revised down to 0.6%. Manufacturing production eked out another 0.2% increase for the month, while mining jumped 2.8%, reversing the prior month's 1.4% decline. Industrial production is flat on a year-over-year basis.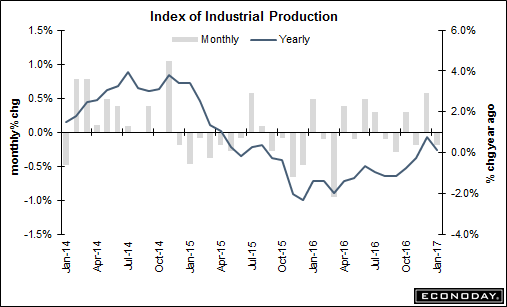 The capacity utilization rate slipped to just 75.3%, which is 4.6% below its long-term average. This indicates that there is not a tremendous demand for additional capital investment moving forward.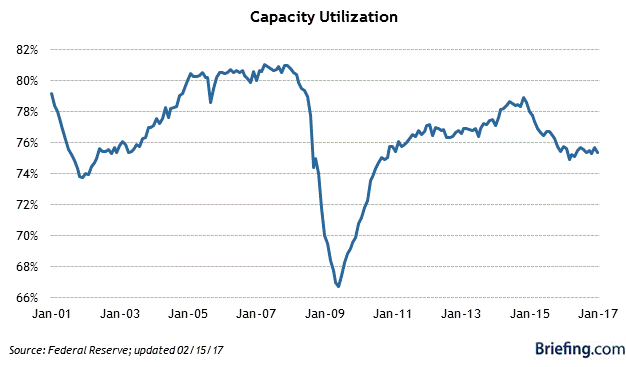 It is important to note that the strength we have seen in the PMI manufacturing surveys is not showing up in the industrial production reports. These surveys of purchasing managers do not reflect real economic activity, yet market pundits routinely reference these reports as if they do. The surveys are simply responses from participants indicating if conditions are improving or worsening for their businesses. It has nothing to do with specific levels of output.
Business Inventories
Total business inventories, which include those of retailers, wholesalers and manufacturers, increased 0.4% in December, while business sales surged 2%. This is a very positive development, as the inventory-to-sales ratio fell from 1.39 to 1.35, which is the lowest level since December 2014. If the increase in sales can continue, this will bode well for future inventory growth, which is good for production and employment.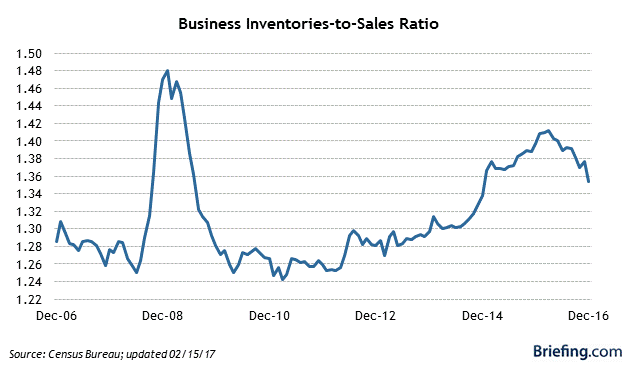 Home Construction
Housing starts declined 2.6% in January, but single-family home construction rose 1.9% from an upwardly revised 1.279 million in December on a seasonally-adjusted basis. The current run rate is 1.5% above the fourth quarter average, which will contribute to growth in the first quarter. Home construction continues to steadily recover, but there are still a few reasons to be concerned.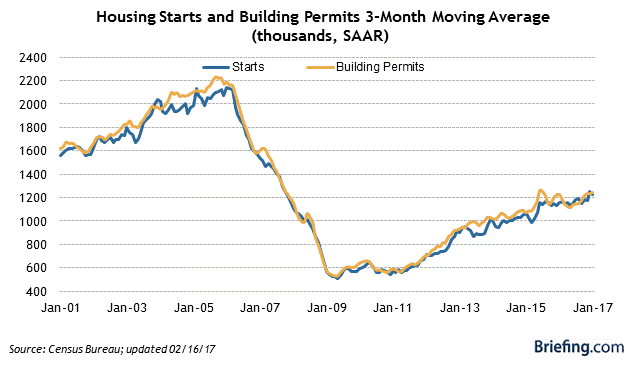 We know that demand at the low end is not being met by new or existing home inventories, while demand at the high end is starting to wane, yet that is where we are seeing the increase in inventory. Lower-priced homes need to sell in order to give existing homeowners the ability to upgrade.
A new reason for concern is that mortgage delinquencies for FHA loans, which are primarily used by first time homebuyers, rose in the fourth quarter for the first time since 2006. More importantly, this increase was driven by loans made since 2014. This is a new development that we need to monitor closely, but it isn't surprising considering the decline in real incomes we have seen over the past two months.
Consumer Price Index
The CPI surged 0.6% in January, and is now up 2.5% on a year-over-year basis, while the core index, which excludes food and energy, rose 0.3% and is up 2.3% on a year-over-year basis. The gains were broad-based, with gasoline prices leading the way. The real news behind the CPI report, which received very little attention, is the effect it had on year-over-year income gains.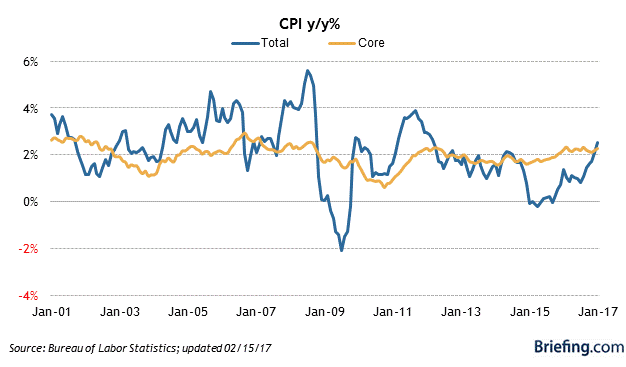 Nominal wage growth is not keeping pace with the increase in the rate of inflation, which means that the majority of workers have lost purchasing power over the last year. This is revealed in the real average hourly earnings report for all employees, as can be seen in the chart below. Weekly pay checks declined 0.6% on an inflation-adjusted basis in January. This is down from a 1.4% growth rate in January 2016 and a 2.5% growth rate in January 2015.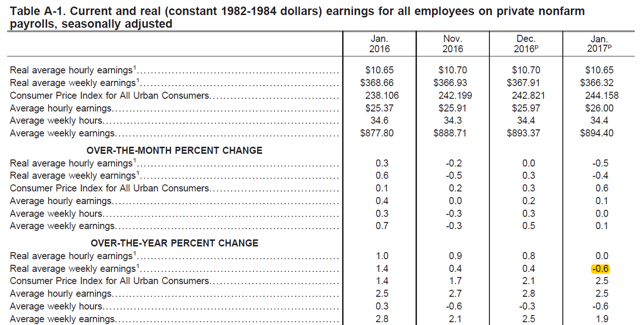 This decline in real income may help explain the increase in the FHA mortgage delinquency rate in the fourth quarter, but it does not explain the surge in consumer confidence. I suspect that many of the workers suffering from a decline in real income are expecting tax breaks and improvements in healthcare costs that will better their economic situations. That is the only way to explain the gap between confidence and economic activity.
Conclusion
There is nothing to indicate that we will see a first quarter growth rate greater than 2%. The decline in real income is a foreboding sign for real consumer spending growth, which is what fuels 70% of our economic growth. It also appears that we have seen a peak in auto sales for this cycle, which will be a drag on overall retail sales moving forward. It is nice to see consumer confidence at decade highs, but consumers can't spend confidence. I think perceptions are outrageously ahead of reality.
Additionally, we should learn more about healthcare on the legislation front in coming weeks, but I expect any actions taken to detract from overall economic growth.
The reality, as I see it today, is for a…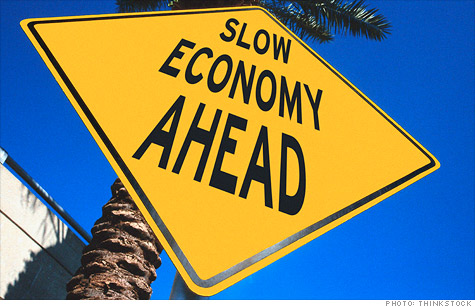 Disclosure: I/we have no positions in any stocks mentioned, and no plans to initiate any positions within the next 72 hours.
I wrote this article myself, and it expresses my own opinions. I am not receiving compensation for it (other than from Seeking Alpha). I have no business relationship with any company whose stock is mentioned in this article.