Minutes come out today. The Fed will discuss rates and potentially their bond portfolio. There is a chance they could begin to allow their bond portfolio to decrease this year. That could impact the bond market.
Minutes Will Be More Dovish Than Recent Fed Comments
Their FOMC statement February 1st said,
"Inflation increased in recent quarters but is still below the Committee's 2 percent longer-run objective."
That will be what the minutes today reflect.
More recently Fed Chair Yellen said to Congress:
"Incoming data suggest that labor market conditions continue to strengthen and inflation is moving up to 2 percent."
Her more recent "moving up" is more hawkish then her previous "still below." The minutes will reflect the "still below."
Comments On The Balance Sheet At 2PM?
Here's what Fed Chair Yellen said January 19th,
"However, this pressure is estimated to be gradually easing as the average maturity of the portfolio declines and the end-date for reinvestment draws closer."
An "end-date" to reinvestment means they will not buy new securities when the old ones mature. They will not be in the public markets buying as they have been for the last 9 years.
The bulk of the "end-date" for reinvestment will likely be 2018 but some could take place this year.
Here's the maturity curve of their holdings.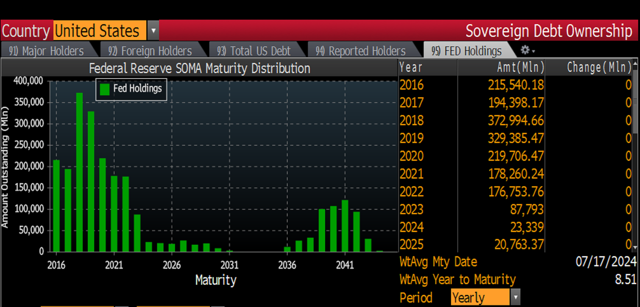 Source: Bloomberg
Above is the dates when most of the Fed holdings mature. The bulk of the "run-off" will happen next year.
Some of the Fed "run-off" could take place this year.
Here's what Fed Chair Yellen recently said,
"Over the course of 2017, this easing could increase the yield on the 10-year Treasury."
"Easing" is backwards language for tightening. Easing means they will ease off from buying treasuries to replace their maturing bonds. That's why yields on the 10-year would rise. There is no such easing that would get yields to rise except the easing up of their bond buying.
That is a Fedly worded hint to allowing their QE bond purchases to finally run-off.
She specifically mentioned 2017 which is of course a "this year" event.
Fed plans to make a change to their nine year quantitative easing strategy could surface in today's Fed minutes at 2PM.
Yield Curve

Source: St Louis Fed
The yield curve has risen in the last few months. This yield curve measures the 10 year yield minus the 2 year yield.
Moving up is a sign of growth and/or inflation.
Letting Fed balances "run-off" would further this trend of higher longer term rates versus shorter term rates.
The Fed's huge portfolio is artificially holding down this yield curve. Letting their bonds run-off would take the cap off this chart.
As general market yields rise the Fed probably wants to allow the trend to continue.
If they were not to allow their bond portfolio to run-off they are at risk to causing the yield curve to stay flattish. A flatter yield curve when there is growth and inflation would be a major risk for the Fed. It could let inflation run leaving the Fed "behind the curve."
The minutes today could clarify some of Fed Chair Yellen's recent comments as to timing of officially letting their bond portfolio run-off.
Conclusion
The Fed has hinted to allowing their huge bond portfolio to mature without replacing those holdings. To date the Fed has bought in the open-market to replace maturing holdings. That has kept longer term rates down. They may have hinted that this plan is coming to a close. We may hear about that more officially at 2PM today.
We developed a method to catch multi-day moves in multiple markets. Click here for more.
If you liked our work scroll to the top and click "Follow."
Disclaimer:
ETFs reported by Elazar Advisors, LLC are guided by our daily, weekly and monthly methodologies. We have a daily overlay which changes more frequently which is reported to our premium members and could differ from the above report. Portions of this article may have been issued in advance to premium members. All investments have many risks and can lose principal in the short and long term. This article is for information purposes only. By reading this you agree, understand and accept that you take upon yourself all responsibility for all of your investment decisions and to do your own work and hold Elazar Advisors, LLC and their related parties harmless. Any trading strategy can lose money and any investor should understand the risks.
Disclosure: I/we have no positions in any stocks mentioned, and no plans to initiate any positions within the next 72 hours.
I wrote this article myself, and it expresses my own opinions. I am not receiving compensation for it (other than from Seeking Alpha). I have no business relationship with any company whose stock is mentioned in this article.