I'm writing this article to present, in very simplified terms, the kind of impact higher inflation can have on stock prices.
I'm doing this exercise because of my previous article titled "We Either Get A Housing Slump Or Higher Inflation". In it I expressed the view that we're locked into a course which will lead to one of two outcomes: a housing slump or higher inflation. Hence, this article explores what higher inflation looks like for the market.
As assumptions for this simplified exercise, I will use:
Real interest rates of 0%, thus inflation = nominal risk free interest rates. The objective is not to measure changes in real interest rates over time, just to measure the impact of inflation on market multiples and earnings.
3% risk premium, stable throughout the exercise.
Earnings margins stable throughout the exercise.
No volume effects (larger population, higher productivity). We're focusing just on inflation effects ceteris paribus everything else (keeping everything else stable).
As a result of stable earnings margins and no volume effects, nominal profits basically increase over time as a function of inflation. That is, for the same quantities sold prices are higher by the inflation rate, and profits are a stable margin of these prices so they also increase by the inflation rate.
As a result of previous assumptions, market multiples are a function of interest rates (same as inflation, given 0% real rates) and risk premium (stable). They can be computed directly as 1 / (Risk free interest rate + risk premium).
For this exercise I will be using the S&P 500. So:
Index earnings = ~$130 (2017 expectations at $131 but heading lower).
Inflation = 2.50%, thus with real rates at 0%, risk free rate is also 2.50% (10-year at 2.43%, so quite close).
Risk premium = 3.00%.
With these we derive an index earnings multiple of 18.2x earnings: 1/(2.50%+3.00%) = 18.2, which is consistent with the currently observed market (~ 2363) and earnings ($130).
As we can see these are actually very close to the actual realized multiples and market prices we observe today.
The Exercise
So what happens if inflation rises over time? Here are the following scenarios:
Inflation remains stable at 2.50%.
Inflation rises to 5.00% over 3 years.
Inflation rises to 10.00% over 3 years.
Inflation rises to 20.00% over 3 years.
Here's the result of the exercise, for the S&P500: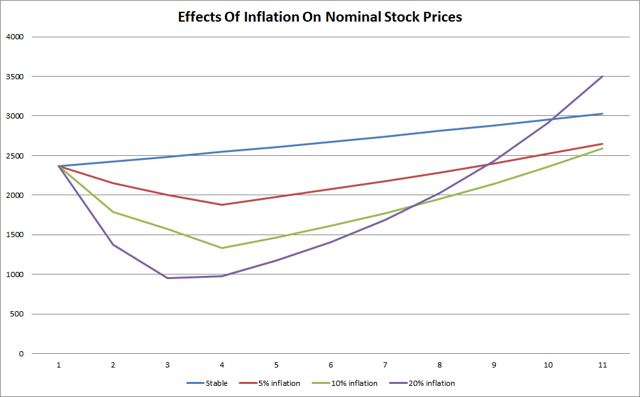 Two things can readily be observed:
The higher the inflation rate, the larger the initial drop.
After an initial large drop, the higher the inflation rate, the more the market speeds up upwards.
Why do these two things happen? For a few reasons:
The inflation rate (interest rate, since real interest rates are zero), together with the risk premium, establishes the earnings multiple the market is ready to pay for stocks. A higher inflation reduces that multiple. Hence, all the early drops we see above are because of the higher inflation rates and the thus lower multiples the market is willing to pay.
Amazingly, even a very slow rise in inflation (interest rates), from 2.50% to 5.00% over 3 years (just 0.83% per year), has a large impact on market prices. The drawdown from this move is a full 20% drop. The impact is large even for a small inflationary move because the starting point for inflation is low. The drawdown for 10% and 20% inflation rates (much higher and less realistic) is 44% and 60%.
Over time, large inflation rates lead to a speedier nominal index recovery. Remember, the stock market is a "nominal reality". If a company sells 100 and profits 10, and then sells 1000 and profits 100, it's worth 10x more if its earnings multiple remains stable. This is also the reason why under hyperinflation the market basically goes straight up (though there the move is even larger because of other effects, like interest rates not keeping up with inflation).
Conclusion
The exercise is consistent with current market observed prices (arguably, the market discounts stable 2.50% inflation going forward). It's also consistent with historical precedent (market multiples during the 70s, under a high inflation regime) as well as with what we observe in foreign markets with high inflation rates (very low earnings multiples, rising nominal markets after initial impact effects).
In short, higher inflation rates would lead to:
An initial drop, as the market re-priced towards lower multiples. This drop would be large (~20%) even for a small move on inflation (to 5% over 3 years, in this case).
And then a rise on account of the inflationary impact on nominal measures like earnings at then-stable (but lower) earnings multiples.
Disclosure: I/we have no positions in any stocks mentioned, and no plans to initiate any positions within the next 72 hours.
I wrote this article myself, and it expresses my own opinions. I am not receiving compensation for it (other than from Seeking Alpha). I have no business relationship with any company whose stock is mentioned in this article.