Investment Thesis
Since the beginning of the year, the Australian dollar has appreciated by more than 6 percent against its American counterpart and several expert sources are pointing out that the recent rally has likely come to its end. This is a vital catalyst for many Australian lithium mining companies as their projects' NPVs are considerably sensitive to changes in the AUD/USD exchange rate.
AUD/USD Outlook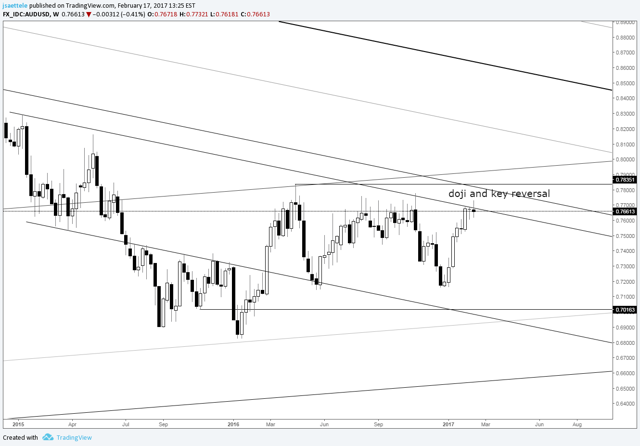 Source: Dailyfx.com
The Australian dollar has been trading around 75 U.S. cents for a while, and therefore it is only a matter of time before it makes a larger movement up or down. Looking at the graph above, which I obtained from Jamie Saettele's technical outlook, the AUD/USD exchange rate seems to be currently at a major crossroad with a strong resistance above current levels.
This view is also supported by another analysis, which I encountered here on SA. According to its author, the Australian dollar is heavily overvalued and ready to collapse later this year as the Fed further tightens its monetary policy and iron ore prices halt their rally. The author's short-term target for the Australian currency is 72 U.S. cents, and in the long run, the author expects the Australian dollar to trade even lower - around 65 U.S. cents.
Indeed, with next FOMC minutes this Wednesday and three indicated rate hikes over the course of this year, one can expect that the pressure on the Australian dollar will be gradually escalated.
At the time of writing this article, the most recent forward points table suggests one-year AUD/USD forward rate of 0.7175, which is pretty much consistent with the above-stated estimates.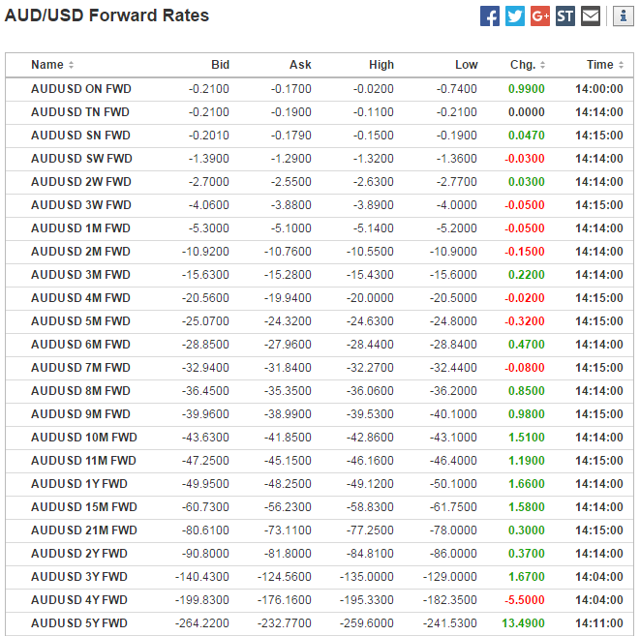 Source: Investing.com
The weaker Aussie, the higher NPV
As the net present value of many Australian lithium projects is not only tied to lithium prices, but also to other factors such as exchange rates as well, one has to reckon with the fact that the current share prices of Australian lithium mining companies may also have resulted from the AUD/USD exchange rate movements. Due to the fact that most Australian lithium projects are still under development and are associated with significant upfront costs in Australian dollars, a change in the AUD/USD exchange rate directly translates into the projects' NPVs. Therefore, the weaker the Australian dollar, the higher a project's NPV.

Source: Galaxy's Mt Cattlin independent review (10/2015)

Source: Pilbara's Pilgangoora DFS (9/2016)
Which stocks will be affected?
With respect to the outlined argument, the most affected lithium mining companies will be those which own large-scale Australian lithium projects, ideally still under development. Examples include companies such as Pilbara Minerals (OTCPK:PILBF), at which I took a closer look last month, Altura Mining (OTCPK:ALTAF), covered by SA lithium specialist Matt Bohlsen, deleveraged Galaxy Resources (OTCPK:GALXF), revisited in November last year, or Albemarle (NYSE:ALB), an established diversified lithium player with a 49-percent stake in one of the largest Australian lithium projects in Greenbushes, Western Australia. Besides that, there are dozens of other lithium juniors, but a thorough due diligence is a necessity in their case as they are not widely-covered and belong to the micro-cap category. In particular, most of the small industry entrants are likely to carry significant risks stemming from a poor industry expertise or a lack of sufficient finances to get their projects off the ground. This could basically mean their bankruptcy before the lithium market gets through to the main stage.
The bottom line
Overall, the Australian dollar outlook is very positive for several Australian lithium pure plays. As most of the companies have their projects still in their development stage, the only feasible way how to estimate the companies' intrinsic value is to use the projects' net present value estimates. Should the Australian dollar's bearish scenario materialize over the following months, the ongoing lithium stock rally could get another catalyst. Based on Pilbara's flagship project DFS, a 6.7 percent depreciation of the Australian dollar translates approximately into an 18 percent appreciation of the project's NPV. Even though spodumene prices will indisputably remain the main driver of the lithium mining market, the AUD/USD exchange rate influence is definitely not negligible.
Author's note: To bring similar articles to your attention, please consider subscription of my SA feed by clicking on the ''Follow'' button at the top of this page, or alternatively, connect with me on Twitter.
Additional disclaimer: Please note that this article has an informative purpose, expresses its author's opinion and does not constitute investment recommendation or advice. The author does not know individual investors' circumstances, portfolio constraints, etc. Readers are expected to do their own analysis prior to making any investment decisions.
Disclosure: I am/we are long GALXF, PILBF.
I wrote this article myself, and it expresses my own opinions. I am not receiving compensation for it (other than from Seeking Alpha). I have no business relationship with any company whose stock is mentioned in this article.
Editor's Note: This article covers one or more stocks trading at less than $1 per share and/or with less than a $100 million market cap. Please be aware of the risks associated with these stocks.