A few weeks ago, I began writing macro articles on a more consistent basis. Since the revival of the markets after the election of President Trump, the markets have been very exciting. Every day, we are getting more and more information thrown at us at high speeds: some bullish, some bearish, and some neutral. It is becoming increasingly hard to understand what is going on. Some people shout about a "new normal" while others keep telling themselves "it has to go down, it has to go down".
Instead of doing either, let's look at indicators to guide our macro views. To imagine my views on short-term vs. long-term macro views, I will use the analogy of a futures contract, which I think is very appropriate here. Think of the long-term view as your future price and the current outlook for the short term as the spot price. As we move closer and closer to that long-term date, the ever-changing spot will converge to the future price. Thinking of it like this, you can see why my short-term outlook adjusts week-to-week while I maintain my long-term views.
So first off, let us look at the backdrop of our short-term indicators with some recent trends. The first is the recent trends with hedge funds. Presently, we are seeing a large drop in hedge fund liquidity as they crowd into equities. Something important to note is that unlike the average investors, hedge funds typically take on leverage so the fact that we are seeing hedge fund liquidity at such absolute low levels should raise a few eyebrows at the markets' ability to absorb shocks. If there is any lesson that the markets have learned it is that coupling illiquidity and leverage is like dancing a match near a powder keg. Thankfully, neither the levels of illiquidity nor levels of leverage are at nuclear levels. So they point more to a small correction than a massive crisis.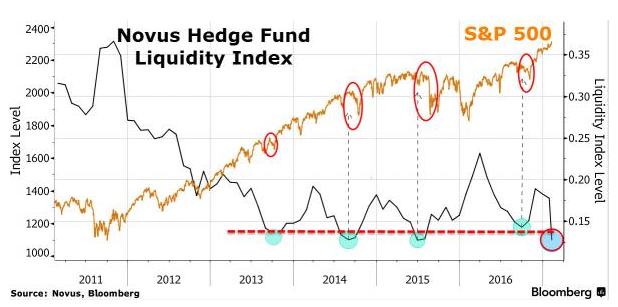 From the graph above, you can see that over the last few years, these periods of low liquidity and equity crowding by hedge funds result in small dips in the S&P 500 (NYSEARCA:SPY) with shocks. This trend has been described by Stan Altshuller, the chief research officer at Novus, as "[a] prisoner's dilemma". For those unfamiliar with the game theory term, a prisoner's dilemma describes the scenario where "the outcome of one person's decision is determined by the simultaneous decisions of the other participants, resulting in a bad outcome for all of them if all act in their own self-interest" (Dictionary.com). The easiest way to show this is a two-by-two decision matrix. In the case of hedge fund overcrowding, a simple way to think about the two players is that one hedge fund is player one and player two is the aggregate total hedge funds. In this case, you can start to see the hedge fund dilemma: each firm's ability sell off securities in the event of a shock depends on all the other fund's abilities to do the same.
Moving on market indicators, let's take a look at some descriptive statistics on the S&P 500 a few of which are an update from my previous article which you can find here. Also, as a quick shameless self-plug, if you read that article, you will see that I was correct that we would see at a down day before the weekend (I used statistics and I had a 95% chance of being correct). But more important was my views on the VIX. If you had bought at the end of the week, you would be enjoying some modest gains. I will be coming out with a closer VIX-specific article this week. I think the opportunity present in VIX is almost unbearably attractive.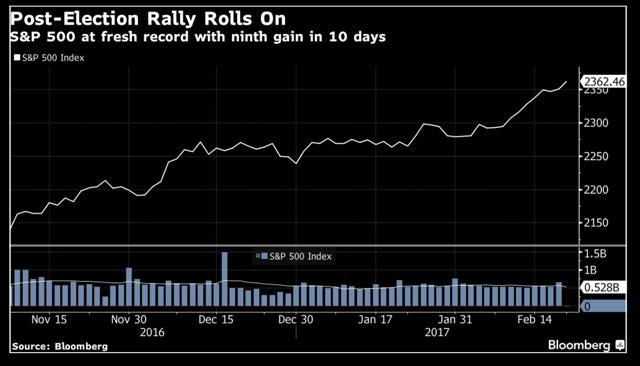 Ok, back to the S&P 500 indicators. So far, we have gone 89 days without a 1% drop in the SPY and we have gone 50 days without a 1% swing. All this comes as many securities have reached all-time highs. It has many people wondering what the heck is going on.
Taking a gander at Shiller PE, which is an inflation-adjusted earnings metric, we might see something that might be at least slightly frightening. As you can see, the average inflation adjusted PE ratio from 1890 to present is 16.72 with a median of 16.09. Currently, we are at 29.31. Now, personally, I think this is a bit deceptive. The given time frame for this is 1890 to present calculated monthly. With a standard deviation of 6.639684, a Shiller PE of 29.31 would be almost 2 standard deviations from the mean (assuming normal distribution, which this data is close to with a skewness of 1.07 and Kurtosis of 2.11). Now, this is still within the normal expected observation range. We expect to observe 95.4% of data within these bounds. So a Shiller PE of 29.31 is not insanity as many people are leading people to believe. But let's say you didn't believe this time frame was accurate and you wanted to only look at the monthly Shiller PE from 1980 to present. You find that the mean and the median both increase to 21.63491 and 21.41, respectively. Now using this time frame, a Shiller PE of 29.31 is only .901 standard deviations from the mean. It is important to note that the kurtosis of this data falls to .092825 and the skewness falls to .4155. Both these imply that our normal distribution assumptions are much more strained here; so take this with many more grains of salt.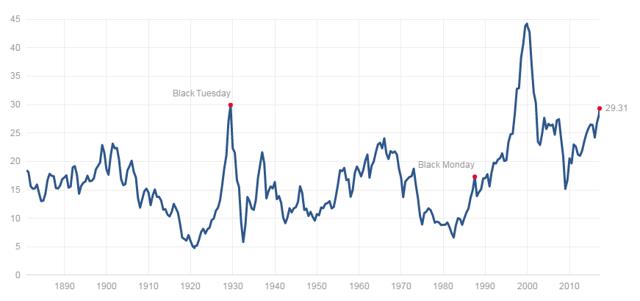 Now, let's look at this data (graph courtesy of multpl.com) with some serious some old school analysis: eyeballing it. As you can see, the current ratios we are observing have only been dwarfed by two periods: Black Tuesday of the stock market crash of 1929 and the height of the tech bubble.
The last indicator is a chart that I will be using again in my next VIX article but it is equally useful here. At present, we have seen almost all S&P 500 companies report earnings and as we move into Q1, investors should watch for the drop-off that typically occurs between Q4 and Q1 results. Some people think that this market euphoria must be the result of the looming corporate tax cuts and they may be right to some degree but let us look at a YTD chart of the S&P 500 performance vs. 2017 earnings expectations (provided by ZeroHedge).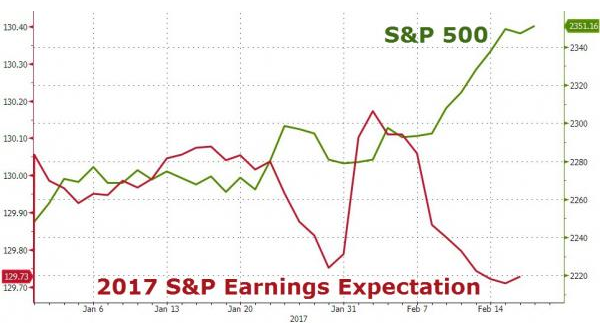 Scary right? We are seeing the SPY surge ahead yet the prevailing sentiment of earnings expectations moving downwards; so on a forward PE basis, things appear to be moving in a direction where everything is more expensive to buy (or wonderful to sell).
Now, how can you make money off of this or avoid losing your gains? Be smart. Perhaps start slowly offloading those positions that are doing mediocre right now and you hope will have a delayed reaction to the Trump Rally. If you are largely holding market index ETFs, might be a nice time to start building a nice cash position and wait for a little dip or increase your holdings into some safe-haven securities (not bonds… we will talk about this later…). Personally, I have sold out of my holdings in SPY and have started weighting into some safe-havens while I build up my cash position. Interestingly enough, due to how low gold has been for the last month or so, my safe-haven securities have been among my top gainers so far.
Disclosure: I/we have no positions in any stocks mentioned, and no plans to initiate any positions within the next 72 hours.
I wrote this article myself, and it expresses my own opinions. I am not receiving compensation for it (other than from Seeking Alpha). I have no business relationship with any company whose stock is mentioned in this article.
Additional disclosure: I am not a registered investment advisor or broker/dealer. Readers should conduct their own research and due diligence and obtain professional advice before making investment decision. I will not be liable for any loss or damage caused by information obtained herein. Readers are solely responsible for their own investment decisions.