This is an article I don't want to write, but I feel I need to. Despite being strongly bullish on Facebook (NASDAQ:FB), many of my articles on the stock tend to be pessimistic and therefore met with backlash. To explain how I can be bullish on the stock yet only feel the urge to write about FB when I feel it's overvalued, consider this: It's easy to predict a sunny, beautiful day in California, but it's a lot harder to be the bearer of news of the rare, rainy tomorrow.
Background
I previously called a pullback in FB:

The stock dropped from $133 to $123 over the following four days, and then from $123 to $115 over the subsequent two weeks. FB inevitably rebounded, as it always* will. But anyone holding through that time missed a significant buyback opportunity that would have more than accommodated a transition from capital gains tax on long-term holdings to income tax on short-term holdings for most sizable positions.
*always = until FB loses its monopoly on social media advertising or until ad money stops flowing from traditional media into digital
Now the counter-argument is always the same: "I don't care about small fluctuations." If I cannot convince you that selling a stock and then buying it back a few weeks later at 85% the price is a smart move, then this article, frankly, is not for you. This is for the investor who realizes that stocks become overbought, are affected by seasonality, and that a portfolio must be managed, not ignored.
A Warning
If that's you, then pay attention, because FB could see another pullback soon. The company has been overbought since the end of January, and the smallest catalyst could send it downward again. This is not about the company's management or products but is about undeniable facts of the stock market.
Even if you have been a seasoned trader since FB's IPO, you should recognize that FB is not a new stock. We have five years of data on the stock's patterns. Five is an important number here because it represents exactly the recent volatility regime. (More on volatility regimes here.)
Seasonality
The data show seasonal patterns that you should at least consider before holding FB through March. The fact that we saw 15% gains in January and 0% thus far in February is not surprising when you break the stock up month-by-month: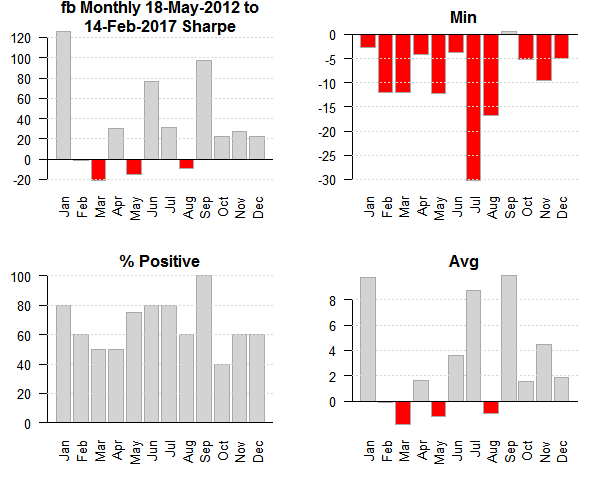 FB has almost always ended in the green in January. The stock's highest Sharpe ratio also happens to be in January, with average gains close to 10%. In contrast, FB has a zero Sharpe ratio in February, making it a neutral month, and a negative Sharpe ratio in March, hinting at a significant opportunity cost.
March drawdowns are simply not worth it from a long-term perspective. If you intend to apply any of the above information to your FB holding, it should be to avoid the worst months, meaning to stay out during March. These months are generally not earnings months anyway and come after the holiday season, when digital ad spending begins falling.
Fundamentals
From a fundamental perspective, the only logical position is long. Of course, I mean this only for investors with long-term time horizons. And being a long investor of Facebook does not preclude you from hedging against reliable seasonal losses.
That said, let's talk about the long-term growth opportunities. First, notice that it is earnings growth that has been the main fuel of FB's gains: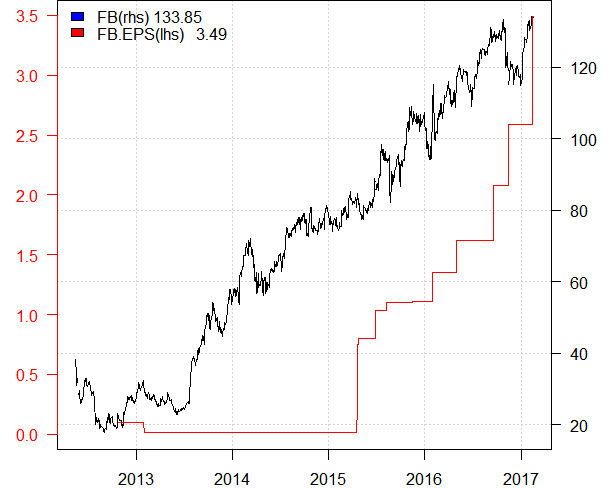 In many cases, this fact creates a runaway phenomenon on the stock price, bringing it to overpriced levels that can only be justified by strong future expectations. However, for Facebook, the stock is actually quite fairly valued for its industry. The price-to-earnings is 38x, which is only slightly higher than the 30x for the software industry; the price-to-book is exactly at the software industry's median: 6.5x.
But Facebook is hardly built on the rather stable software industry. It is instead built on a rapidly expanding digital advertising industry. Nearly all of FB's revenue comes from advertising, which makes it more closely related to the retail industry.
From this respect, FB is highly underpriced. The retail industry's average PE and PB are 60x and 15x, respectively. This is why I tend to scoff at the idea that FB is too expensive.
But unlike a retail business that requires customers to properly respond to product positioning, walk into a door (or visit a website), and purchase a specific product, FB's business only needs to do one thing for "sales": Draw attention. This is why the entire "fake news" ordeal surrounding Facebook is good for the company; any type of attention-grabbing content - good or bad - gets FB views, and those eyeballs are exactly what FB's clients are paying for.
FB is a ship that cannot be sunk via sentiment. It can only be sunk by declining digital ad spend or a loss of its monopoly. I don't see either of these two being possible in the coming years.
Be long on Facebook, but be long smartly. This brings us back to maximizing our investment. By understanding the key drivers of FB's growth, we know when to hold and when to fold (temporarily).
Relationship to March
If you hold FB through March, you are not only outside of earnings reports but within FB's only stagnant/flat season. I cannot help but wonder the logic here. While "hold FB in 2017" certainly makes a lot of sense, "hold FB in March" seems much harder to justify; no earnings or newsworthy events are expected, so what's the bullish thesis here?
Oddly enough, too many tech investors have seen FB skyrocket and felt that never not holding would be the logical response to the cognitive dissonance of missing out on these gains. But when you consider that FB underperforms the software sector in general, the longs should be looking for the best times to hold, not the worst times not to hold: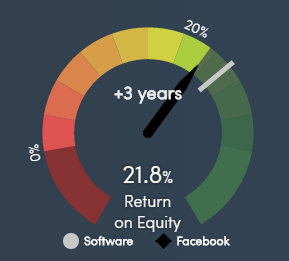 The most successful FB investors are those in it for the long term but still active enough to manage the holding so that they can avoid drawdowns and acquire the largest number of shares for the least amount of capital. It's easy to claim, "you cannot time the market," engaging in dollar-cost averaging. It's harder to recognize clear weak points in the stock's performance and adapt your holdings in response.
A Technical Note
Machine learning's strongest suit is finding patterns within data - patterns that evade most human eyes. I always check the technical right before a trade for some extra support or for a second opinion, depending on what the technicals say. In FB's case, currently, I see the end of a technical bull cycle and beginning of a bear cycle: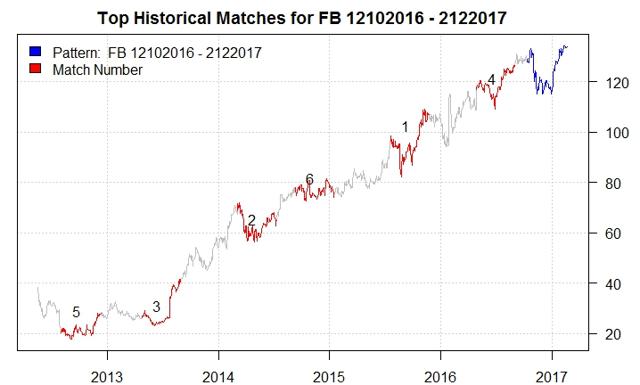 We can see a clear parabolic pattern that occurs once per year. The most reasonable explanation for this pattern is a yearly pullback that helps the stock from overheating. There is greed, followed by fear, followed by a selloff, followed by a buying opportunity, followed by a slow and sustainable upward drift, followed by the pattern all over again.
The above chart shows we have just finished the greed part of the cycle, predicting fear and a selloff. Keep the technicals in mind going into March.
Conclusion
And like most things in life, the harder path is more profitable. I know I will get flak for this article, as I do for all my "warning" articles on clear winners, but my goal is to help you optimize your investments, not make you feel good about them. So if you feel worse about your FB holding after reading this article, I know I've done my job well.
As for what to do, I suggest that at the very least you engage in protective measures, if not liquidate, reinvest, and plan to repurchase when FB pulls back. With options, here's what I'd be doing if I were insisting on holding onto my FB position:
Sell 1 Apr $135 put
Buy 2 Apr $125 put
This strategy is opened at a net credit. If FB goes up or nowhere, you profit. If FB falls, you also profit, as the two FB OTM puts will gain in value more quickly than the ITM put. In addition, it's a logical position if you're bullish on FB, as the strike price of the short put essentially says that you feel FB is fairly valued - and if you didn't believe so, you wouldn't be holding, right?
Notes:
Note: Get my articles as soon as they are published by clicking the big orange "follow" button at the top of this page. Make sure you choose "real-time alerts." Trade alerts sent through "Copy My Trades."
Note: All unlabeled figures were created by me from data pulled from Yahoo and ADVN through R. Charts with blue backgrounds are from Etrade Pro. Fundamental charts from a paid subscription at simplywall.st.
Gap Trading
I bought my trading career on gap trading. See this quick guide for 11 ways to trade gaps.
Upcoming Earnings Predictions
Exposing Earnings - click here for my earnings predictions. To-date, we are 94% accurate on earnings report predictions.
Disclosure: I/we have no positions in any stocks mentioned, and no plans to initiate any positions within the next 72 hours.
I wrote this article myself, and it expresses my own opinions. I am not receiving compensation for it (other than from Seeking Alpha). I have no business relationship with any company whose stock is mentioned in this article.