Reuters reported this morning that Chevron (NYSE:CVX) is in preliminary talks to see its major gas fields in Bangladesh to China's state-run Zhenhua Oil for an estimated $2 billion. As a Chevron shareholder, news of the deal was a pleasant surprise. Just what are these assets and why are they worth $2 billion?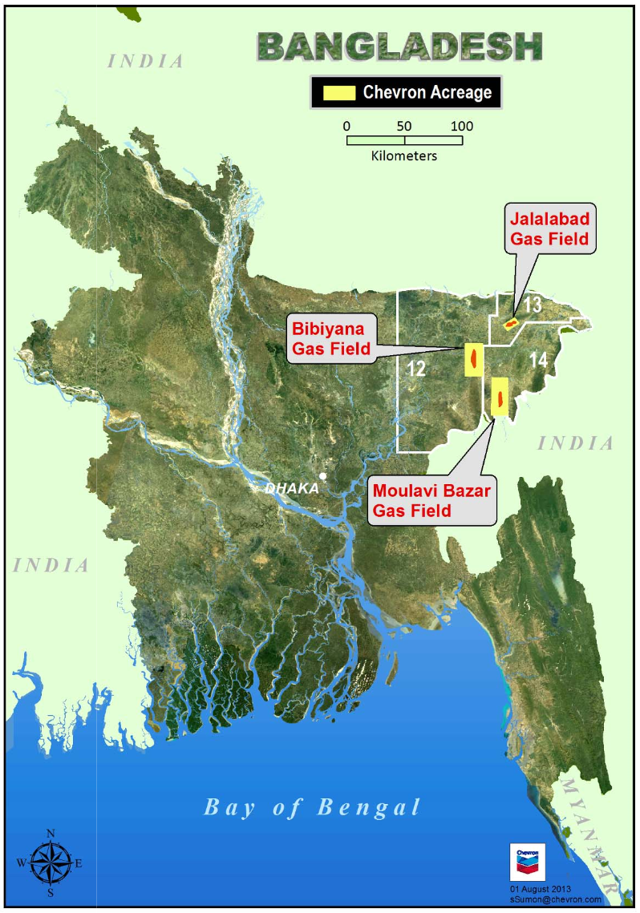 Source: Chevron Bangladesh
Chevron operates three natural gas fields in Bangladesh - Bibiyana, Jalalabad and Moulavi Bazar - under production sharing contracts signed with the Government of Bangladesh in 1995. All of the gas and condensate that Chevron produces in Bangladesh is sold directly to Bangladesh's national oil company Petrobangla.
In late 2014, Chevron announced the start of production at the Bibiyana Expansion Project. The project included additional wells, two gas processing trains, and an enhanced liquids recovery facility. The project has a capacity of 300 MMcf/d natural gas and 4,000 bpd of condensate. The liquid recovery facility started up in Q1 of 2015.
In 2015, 38 producing wells in the three fields delivered net production of 720 MMcf/d natural gas and 3,000 bpd of condensate.
Competing Bid
Chevron received a competing bid of $2.3 billion for the assets from Geo-Jade Petroleum - an independent Chinese O&G explorer. However, an executive familiar with the competition said Chevron likely picked Zhenhua Oil because it is a state-owned company and has the backing of China Reform - making a potential sale much more likely to close.
Right Of First Refusal
However, the government Bangladesh holds the right of first refusal on the assets and could block a sale to the Chinese company. The national oil company Petrobangla is reportedly talking to international banks to raise financing and has hired Wood MacKenzie to assess the fields' reserves before placing a formal bid.
Chevron's Australian LNG
For Chevron, it's obviously bullish to have interest in the assets from multiple Chinese energy companies as it prevents a potential low-ball bid from Bangladesh's national oil company. The assets are considered "non-core" by Chevron considering the first LNG shipment from Gorgon in March of 2016 and the imminent start-up of Wheatstone LNG expected in mid-2017. Together, Gorgon and Wheatstone will position Chevron as Australia's largest LNG producer and Australia as one of the world's largest LNG exporters.
Balance Sheet
Chevron management targeted $5-$10 billion in asset sales for 2016-2017. But the company made only $2.8 billion of sales last year, so 2017 should prove to be a busy year for asset dispositions.
As of the Q4 EPS report (available here), Chevron's balance sheet was strong. Total debt was $46 billion and the year-end debt-ratio was 23%:

But certainly the company wants to pay down the debt-load in order to reduce interest payments and/or free-up cash for dividends and share buybacks. Yesterday MarketWatch reported that Citi said Chevron's strong balance sheet and the stock's cheaper-than-peers valuation make it "one of the best positioned" to reward shareholders with a dividend increase or even a share buyback.
Chevron currently yields 3.9%. With less 1.89 billion shares outstanding, a $2 billion sale of Bangladesh assets equates to over $1/share.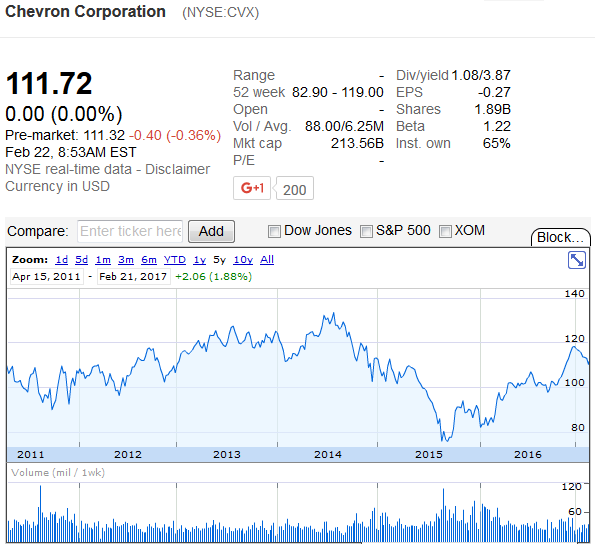 Disclaimer: I am an engineer, not a CFA. The information and data presented in this article were obtained from company documents and/or sources believed to be reliable, but have not been independently verified. Therefore, the author cannot guarantee their accuracy. Please do your own research and contact a qualified investment advisor. I am not responsible for investment decisions you make.
Disclosure: I am/we are long CVX.
I wrote this article myself, and it expresses my own opinions. I am not receiving compensation for it (other than from Seeking Alpha). I have no business relationship with any company whose stock is mentioned in this article.