Last week, I covered the number one leading indicator for the housing industry: monthly building permits. Building permits and consumer confidence should give us a good view about existing home sales as you can see in my overview below.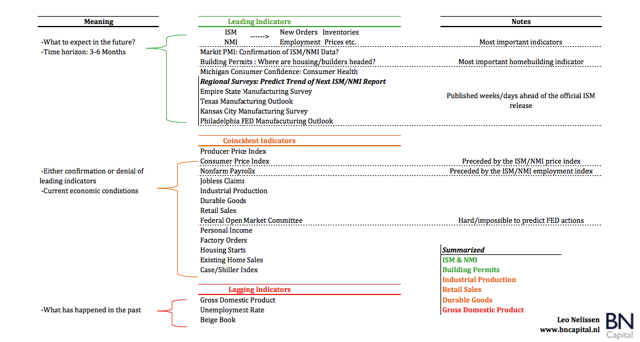 Building permits added more than 8% in January. Consumer confidence declined a bit, but remained relatively high. Note that the NAHB housing market index supported average growth.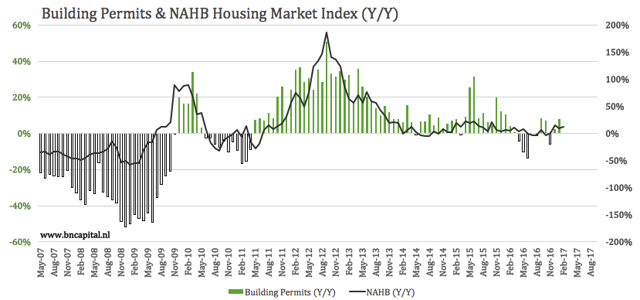 Existing home sales came in at 5.69 million houses, which is 140K above expectations. The important number, however, is the year-on-year performance. Existing home sales are currently 3.8% higher than one year ago. This is one of the slowest numbers since the 2014 dip. On the other hand, it is enough to push sales up to a decade high.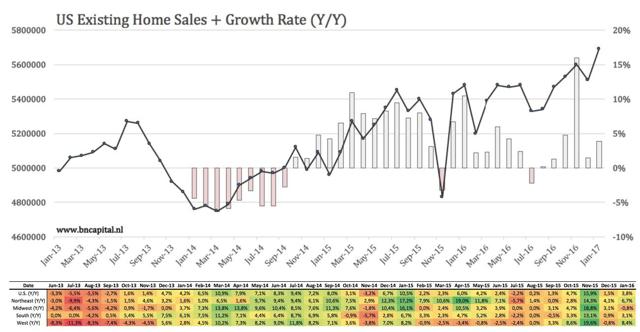 All regions, except the Midwest are showing strength. The Midwest is contracting for the first time since November of 2014. The West is outperforming with almost 9% growth. Overall, we see a nice bounce after last month's decline.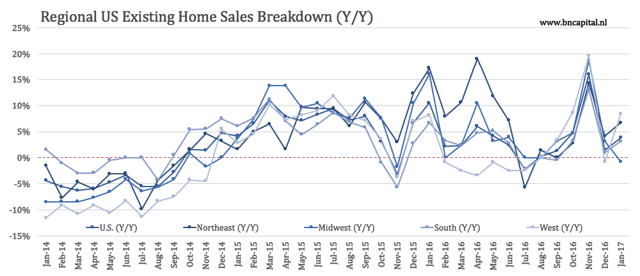 Construction stocks (iShares U.S. Home Construction ETF (NYSEARCA:ITB)) are currently breaking out, backed by stronger building permits and higher existing home sales.
Conclusion
The US housing business is following the lead from leading indicators. Building permits are growing above 8%, backed by higher NAHB sentiment. The latest existing home sales numbers show that growth is moderate. This moderate growth has been enough to hit a decade high. I remain bullish in this industry.
Many thanks for reading my article. Please leave a comment below if you have questions or remarks.
Disclosure: I/we have no positions in any stocks mentioned, and no plans to initiate any positions within the next 72 hours.
I wrote this article myself, and it expresses my own opinions. I am not receiving compensation for it (other than from Seeking Alpha). I have no business relationship with any company whose stock is mentioned in this article.