As shareholders, quarterly reports are double-edged swords. On the one hand, they provide a useful update to a company's performance, a touch point for us to say "great, they're chugging along." On the other hand, they can bring about unnecessary volatility as companies can miss (or beat) analyst estimates, the accuracy of which are questionable to begin with (people tend to forget that they are actually called "estimates").
Gear Energy's (OTCPK:GENGF) recent quarterly/year-end report resembles the ones we like to see, ones that have landed the plane almost exactly where management had guided to. This isn't to say that the reverse would have been true (i.e., management is automatically terrible if it missed its own guidance), but Q4 was the first full quarter after the completion of the Striker Exploration acquisition (July 26, 2016, was the closing date). Consequently, Gear's performance enhanced management's credibility in integrating and operating the newly acquired assets. Below are some pertinent figures:
| | | |
| --- | --- | --- |
| Original Forecast | Original Forecast | Actual |
| Production | 6,100 to 6,300 boe/d | 6,203 boe/d |
| Operating Costs | $14.00 to $16.00 boe | $16.25 boe |
| G&A Costs | $2.20 boe | $2.59 boe |
| Royalty Rate | 11% | 9.5% |
| Year-end net debt (incl. $15M of convertible debentures) | $40M | $36M |
We can see that production landed almost squarely within Gear's forecast range, whereas Operating and G&A costs were slightly higher than anticipated. We estimate the "outspend" (actual vs. forecast figures) equates to about an additional $365K of Operating and G&A costs, so it was fairly minimal. The outspend was offset by lower than forecast royalty rates, which came in at 9.5% vs. 11%, a net decrease of approximately $300K. Thus, on balance, the resulting cash flow also came out fairly close to what was anticipated at nearly $7M.
Debt
More importantly, year-end debt declined by $3.1M (from $48.3M to $45.2M), and $800K of the debt reduction was caused by the conversion of convertible debentures to common stock (i.e., essentially equitizing debt). Still, reducing the debt carried on Gear's credit facility by $2.3M was a positive.
| | | |
| --- | --- | --- |
| | 30-Sep | 31-Dec |
| Debt | | |
| Credit Facility | $33,534 | $31,163 |
| Convertible Debentures | $14,800 | $14,000 |
| Total Debt | $48,334 | $45,163 |
| | | |
| Working Capital | | |
| Accounts Receivable ("AR") | $9,138 | $9,526 |
| Prepaid Expenses | $4,151 | $2,774 |
| Inventory | $5,778 | $5,723 |
| Accounts Payable ("AP") | $(12,523) | $(9,827) |
| Working Capital Surplus/(Deficit) | $6,544 | $8,196 |
| | | |
| Net Debt | $41,790 | $36,967 |
Note that we're discussing debt and not net debt because net debt offsets debt by working capital. A material part of working capital is AR/AP, which has seasonal fluctuations, and often the receipt of one results in cash used to pay down the other. Moreover, it's difficult to monetize "prepaid expenses" -- try using that to pay your debts. By contrast, we do think inventory has value, but for conservatism we've set it aside and just examined debt on a standalone basis to judge Gear's level of leverage.
Overall, this was a decent quarter financially as Gear generated $6.8M in cash flow and spent $6M in capital expenditures. The residual $800K mixed with cash from share issuances and the sale of assets allowed the company to pay down its credit facility by $2.3M.
Wilson Creek and Hoosier
What's also intriguing from our perspective is the new wells being drilled in Wilson Creek and Hoosier, Saskatchewan. Recall that the Wilson Creek property, located in Central Alberta, was the main property acquired in the Striker Acquisition. The two exploratory wells were completed in late December and early January. Both wells are currently producing above the type curve indicated in Gear's current slide deck (i.e., one at 170 bo/d (215 boe/d) for the last two weeks and the second at 300 bo/d).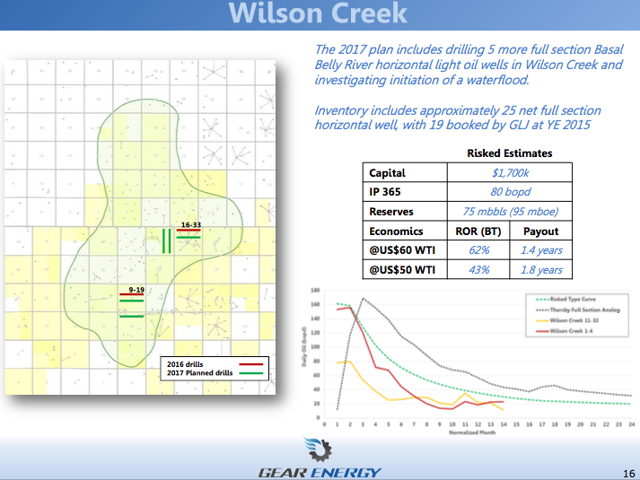 This could portend a material upgrade to what's currently shown on the slide deck, with positive implications for the company's reserves and overall economics.
The second item was the brief mention of the Hoosier wells. This area only recently started receiving attention, first appearing in the company's January 2017 slide deck. Gear plans to drill three wells in the Success formation to understand the play better. The formation has the potential to increase drilling inventory by 100 locations, so this could be a significant catalyst if the wells show promise as Gear currently has an inventory of 450 locations.
Ultimately, this is the type of quarter investors should be glad to see after a tumultuous 2016. The first full quarter after the Striker acquisition is now under Gear's belt and it can really focus on testing its newly acquire acreages and efficiently drilling its existing inventory.
The stock still trades at a substantial discount to its peers with a EV/DACF ratio of 4.9 for 2017 (as per our forecast). We continue to believe that the stock will re-rate higher as the lighter oil assets prove their worth and Gear's operational efficiencies are applied to Striker's assets.
As always, we welcome your comments. If you would like to read more of our articles, please be sure to hit the "Follow" button above.
Disclosure: I am/we are long GXE.TO.
I wrote this article myself, and it expresses my own opinions. I am not receiving compensation for it (other than from Seeking Alpha). I have no business relationship with any company whose stock is mentioned in this article.