I started investing in the stock market when I was 23, and my current portfolio contains the following stocks: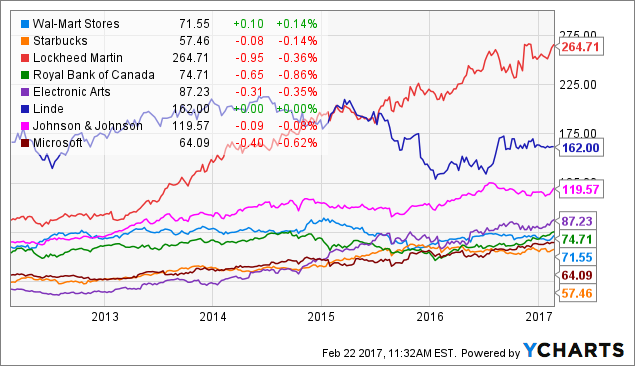 When I first started out investing, my philosophy was to buy and hold good companies in the broadest sense. By "good," I mean companies that have significant growth in earnings and free cash flow, as well as solid dividend growth (or an expectation of much higher than average market growth of the company doesn't already pay dividends).
Of the eight stocks currently in my portfolio, both Johnson & Johnson and Wal-Mart meet the criteria of being a dividend aristocrat, having grown their dividends yearly for 25 years or more. Going forward, I definitely intend on adding more dividend aristocrats to my list. The ones currently on my list are AT&T (NYSE:T) and Chevron (NYSE:CVX), which I will elaborate on further below.
My Biggest Investing Mistake and What It Taught Me
Put this one down to careless youth. When Chevron had tanked to $70 - and the media had been debating whether the oil industry would ever be the same again - I made my biggest investing mistake to date: I sold Chevron as opposed to buying more shares. To this day, I still kick myself over the appreciation I would have seen on an additional investment over that period of time, not to mention the yield that I would have been getting in at. While there are some instances where you want to be careful not to "catch a falling knife," a Dividend Aristocrat yields most of its profits through dividends, not capital gains.
For instance, Wal-Mart is currently facing a somewhat uncertain future with the rise of online retailing and competition from Amazon (NASDAQ:AMZN). However, the company has been trading significantly below its highs, while its dividend yield keeps rising. I got in on Wal-Mart at the beginning of this month at a price of $66.70, and with a long-term mindset I expect that the yield I will accrue on this stock (at a significant margin of safety) will make it a very worthwhile investment. Similarly, I'm looking to get back in on Chevron at a good price as well. If the macroeconomists start worrying about future oil prices anytime soon, then that's my cue!
In any case, my lesson is this: If a strong company, with a track record of growing dividend yield, is trading at a significant margin of safety - grab it!
My Diversification Strategy
In my portfolio, I aim to diversify both by sector and by geography. When I refer to sectors, I particularly mean ones that follow a significantly different trend to the market, so as to soften the impact of recessionary shocks. The two in particular that stick out in my portfolio are defense (Lockheed Martin) and consumer staples (Johnson & Johnson and Wal-Mart). For instance, even during periods of recessionary downturn, defense spending has been known to rise and this was particularly the case in 2010 even in the aftermath of the global financial crisis. Moreover, Johnson & Johnson along with Wal-Mart are leaders in the consumer staples industry, and as such supply essential items that consumers will not cut spending on during recessionary times.
By geography, a significant portion of my portfolio is dedicated to the European chemical manufacturer, Linde AG. While this is a mature company that has not seen very much in the way of capital growth over the past three years, its dividend remains solid and the company itself has established a global footprint in its industry. This company will continue to remain a leader in its sector, and as such I see it as providing very good exposure to the European market. Royal Bank of Canada is also a stock that has performed well, returning roughly 15% since I got in on the stock in 3Q 2016. While I expect that American banking stocks such as Bank of America (NYSE:BAC) could still outperform significantly on a capital gains basis in the short-term, Canadian banking stocks are a good play during more defensive times as Canada's banking system has shown more stability during recessionary periods. Moreover, the bank is also one of the Canadian dividend aristocrats, having been one of a few Canadian stocks with a strong record of dividend growth.
So What About Those Companies That Don't Pay Dividends?
If a company doesn't pay dividends, then it needs to show signs of really significant growth in the future to justify investing in the stock. The only company I hold in my portfolio that doesn't currently pay a dividend is Electronic Arts . Electronic Arts is a leader in the field of electronic gaming, and over the past five years has returned over 400%. While seeing this rate of growth again is clearly a long shot, I still see potential for this company to outperform the overall market given that online and VR (virtual reality) gaming is set to grow significantly over the next few years, and EA is in a prime position to capitalise on these trends. While I intend for dividend stocks to make up the bulk of my portfolio, I will still look for growth stocks to make up a small portion of my portfolio, e.g. 10%. For instance, I had remarked previously that Tesla Motors (NASDAQ:TSLA) has the potential to be a good "barbell" stock - one that comprises a very small percentage of one's portfolio. If the stock falls significantly, then the overall downside of the portfolio is limited. However, if the stock grows rapidly as some are anticipating, then this stands to push the overall portfolio return significantly to the upside.
Conclusion
Ultimately, one of if not the most important thing I have learned during my time investing is: Don't try to time the market. Focus on great companies - the majority of which pay growing dividends - and your portfolio will do well long term. The returns on the stocks in my portfolio (taking dividends into account), have roughly matched the return on the S&P 500. However, this would have been higher still without attempting to adjust for corrections. Once you have spotted a strong company, buy it and forget it.
Disclosure: I am/we are long RY, WMT, LMT, JNJ, LNAGF, MSFT, SBUX, EA.
I wrote this article myself, and it expresses my own opinions. I am not receiving compensation for it (other than from Seeking Alpha). I have no business relationship with any company whose stock is mentioned in this article.
Editor's Note: This article discusses one or more securities that do not trade on a major U.S. exchange. Please be aware of the risks associated with these stocks.