As someone who is constantly scanning the market for opportunities, I often hear of something and look up the ticker symbol only to find it is a private company or it's a public company that either trades at too rich a valuation or isn't that great of a business. Today is a good day because I have unearthed a great business that I wish I would have bought last year. Intuit Inc (NASDAQ:INTU) (reporting tomorrow after the close) is a growing business that develops financial software targeted at simplifying the life of consumers and small business owners. Intuit's mission per their latest 10-K annual report:
"We are a global product and platform company that seeks to improve our customers' financial lives so profoundly they can't imagine going back to the old way."
Their growth strategy is to be the operating system behind small business success and do taxes in the US and Canada. Intuit is organized under three reportable segments: Small Business, Consumer Tax and ProConnect.

Taking data from their fact sheet, I summarized some relevant facts below.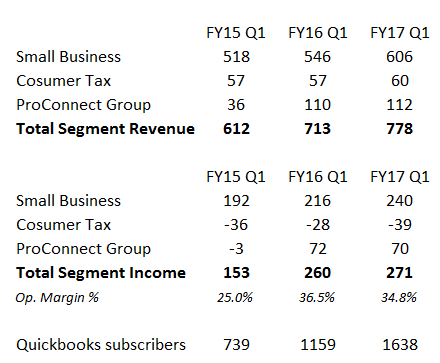 In the first quarter segment revenue grew 9% over the prior year quarter and segment income grew 4%. Quickbooks online subscribers grew 41%. The second quarter guidance reflects another 41% year over year growth in subscribers.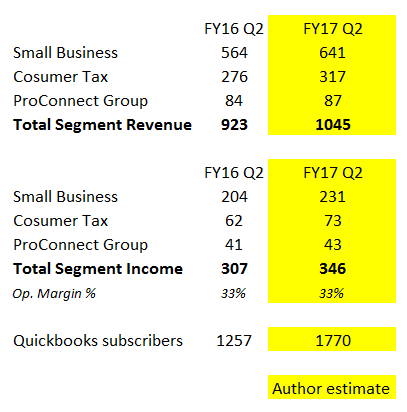 The yellow column I created above is based on a conservative target provided in the fact sheet with my own estimate by segment. This implies a 13% growth in segment revenue and 13% growth in total segment operating income.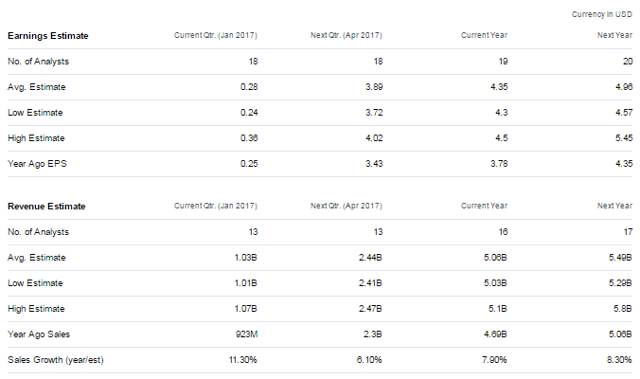 source: Yahoo Finance.
I think that analysts are a bit conservative on the expected earnings growth considering the rate of subscribers growth and the revenue guidance provided.
While the second quarter is relevant, the third quarter is what is really important due to the seasonality of the consumer tax business. The fiscal year end is July 31st, and thus the third quarter ends April 30th. For the last three fiscal years the total revenue in the third quarter represented nearly half the total revenue for those years. The negative operating income in the consumer tax group in the first quarter should not cause alarm. The previous fiscal year tells the story of how the second and third quarters drive the results of this segment.

My outlook is another strong turbotax unit growth rate in fiscal year 2017 based on the best in class offering. Per the turbotax website, I found the reviews overall very positive. I've also used the software and found it extremely user friendly. Their offering also includes expert live help and 24/7 support. The opportunity remains getting more people to use the turbotax software and step away from mom-and-pop and other traditional accounting services which continue to make up the majority of returns. Quickbooks also is dominant in the market with the only major competitor being Peachtree.

A quick competitive analysis demonstrates that INTU justifiably trades at a premium valuation. First consider the return on invested capital versus peers H&R Block (NYSE:HRB) and Liberty Tax (NASDAQ:TAX).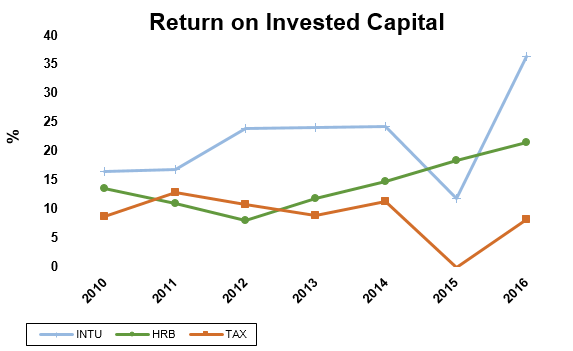 data source: Morningstar
Also, if you consider the free-cash flow generation, INTU outshines peers as well. The drop in 2016 was due to a large increase in capital spending.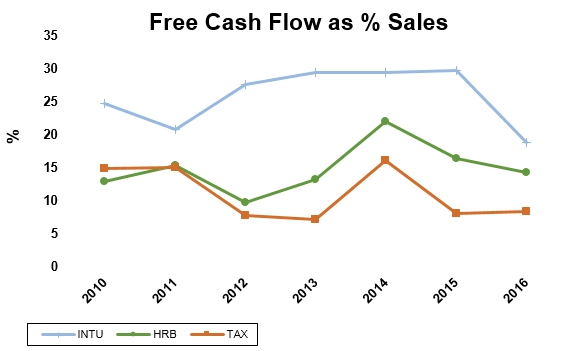 data source: Morningstar
The challenge going forward and what to watch out for is building more trust with clients, holding a high retention rate, and taking people who work with pencil and paper and transitioning them into the turbotax software. A large opportunity remains for this growth stock. INTU has outperformed peers in just about every measurable category other than valuation, and I expect their outperformance to continue into the foreseeable future. Want a way to really profit on your tax return? Use your refund (if you have one) to invest in INTU.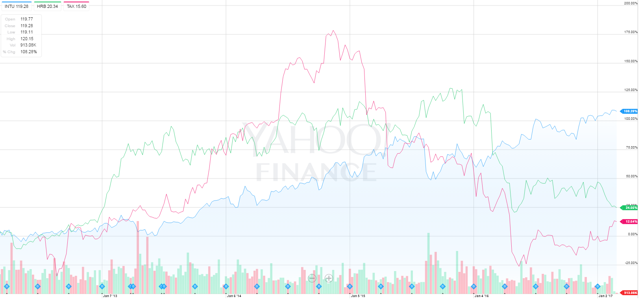 source: yahoo finance.
Disclosure: I/we have no positions in any stocks mentioned, but may initiate a long position in INTU over the next 72 hours.
I wrote this article myself, and it expresses my own opinions. I am not receiving compensation for it (other than from Seeking Alpha). I have no business relationship with any company whose stock is mentioned in this article.