The fitness tracking device leaders reported after the close. Fitbit (NYSE:FIT) reported Q4 numbers that missed estimates, but the numbers were generally inline with preliminary estimates.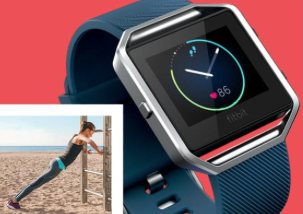 The stock trades near the all-time lows below $6. The market is so negative on Fitbit that upside probably exists on signs of stability in the business along with my previous investment thesis.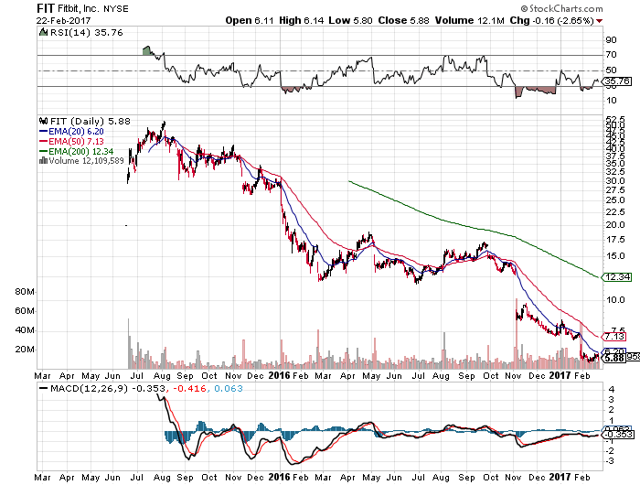 Investors can click on the above link for the Q4 numbers, but the real key is a focus on 2017 guidance and the future in connected health devices. Fitbit maintained full-year guidance at $1.5 billion to $1.7 billion to at least provide some stability from the preliminary numbers released on January 30.
So while device sales struggled at the end of the year, Fitbit continues to grow the connected community. The company ended the year with 23.2 million active users versus 16.9 million last year.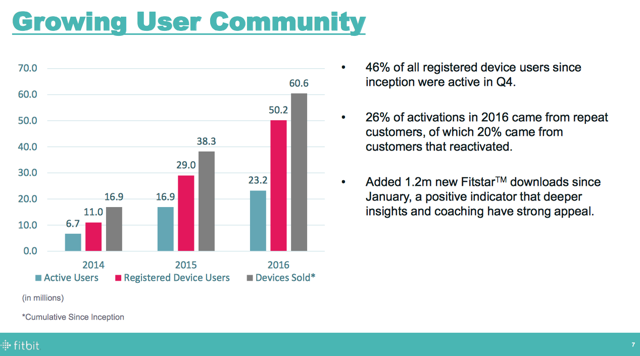 Source: Fitbit presentation
The negative view is that only 46% of registered users are still active, but the value to shareholders is the growing user base regardless of how many devices are sold. The initial success of the Fitstar personal training app is encouraging that the company can build a revenue stream beyond product revenues.
One interesting development today were the solid numbers from Garmin (NASDAQ:GRMN) in the fitness tracking segment. The company produced 20% growth in the category, but sales are still 50% of Fitbit in that category at only $274 million.
Garmin is more diversified with revenues in auto and aviation, but the valuation points a clear path for Fitbit. If the company can diversify into new categories or options including smartwatches, payments or something not even thought of yet and a valuation boost is very possible.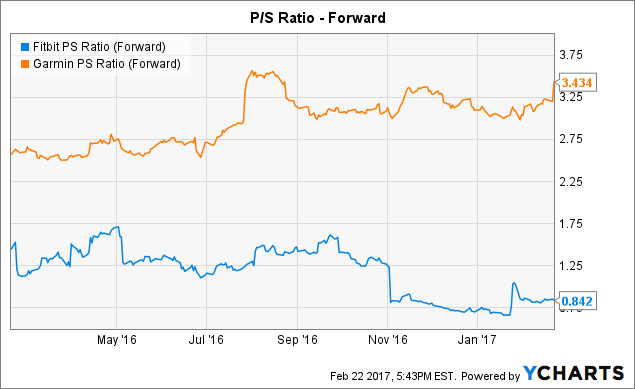 FIT PS Ratio (Forward) data by YCharts
Garmin trades at 4x the P/S multiple of Fitbit and one can argue that the latter is the more innovative company. The recent purchases of technology assets and talent from Pebble and Vector Watch provide that opportunity to pivot into new and better categories and build upon the existing products.
The key investor takeaway is that Fitbit is a turnaround play. The company is a category leader making the stock worth a gamble below $6.
Disclosure: I/we have no positions in any stocks mentioned, but may initiate a long position in FIT over the next 72 hours.
I wrote this article myself, and it expresses my own opinions. I am not receiving compensation for it (other than from Seeking Alpha). I have no business relationship with any company whose stock is mentioned in this article.
Additional disclosure: The information contained herein is for informational purposes only. Nothing in this article should be taken as a solicitation to purchase or sell securities. Before buying or selling any stock you should do your own research and reach your own conclusion or consult a financial advisor. Investing includes risks, including loss of principal.