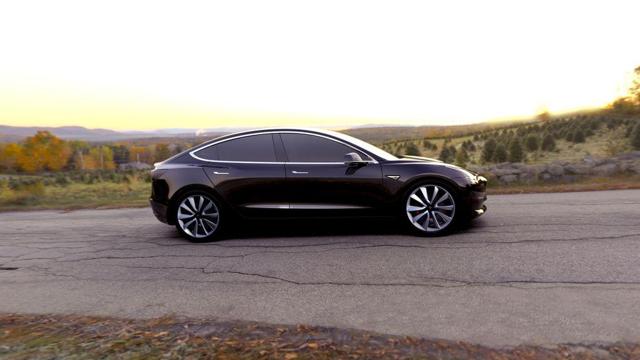 Tesla (NASDAQ:TSLA) just reported Q4 2016 earnings. This article will give my quick take on many relevant highlights.
Here we go:
Tesla keeps saying Model 3 is on track for July start of production and September volume production. This is highly unrealistic: Tesla hasn't yet started road testing the production model. Tesla says it expects to hit a Model 3 5,000 cars/week production rate somewhere during 2017 and 10,000 cars/week somewhere during 2018.
Tesla shipped 98 MWh of energy storage products during Q4 2016. No financial numbers are attached. The reason is simple, 98 MWh at $250/kWh comes to just $24.5 million in revenues for a single quarter, a million miles away from the $400-$500 million projected for 2016 in late 2015.
Q4 2016 showed a massive drop in gross margins, from 27.7% in Q3 2016 to 19.1% in Q4 2016.
Reason 1 for the drop in gross margins: much lower ZEV credits recognized in Q4 2016 (0.8% of automotive revenues) than in Q3 2016 (4.8% of automotive revenues).
Reason 2 for the drop in gross margins: Tesla cannot recognize AP2 revenues before delivering the software. This will change significantly during Q1 2017, so automotive gross margins will improve in Q1 2017 vs Q4 2016.
Reason 3 for the drop in gross margins: service and other revenues showed a -11.3% gross margin in Q4 2016 vs. 4.8% in Q3 2016. Tesla puts this to building up service center capacity before the Model 3 arrives. More likely, this is the result of trying to contain service issues and delays - which Tesla says it has managed to (though the delay it puts forward, less than a day, is unrealistic). It's also likely that some of it had to do with the use of high trade-in values to incentivize upgrades and goose Model S/X demand. It should be noticed that this is deferred in time (the CPO car takes time to be sold, and only when sold is the loss from the high trade-in value recognized), so some of the impact would already come from Q3 2016.
What did not hit gross margins was a drop in production. Tesla kept Q4 2016 production close to Q3 2016 levels, and it accrued new car inventories as a result. This permits fixed-cost dilution to remain high. However, if Tesla is forced to lower production so as not to continue increasing inventories, such would have a negative gross margin impact.
There was a large increase in basic shares outstanding to 155 million shares as a result of the SolarCity acquisition. However, this number of shares is an average over the quarter and SolarCity was only acquired in November 21. I expect diluted shares outstanding to already exceed 165 million shares. At $280 per share, this gives Tesla a $46.2 billion market capitalization.
Operating cash flow again dipped into deeply negative territory, showing a $0.45 billion cash outflow in the quarter. A good part of this was due to paying down accounts payable, but so was the positive operating cash flow the quarter before. Another negative factor is that inventory continues to expand - and this includes new car inventory, as Tesla continues to produce in excess of deliveries plus increase in cars in transit.
The increase in cash reported by Tesla was merely a function of increased debt and cash which came with the SolarCity acquisition. Tesla's free cash flow was negative by more than $1 billion in the quarter if we include SolarCity's capex, or around $970 million if we don't.
Tesla capex came in at just $522 million, or around half what Tesla expected to spend in Q4 2016. This also makes it likely that the Model 3 is late.
Tesla didn't guide for 2017 whole-year deliveries. In my view, doing so would expose the fact that the Model 3 is late.
Instead, Tesla guided for just H1 2017 deliveries. It set this guidance at 47,000-50,000. This number isn't particularly aggressive if we think of how many cars Tesla claimed it had in transit at Q4 2016 end, 6,450, or how many it claimed missed being counted in Q4 2016, 2,750. Still, given changes in pricing, developments in China (EV sales dropped by 60% year-on-year in January) and Hong Kong (it eliminated a large EV tax waiver today), even the 47,000-50,000 guidance is unlikely to be met.
Due to SolarCity inclusion, the reported earnings were positively affected by a full $186.5 million. $88.5 million were a non-cash gain on acquisition, and $98 million came from minorities (VIE accounting). This artificially improved GAAP EPS by a full $1.20!
Customer deposits fell by $26.5 million quarter-on-quarter. This likely reflects lower orders for Model S and X as well as somewhat reduced Model 3 deposits. Tesla claims orders for the Model S and X are rising 49% year-on-year, but again this is "net orders" which compare to a period where it likely experienced many Model X cancellations (driving the base number lower).
Already on the earnings call, we got to know that Tesla's CFO will be quitting in April 2017. Here, there's an event which might be related: There's speculation to believe SolarCity is part of an undisclosed SEC investigation, as per work done by Probes Reporter.
For now, and based on the public disclosure, this is what can be said. However, this time there might be more interesting revelations when the 10-K is published, later on.
For instance, it's interesting to know what percentage of SolarCity's assets are now held by VIEs. SolarCity accounts for those in its balance sheet but it doesn't actually own them. Also interesting will be whether SolarCity discloses the ongoing, undisclosed, SEC investigation. Also, it would be very important to know what the SEC investigation focuses on - namely whether it's focusing on the VIE accounting and why.
Conclusion
The earnings report saw Tesla continue its cash burning ways, supported by more debt. Nothing in the report tells us that Tesla will become profitable enough before competition hits so as to be able to survive in a much fiercer long-range EV market. We already have definite signs that oncoming competition will offer good looking, spec-competitive cars at a large discount to their Tesla equivalents.
For those saying "Tesla is not a car company, it's an energy/tech company", well, Tesla will live and die by what happens in its car business. Everything else is neither profitable, nor relevant.
Disclosure: I am/we are short TSLA.
I wrote this article myself, and it expresses my own opinions. I am not receiving compensation for it (other than from Seeking Alpha). I have no business relationship with any company whose stock is mentioned in this article.