According to JPMorgan, OPEC compliance is not as strong as OPEC has reported. Four countries are actually increasing output above their reference levels, including Iraq, Venezuela, Algeria and the Emirates.
Last week, the CEO of Kuwait Oil Company (KOC) said Kuwait's production has reached 2.75 million barrels per day. That was well above its reference level of 2.707 million.
OPEC's agreement is directed toward cutting crude oil production but is silent on exports. This difference may be undermining the effectiveness of the agreement.
While the bank confirms that Saudi Arabia has cut its production, it has not reduced its exports by the same amount. Instead, it has switched from oil use to new gas fields to generate power inside the KSA.
Over 90 percent of the production cuts were assigned to Saudi Arabia and its Gulf members. However, crude oil exports from the Middle East have dropped by just 500,000 b/d.
OPEC had said that most of the production cuts would be directed to the U.S. and Europe. And that it would keep its exports to Asia steady. OPEC members sell the most of their oil to Asian customers.
We should have seen some sign of the cuts to the U.S. by now, given tanker transit times. But instead, we have seen imports from OPEC trending higher.
If crude imports from OPEC are not seen dropping in U.S. data in the next week or two, I think the market will become more nervous. This could be the catalyst that causes record long oil position holders to begin to sell.
Import Scenarios
I have estimated that U.S. crude imports from OPEC members would drop by about 200,000 b/d. That is based on OPEC imports of about 2 million b/d, excluding imports from Venezuela and Nigeria. The oil minister from the South American producer said his country will keep exports to the U.S. steady. Nigeria is not subject to quotas as it restores its production levels.
I factored in the expected cut in my recent U.S. Short-Term Supply/Demand Outlook. I still expect crude inventories to rise to 542 million barrels by the end of March, 30 million higher than the record set last year.
But let's say OPEC directs 100% of its 500,000 b/d cut to the U.S. In that case, March imports might be lower, depending on whether oil companies fill the gap with imports from non-OPEC sources. In the case of lower crude imports, I project that crude stocks would still rise to 535 million.
Boslego Risk Services

Crude

Jan

Feb

Mar

Avg

V. 2016

Production

8.86

9

9.05

9.0

-2%

Net Imports

7.56

7.4

7

7.3

-1%

Refinery Inputs

16.24

15.6

16

15.9

0%

SPR Draw

0

0

0.1

0.0

NA

Adj

0.325

0.23

0.18

0.2

Stock Change

0.505

1.03

0.33

Beg Stocks

481

496

525

End Stocks

496

525

535

34

Products

Jan

Feb

Mar

Avg

V. 2016

Other Supply

5.6

5.7

5.7

5.7

Production

21.8

21.4

21.6

21.6

0%

Net Exports

2.8

2.6

2.6

2.7

8%

Demand

19.0

19.7

19.5

19.4

0%

Adj

0.2

0.1

0.2

0.2

Stock Change

0.2

-0.8

-0.3

-0.3

Beg Stocks

850

855

833

End Stocks

855

833

824

-1

Totals

Jan

Feb

Mar

V. 2016

Beg Stocks

1331

1352

1358

End Stocks

1352

1358

1360

34
Conclusions
OPEC has set the goal of draining OECD oil inventories back to their five-year average. According to data from the Energy Department, there are still 300 million barrels to drain. OPEC's secretary general and president have predicted stocks would be headed there as a result of the cuts by June. There is not even a remote chance that could happen, according to my projections. OECD inventories are likely to be higher at the end of June than they were as of end-December, when the cuts began.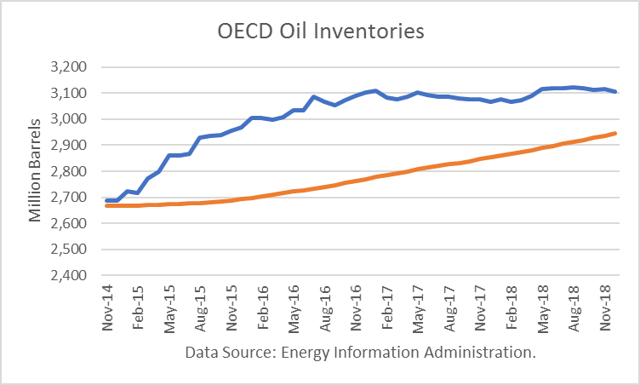 The next few weeks are critical for OPEC to prove its cuts are trimming inventory levels, and those in the U.S. are most transparent and timely. I believe investors hoping to see OPEC succeed will be very disappointed in the results.
Disclosure: I/we have no positions in any stocks mentioned, and no plans to initiate any positions within the next 72 hours.
I wrote this article myself, and it expresses my own opinions. I am not receiving compensation for it (other than from Seeking Alpha). I have no business relationship with any company whose stock is mentioned in this article.