In a time where many companies seem more interested in short-term stock price movement than long-term value creation, Orion Energy Systems (NYSEMKT:OESX) breaks that mold. A few years ago, Orion took a risk and drastically changed its long-term strategy. This change temporarily impacted the company's performance, but put it in a fantastic position to grow rapidly, sustainably, and profitably over the years ahead.
Today, the benefits of that decision are just starting to become clear. Revenue was up 23% YoY in Orion's most recent quarter (released February 15th), building on 18% revenue growth posted the quarter before that. Revenues from the LED segment, the company's most important business line, were up 28% YoY and have now grown at over 20% YoY for the last four quarters in a row. After speaking with management, we are more confident than ever that the strong results of late are only the beginning of what is to come.
Yet, despite these strong recent results and a robust growth outlook going forward, Orion stock continues to trade at what we see as unreasonably low levels. By using more appropriate valuation metrics we believe it should currently be trading at $3.75, or more than double Friday's closing price of $1.81.
The target of $3.75 represents just a 1.4x multiple of current-year sales, 17.9x two-year forward P/E multiple, and 8.9x two-year forward EV/EBITDA multiple. For a company with a great balance sheet, no cash flow issues, and which is expected to grow around 20% for the next several years, we believe these multiples are certainly reasonable.
Brief Company Overview
Orion's core business is designing and manufacturing high-performance LED lighting and energy management systems. It mainly sells in the commercial and industrial retrofit market, but has a diverse range of end customers. Below you can see examples of the company's products and pictures of where they are commonly used, from a recent investor presentation: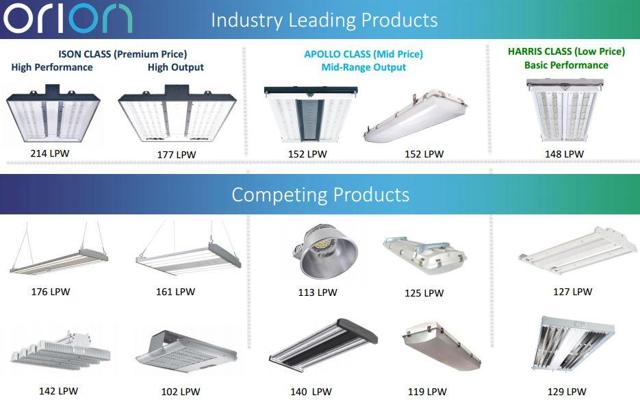 (Source: Investor Presentation)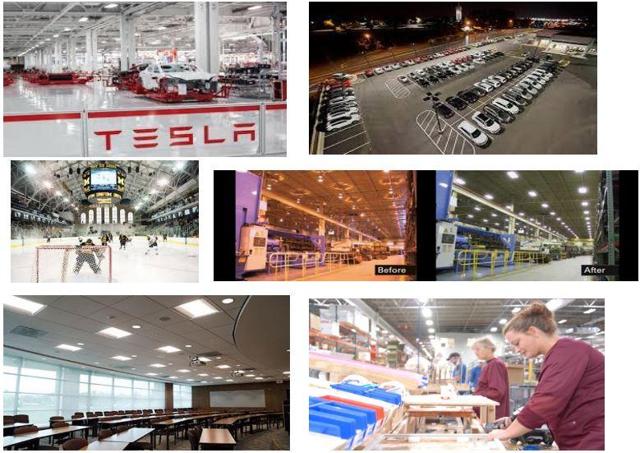 (Source: Investor Presentation)
LED products made up 82% of Orion's revenue last quarter, an all-time high. The company also produces High Intensity Fluorescent (HIF) lighting products and does about $1 million per quarter in service revenue.
Orion's products are the highest-performing in the industry. Its premium ISON Class LED High Bay fixture offers the highest available lumens per watt (the most important performance metric) in the industry by a significant margin. Even Orion's mid-range product line, Apollo, offers more lumens per watt than the top products of all of its competitors, except two. The company manufactures all of its products in the United States, unlike most of its competitors, who manufacture in Mexico or Asia.
Orion's products offer potential customers a strong value proposition. For commercial and industrial customers, the company estimates that its LED lighting systems reduce lighting-related electricity expenses by 50-80% compared to the lighting being replaced, while also improving both the quantity and quality of light emitted. The cash on cash payback period for customers who install Orion's lighting systems is usually just 1-3 years.
Major Strategy Change
In 2012/2013, management, led by John Scribante, made a significant change to Orion's long-term strategy. The company decided to exit the solar panel business completely, stop investing in HIF products (by far its largest business), and focus essentially all new resources on developing best-in-class LED lighting products.
Management made this decision because by 2012/2013, LED lighting had advanced technologically and come down enough in cost to the point where it was becoming clear that LED would eventually replace HIF. Also, dumping from Chinese imports in the solar industry and the nearing expiration of solar tax credits made that business especially risky for Orion going forward.
While in hindsight this might seem like an obvious choice given the attractiveness of LED technology, at the time it was a major risk. In FY 2014, Solar plus HIF sales made up 78% of the company's revenue, and LED sales made up less than 5% of total revenue: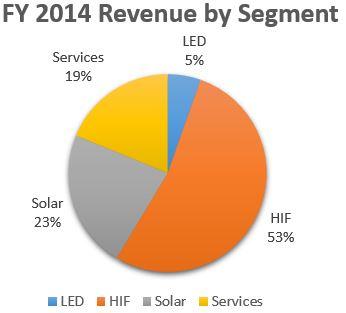 (Source: Company Filings, Author Compilation)
At first, investors cheered the decision, as the LED market in the US had (and continues to have!) enormous potential. By late 2013/early 2014, Orion stock got as high as $8 per share. Since then, however, the stock has fallen steadily.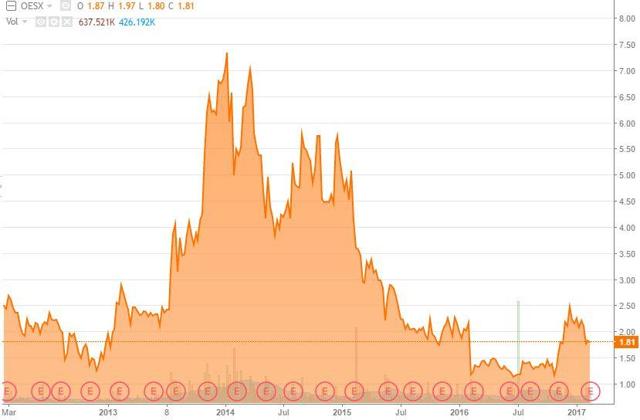 Orion's Results Following The Strategy Change
At first glance Orion's initial results following the strategy change don't look all that great. Annual revenue fell from $86 million in FY 2014 (ending March 31, 2014) to $67 million in FY 2016 (ending March 31, 2016), and the company hasn't posted positive net income since the transition.
It might seem logical to assume, then, that the LED lighting segment has fallen short of expectations, and that the strategy change was a mistake. In fact, nothing could be further from the truth!
If you take the time to look deeper into Orion's results past the headline numbers, you will quickly find that its most important business segment, LED, has actually performed very well: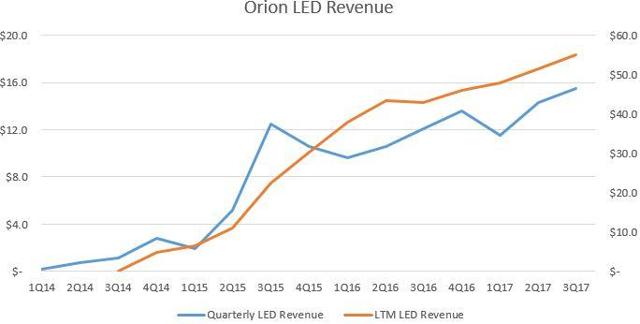 (Source: Company Filings, Author Compilation)
The "problem" has not been with lack of growth in the LED segment, but rather, faster-than-anticipated declines in the legacy HIF and Solar segments. To us, instead of that being a negative, it only validates the decision of management to focus on LED and the long-term industry outlook. The HIF declines were going to happen either way. Maybe the company could have squeezed out some additional sales in HIF, had it not switched its focus to LED, but either way, HIF would have declined given its technological inferiority to LED.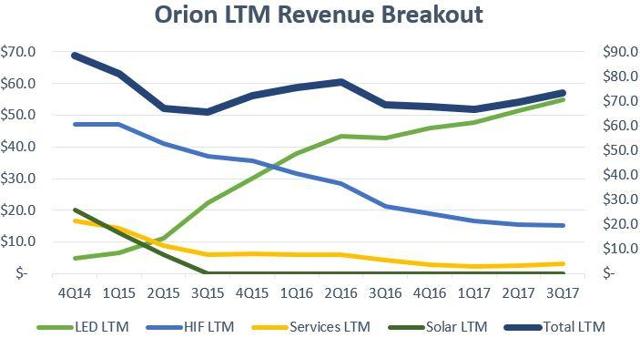 *Note: Bold Total Revenue line plotted on right axis, segments on left axis
(Source: Company Filings, Author Compilation)
The company has completely transformed itself from a Solar and HIF company to an industry-leading LED company in less than three years. Yes, it took a little longer than most investors would have liked, and yes, there was some pain as HIF revenues declined, but we would still call the transition an unequivocal success. No major change like that happens overnight or without some hiccups along the way.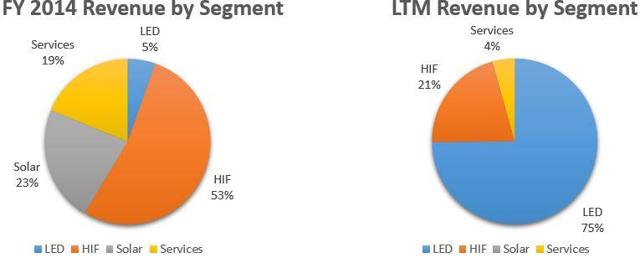 (Source: Company Filings, Author Compilation)
Orion Today
In the past few quarters, Orion has passed through a significant inflection point where its fast-growing LED segment has reached critical size and its HIF segment has gotten too small to really matter. HIF also appears to have leveled off as some customers need to replace old lights but have such a short time horizon or minimal power usage that it isn't worth spending the extra money on LED. This inflection can be clearly seen in the company's recent results.
Orion's total revenue was up 23% YoY in its most recent quarter (released February 15th), building on 18% revenue growth posted the quarter before that. LED segment revenues were up 28% YoY and have now grown at over 20% YoY for the last four quarters in a row. The company has also seen meaningful improvements in Gross Margins, EBITDA, and Cash Flow from Operations (CFO) the past few quarters.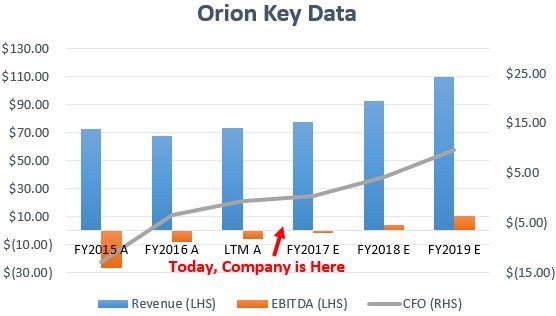 (Source: Company Filings, Author Compilation, Author Forecasts)
In FY 2017 (ending March 31st), Orion will most likely report slightly positive CFO and slightly negative EBITDA. It will also post annual revenue growth of nearly 15% this year, reversing the declines seen in the previous two years.
With $19 million in cash, EBITDA and CFO that is all but guaranteed to be positive next year, and the company's LED segment at critical size, we believe Orion has executed well and significantly de-risked. Moreover, it is just now crossing the hump back into sustained profitability and positive cash flow generation.
Orion's Growth Outlook
The company's strong growth outlook going forward is coming from two distinct areas.
First, the overall LED lighting market potential in the United States is massive and expected to grow 10-15% annually for the next decade. According to the US Department of Energy, LED lighting is expected to reach total lighting market share of 48% of sales by 2020 and 84% of sales by 2030. If those goals are reached, the US will save over $26 billion annually in energy costs in 2030 compared to today.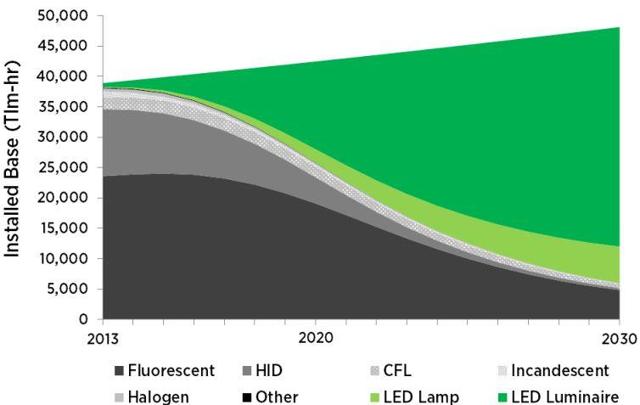 (Source: US Department of Energy)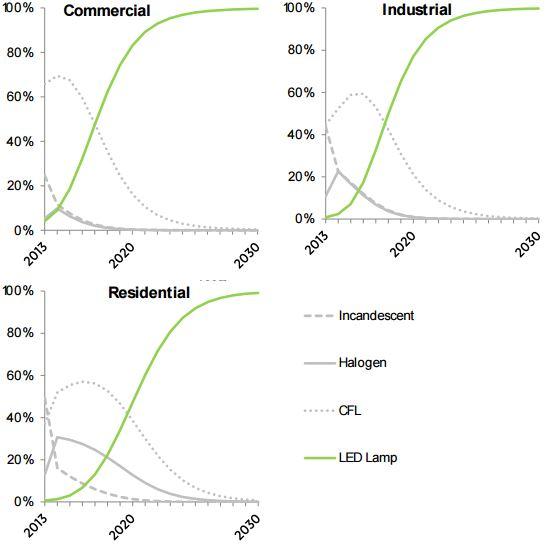 (Source: US Department of Energy)
Second, Orion recently switched its sales strategy from primarily direct and ESCO sales channels to agency sales channels. While direct sales and ESCO partners worked well with HIF products, for industry reasons we won't spend much time on here, the LED market is dominated by agencies.
This decision is more important than it may seem. By management's estimates, with the old sales strategy, Orion was only able to reach about 13% of its target commercial and industrial customer base. With the new agency sales channel, that number increases more than 5x to reach 75% of the company's target customer base.
When you evaluate Orion's recent 23% YoY growth in an end market that is growing 10-15% annually, the difference between the two is largely due to the company expanding its agency sales channel and reaching new markets where it did not have a strong presence in before. Its superior products let the company take a little more share of the overall market than average, but most of the difference is due to expanding its agency sales network.
In fact, if you look at the difference in success between two of Orion's competitors, Acuity Brands (NYSE:AYI) and Energy Focus (NASDAQ:EFOI), some of that has to do with each company's distribution strategy. While Acuity Brands has done well building its agency sales network from early on, Energy Focus has stubbornly refused to exit the direct sales model. They have also had issues with the end of military contracts, but this has been compounded by the decision to avoid the agency sales model. If you like pair trades, consider shorting EFOI and going long OESX.
Orion made the initial switch to the agency sales channel just over a year ago. Six months ago, the company had signed on 18 agencies, and by now it has 25. Management's stated goal is to double the number of agencies to 50 by the end of 2017. If it achieves these targets and the average revenue per agency merely remains flat, this will add over $15 million of incremental sales next year and $30 million (over FY2017 sales) in the following year.
Model and Valuation
Below is the model we use to forecast Orion's earnings potential over the next two years. This is not a hard company to model, and management provides annual and longer-term targets for several of the most important inputs. First, here are the assumptions we used for some of the key inputs to create the model. We believe they err on the conservative side:
Revenue: We assume Orion successfully adds 25 new agencies to its sales distribution throughout CY 2017, in line with management targets. We also assume revenue per agency does not increase, although with the overall industry growth expected, you could argue we should have modeled for increasing revenue per agency. We assume HIF revenues decline 10% annually for the next two years and services revenue grow very slightly.
Gross Margins: We assume gross margin grows to 34% over the next two years. Management's target for gross margins is 35% in the next 1-2 years, so we think a gradual increase to 34% over 2 years is reasonable.
SG&A: We are modeling increases in SG&A costs of about $1 million annually. G&A should remain roughly flat, and Sales & Marketing will increase to support the rapid expected revenue growth.
Interest Expense and Taxes: Interest expense is calculated based off current debt outstanding of just over $6 million. Orion has vast NOL carryforwards, and should not have to pay taxes for several years.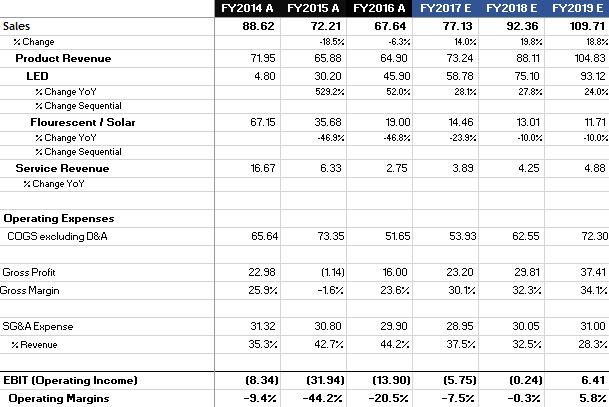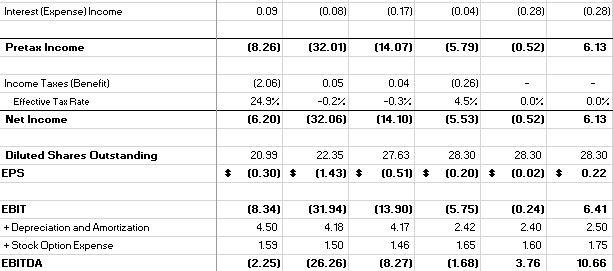 To arrive at our price target of $3.75, we looked at a variety of valuation multiples ranging from P/S, EV/EBITDA, and P/E. $3.75 represents just a 1.4x multiple of current-year sales, 17.9x two-year forward P/E multiple, and 8.9x two-year forward EV/EBITDA multiple. Again, given the growth outlook for the LED industry over the next decade, Orion's continued expansion into the agency sales channel, and the company's strong balance sheet, we believe these multiples are fair.
For context, if you use a $3.00 target for Orion, the implied multiples become 1.1x this year's sales, a two-year forward P/E multiple of 13.6x, and a two-year forward EV/EBITDA multiple of 6.8x. We believe those multiples are far too low, and in reality, a range of $3.50-4.00 is appropriate.
At current levels, Orion stock is trading at a modest premium to book value and only 0.55x next year's sales. With positive EBITDA and CFO next year and over $12 million of net cash on the balance sheet, we struggle to justify hardly any downside from current prices and believe Orion is a truly unique risk-reward opportunity.
Disclosure: I am/we are long OESX.
I wrote this article myself, and it expresses my own opinions. I am not receiving compensation for it (other than from Seeking Alpha). I have no business relationship with any company whose stock is mentioned in this article.
Editor's Note: This article covers one or more stocks trading at less than $1 per share and/or with less than a $100 million market cap. Please be aware of the risks associated with these stocks.