Adobe, a long-standing investor favourite, has started the year as it has the last several: strongly. In terms of its share price, the company is valued at just under $120 a share, whilst it continues to expand its market share and its product offerings, including a variety of cloud-based software, with Adobe Document Cloud, and Adobe Sign, a digital signature security system, being amongst the latest. Whilst not what one would term a cheap buy, and accepting the logic of what goes up must come down, there seems to be a level of growth left in this stock, making it potentially worth having in your portfolio this year.
Adobe's Belief in the Cloud's $27bn Market. Source: Adobe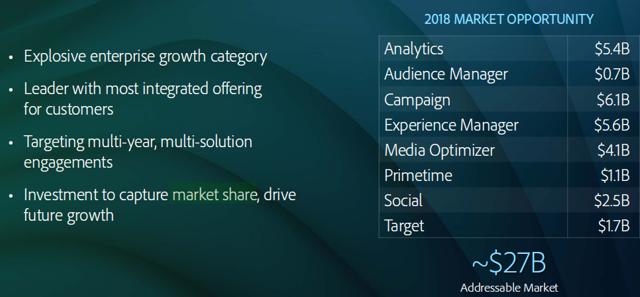 Whilst Adobe's high price marks it out as anything but a value stock, the company's consistently strong results indicate that something is going very right in California. When Adobe turned its focus toward a subscription model, its CEO Shantanu Narayen took a risk; however, it has paid off handsomely, and as the above slide illustrates, Adobe believes that further investment in the cloud, both in terms of its traditional software development base, and in marketing and analytics, will see revenues continue to rise. At the end of 2016, revenues came in at record levels of $5.85bn, and $4bn of this was subscription backed, offering the company a very stable base on which to build. This means less chance of volatility in quarterly announcements, and in turn gives ADBE extra stability, which translates into strong share price growth.
Adobe Share Price Forecast. Source: FT

The company, according to its CEO, believes that it is in a "sweet spot" between design and digital transformation, with consistently rising digitalization, personalization, and creative offerings from companies ever more in vogue. Adobe believes its suite of products is the right tool at the right time. That this suite is full of market-leading products that we use every day further strengthens the company's value. Names like Photoshop, Illustrator, and Acrobat fall off the tongue with ease, and whilst Flash seems to be a slowly fading concern, the company's expansion into other markets, including EdTech, audio, and marketing management, where Adobe Marketing Cloud is a market leader, makes it seem like the company has struck the right balance between innovation and stability.
Adobe Earnings. Source: FT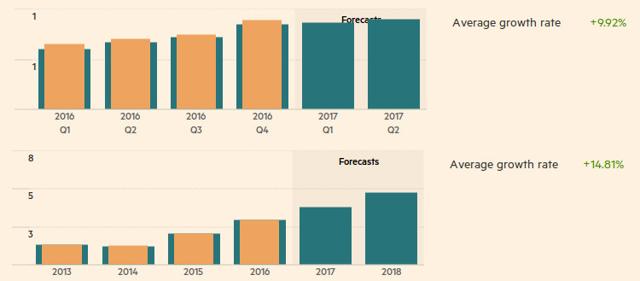 The three charts below show the performance of Adobe (NASDAQ:ADBE) vs. the S&P Index (SPX) over the last month, the last year, and the past five years. Each shows the California-based company, with a market capitalization of $59bn, consistently outperforming this measure of the market. Figures taken from Bloomberg charts show that over the past month, Adobe is up 7.8%, as against the S&P's 4.42% (an increase 1.77 times larger). The year-to-date figures are 16.2% vs. 5.65% (an increase 2.87 times larger), with the past twelve months showing 42.7% against 24.21% (an increase 1.7 times larger). In the last five years, Adobe is up a huge 258.07%, whilst the S&P has climbed 73.19% (an increase 3.53 times larger). These are outstanding figures, and analysts, including those at RBC Capital, the Royal Bank of Canada, and the FT, see ADBE as a stock that will continue its excellent half-decade long performance into 2017, with target prices ranging up to highs at the $150 mark, which would be a 20% increase in its current valuation.
Adobe 1-Month Share Price Performance vs. S&P 500 - Source: Bloomberg

Adobe 1-Year Share Price Performance vs. S&P 500 - Source: Bloomberg

Adobe 5-Year Share Price Performance vs. S&P 500 - Source: Bloomberg

Analyst Opinion - Adobe. Source: Marketbeat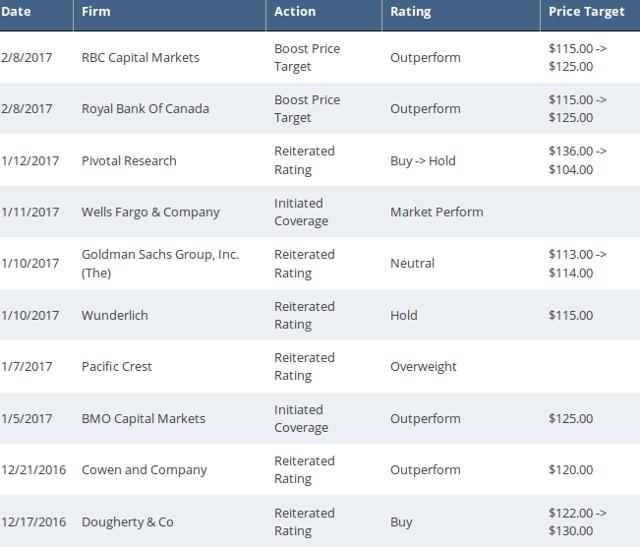 Considering the company's key earnings data, the signs remain broadly positive. A forward P/E ratio of 38.73, when compared with its trailing P/E of 51.57, suggests that the market believes there is still room for further growth for Adobe. Revenues and net income are up, debt in relation to total capital is down 7%, cash flows and reserves are up, and so is inward investment. In the last three months, Adobe has also acquired, through M&A, TubeMogul (NASDAQ:TUBE), a company expected to boost its extremely competitive Cloud Marketing service, and, in part, as a result of this acquisition, with these figures taken from Zacks, revenue guidance for the company is also up, from $1.625bn to $1.644bn. Cloud Marketing is also expected to post extremely healthy revenue growth, at levels of 20% to 24%. Over the whole of 2017, revenues are expected to be in the region of $7.09bn, also an upward revision since the turn of the year, from a previously expected level of $6.95bn.
Revenue & Income Adobe. Source: FT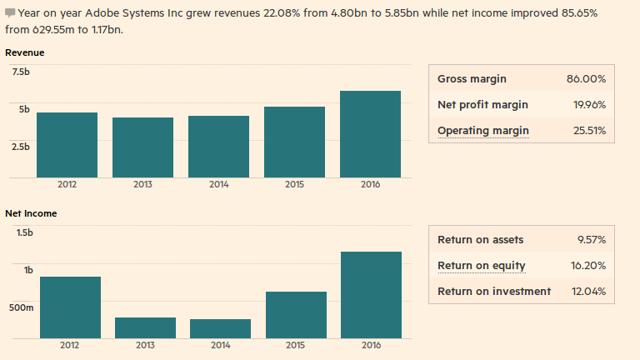 ADBE Cash Flows. Source: FT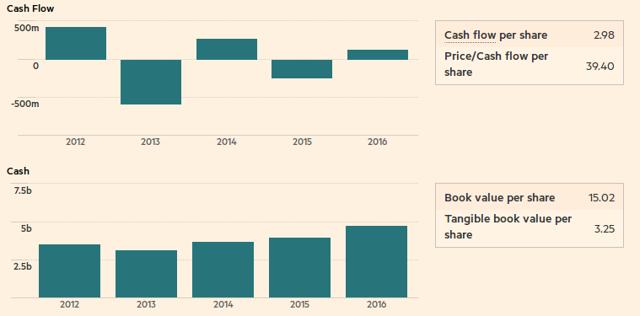 There are, of course, some voices in the markets that suggest Adobe is overvalued. Its debts are argued to be too high. Compared to the market at large, so is its P/E ratio. It is also said that its price to sales multiple of 10.3 is far too high in comparison to the broader software industry average of 2.6. These are, of course, legitimate concerns, and since no stock can defy gravity forever, and five years on the up is a long time, there is the risk that Adobe's stock might indeed come to be seen as overvalued. That said, the company's financials are sound, returns on investments are, as per Reuters, at a level of 12.04, as against an industry average rate of 9.55, and the company continues to develop several product lines that are likely to continue to boost its bottom line. If you are looking for a solid medium- to long-term buy, in the anticipation of future growth, Adobe, both because of, and despite, its long history of growth, certainly seems to be a stock worth keeping in your portfolio.
Disclosure: I/we have no positions in any stocks mentioned, and no plans to initiate any positions within the next 72 hours.
I wrote this article myself, and it expresses my own opinions. I am not receiving compensation for it (other than from Seeking Alpha). I have no business relationship with any company whose stock is mentioned in this article.
Additional disclosure: CFDs, spread-betting and FX can result in losses exceeding your initial deposit. They are not suitable for everyone, so please ensure you understand the risks. Seek independent financial advice if necessary. Nothing in this article should be considered a personal recommendation. It does not account for your personal circumstances or appetite for risk.