Bottom of the Barrel
A simple sorting of the cheapest S&P 500 stocks by price to earnings (P/E) resulted in the following list. The only requirement was that earnings had to be positive. Considering the S&P 500's average P/E is 24.67, these numbers are shockingly low.
I'd be the first to admit that most of these stocks are garbage, and have low valuations for good reasons. For example, Transocean's revenues will likely continue to slide, eBay operates in the highly competitive e-commerce sector, and Gilead Sciences needs more than one blockbuster drug to continue its success.
The problem is that P/E ratios can sometimes be misleading to investors, so additional analysis is always needed. A low P/E can often indicate that a business is declining, expected to decline, or earnings are low quality. Don't worry - I'll debunk each of these issues in my analysis below.
There is one stock that I was surprised to see, especially since it is coming off of a record-breaking year in 2016.
And the Winner is... General Motors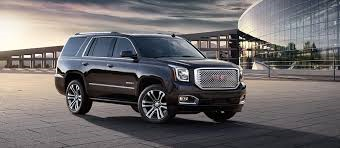 Photo Source: General Motors
Automotive Industry Outlook
Before I begin analyzing GM, let's take a look at what drives profits (or losses) in the auto industry.
The first major factor is supply costs, which include 4 major inputs:
Raw Materials
Labor
Advertising
Research & Development
Of those 4 items mentioned, car manufacturers have near-term control over the last 3 bullets. They have far less control over the cost of raw materials, which can have large fluctuations from year to year. Drilling down even further, iron ore (i.e. steel) is by far the most important raw material used in the auto industry. Iron prices saw a resurgence in 2016, but that's expected to cool off throughout 2017. According to Bloomberg, iron prices are expected to drop every quarter in 2017, given an expected supply surge. This is good news for car manufacturers.
The second major factor is consumer demand drivers, which include GDP growth, disposable income, consumer confidence, oil prices, and access to credit. For GM, the majority of its business comes from the United States and China. According to Moody's, auto sales in China are expected to grow 2.7% in 2017. U.S. automotive sales are expected to decline by 0.6%. While this isn't explosive growth, it proves that there should still be strong demand for cars in the near term.
Okay, let's take a closer look at GM.
Strong Year-Over-Year Performance
For fiscal-year 2016, GM set records for revenue, earnings per share, and cash flow. This was a result of strong performance in North America and China. GM also continues to reap the benefits of its Chapter 11 bankruptcy back in 2009, which allowed the company to bounce back with a drastically lower cost structure.
So it's rather clear that GM's low P/E is not a result of a declining business since this is basically the best its business has ever been. GM's low P/E is also not a result of a business that's expected to decline in the near future either. Performance is actually expected to improve. According to a January 2017 press release, GM expects its earnings per share to increase to $6.00-$6.50 for the upcoming year. In 2017, the company also expects to maintain or improve its EBIT-adjusted margins on higher revenues, which will generate approximately $6.0 billion of automotive adjusted free cash flow.
Cash is King
Free cash flow is helpful in determining the quality of a company's earnings. Generally speaking, you want to see high earnings and high cash flow. If a company is recognizing high profits, but producing little or no cash flow, its earnings could be low quality and a result of accounting tricks. Let's take a look at GM over the past couple of years:

A few things to point out. Net automotive cash provided by operations has been greater than net income over the last 4 years. This means GM collects cash on a high percentage of the cars it's selling. This is a good sign. Automotive adjusted free cash flow takes into account capital expenditures and adjustments. This is basically the cash leftover that GM can use at its discretion. On average, this is less than net income, but that's to be expected. Car companies are capital intensive and need to invest in new equipment and factories every year. GM still produces a significant amount of automotive free cash flow. Its earnings appear to be high quality.
As mentioned above, GM expects to record $6.0 billion in automotive adjusted free cash flow in 2017, so earnings are expected to remain high quality over the near term.
Getting Out of Europe
Last week, GM said in a statement it is "exploring numerous strategic initiatives at improving profitability and operational efficiency, including a potential acquisition of Opel Vauxhall by PSA." Keep in mind that Europe has been a complete dog for GM dating back to the late 1990s, which has resulted in the loss of billions ($3.3 billion in the last 4 years).
This is a big development. If this deal goes through, GM would give up market share, but would shed a bad performing unit. This would increase operating margins and add shareholder value.
So Why is GM So Cheap?
GM has not been a popular stock since the financial crisis (or before the crisis for that matter). With improving performance, the market hasn't responded, which is evident by GM's falling P/E since mid-2014.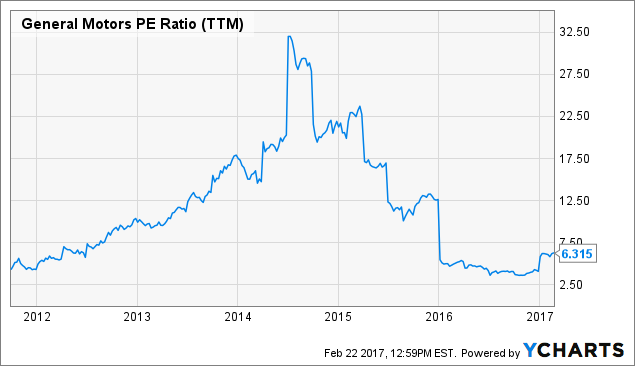 GM PE Ratio (TTM) data by YCharts
For starters, GM's balance sheet still has issues. A key item is its underfunded pension position, which currently stands at $18.3 billion (down from $21.2 billion in 2015). GM also has automotive debt of $10.8 billion. The good news is that GM is in a far better position to service these obligations than it was 10 years ago. GM has a $21.6 billion cash balance and now consistently produces cash.
Analysts also often cite the notion of "peak car," which is the idea that global demand for cars is topping out. Global car demand is still expected to be high in the near term (i.e. U.S. & China forecast mentioned above), but even if demand were to begin falling, this appears to already be priced into GM's stock. For example, if GM's earnings fell by 50%, the stock would still have a P/E of 12.4. The point is, if the auto market stays strong (or even flat), GM is priced at a huge discount.
Conclusion
GM is a different company than it was 10 years ago. GM is focused on cost cutting, streamlining its businesses, and investing capital in profitable markets. This is largely why GM has abandoned both the Russian and Australian markets and will hopefully be exiting Europe soon.
It appears that a "peak car" scenario is built into GM's price, but there's no indication that is coming in the near term. The market might have topped out in the United States, but large markets like China are still seeing growth.
It's rare for a stock hitting all-time performance highs to be found at the bottom of the barrel. It just proves that value can still be found. Given strong operating performance, and continued demand in the auto industry, GM looks like a buy.
Disclosure: I/we have no positions in any stocks mentioned, and no plans to initiate any positions within the next 72 hours.
I wrote this article myself, and it expresses my own opinions. I am not receiving compensation for it (other than from Seeking Alpha). I have no business relationship with any company whose stock is mentioned in this article.