Note:
Ocean Rig (NASDAQ:ORIG) has been covered by me previously, so investors should view this article as an update to my earlier publishings on the company.
Junior offshore driller Ocean Rig released its Q4 and full year 2016 financial results after the close of trading on Wednesday.
Given the company's impending comprehensive financial restructuring, I will focus on just a few key items:
1) Impairment Charge:
Ocean Rig recorded a massive $3.75 bln (!) asset impairment charge against the book value of its deepwater drilling fleet. Not counting for the recently acquired Ocean Rig Paros, the company impaired its ten deepwater drilling units by a whopping $375 mln on average. The charge actually eliminates more than 60% of the previously reported fleet value of $6.2 bln at the end of Q3.
In consequence, total stockholder's equity on the balance sheet has now turned negative compared to 3.7 bln reported at the end of last quarter.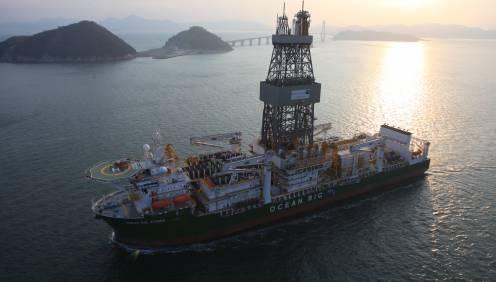 Picture: Ultra-Deepwater Drillship Ocean Rig Athena - Source: Ocean Rig
This is, by a wide margin, the most decisive action taken by an offshore drilling company with regard to the valuation of latest generation deepwater rigs on the balance sheet. So far, the company's peers have only impaired older assets, preferably when these rigs were leaving the fleet for scrapping.
But Ocean Rig has taken a very different approach compared to the rest of the industry as the company has not hesitated to cold stack modern, 6th generation deepwater drillships despite widespread concerns about potentially serious technical hurdles to reactivate these units in the future.
In light of this uncertainty and the fact, that cold stacked units will be last in line to get back to work once the eagerly awaited industry recovery will kick in, the company obviously felt the need to take some decisive action.
Moreover, the charge might also help illustrating expected very low recovery levels for unsecured creditors and particularly equityholders in the company's upcoming financial restructuring.
Furthermore, the magnitude of the impairment underscores the fragility of most industry players' balance sheets as a 60% charge against their respective drilling fleets would also wipe out most or even all of the equity in basically the entire industry while at the same time causing a slew of debt covenant breaches. Particularly deepwater-focused players would feel the heat in this case but, frankly speaking, companies with modern deepwater rig fleets like Seadrill (NYSE:SDRL) or Pacific Drilling (NYSE:PACD) are already earmarked for debt restructuring anyway.
2) Restructuring Update
The Company continues to explore and consider various strategic alternatives with its financial and legal advisors, which may include a possible restructuring of the Company's debt. The Company expects that any comprehensive deleveraging plan is likely to result in significant dilution to current shareholders and potential losses for other financial stakeholders. If a consensual solution cannot be reached among all stakeholders, the Company will consider all available options including implementation of a restructuring plan through schemes of arrangement or under Chapter 11.
Management initially warned about the need to restructure its almost $4 bln in debt obligations in its Q2/2016 press release and basically reiterated this stance in the Q3 report, so investors shouldn't be surprised by the statement above.
Current equityholders should actually count themselves lucky if they will be offered at least some kind of participation in the restructured company given the fact, that there's no incentive for creditors to leave much, if anything, on the table for common shareholders, particularly not in light of the substantial haircut already expected for the company's bondholders.
I have already elaborated on potential restructuring scenarios in the past, so I won't repeat here myself other than reiterating my long standing conviction that current equityholders will be wiped out entirely.
Similar to my expectations for the impending Seadrill restructuring, I do not expect Ocean Rig to avoid reorganizing under chapter 11 given the conflicting interests of the company's diverse creditor classes.
Bottom line:
It won't take long anymore as also evidenced by management abstaining from holding an earnings conference call this time.
Ocean Rig will soon restructure under chapter 11 with current shareholders expected to end up with nothing or next to nothing.
Investors in other offshore drillers should take notice of the giant impairment charge taken by the company which strongly illustrates the fragility of the balance sheets of basically all industry players.
Expect no significant industry recovery anytime soon as the oil supermajors will remain committed to their short investment cycle strategies (= shale) for the foreseeable future.
Ocean Rig shareholders should sell whatever might be left to them and finally move on.
Disclosure: I/we have no positions in any stocks mentioned, and no plans to initiate any positions within the next 72 hours.
I wrote this article myself, and it expresses my own opinions. I am not receiving compensation for it (other than from Seeking Alpha). I have no business relationship with any company whose stock is mentioned in this article.
Additional disclosure: As a daytrader, I have actively traded the shares of all companies mentioned in the article in the past, both long and short, and may chose to do so at any time going forward.