A "micro" analysis of "macro" events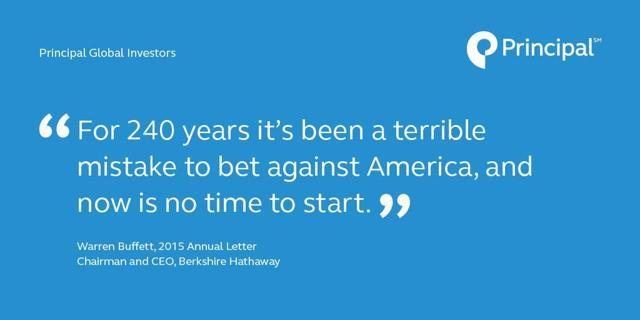 There's been a lot of recent analysis on U.S. macroeconomic events as well as what the new Trump presidency means for the U.S. economy and financial markets. As we are bottom-up fundamental researchers, I thought I'd offer a different perspective on the market and recent events. That said, I'd like to give you a bottom-up view of the United States as a "fictitious company," and how we would analyze the firm's income statement and balance sheet over the next two to three years. Our objective, bottom-up analysis concludes that there is positive fundamental change and an upside potential that warrants investment.
For starters, our research indicates that stocks react to positive fundamental change. The key here is not to overpay for this change. Let's review where this fundamental change will come from. First, the Trump presidency and the Republican Party sweep of the House and the Senate has signaled that "change" is coming. However, the big question is whether this change is going to be positive?
Let's apply the proposed changes to an income statement of a fictitious company. Infrastructure spending will likely increase the top line growth or GDP resulting in increased revenues. Moreover, deregulation will likely cut costs from the financial system and release more capital to be invested in more productive, revenue-generating areas within the company and country. This means that gross profit margins will expand for this company because revenues will be higher and operating costs will be down.
In addition, lowering tax rates will increase net profits resulting in higher earnings for the company. Investing released capital on higher return-generating projects and earning higher returns than the cost of capital will likely increase future earnings growth. Earning more on invested capital would encourage the company to increase capital expenditure investments. This also has potential to motivate employees to be more productive because some of these profits could be passed onto them via higher wages and other benefits.
Another key point is whether positive changes will drive valuations higher. After all, we don't want to overpay for positive change!
Let's say for argument sake that the stock price of the company has rallied because of some of these positive changes. Valuations are fair to high, which makes this "stock" become a "show me" story! What we mean is that as long as the company delivers superior earnings growth, valuations can stay high and could even go higher. So, it's vital to back up the "show me" story and deliver for stockholders.
How about the risks?
Change certainly comes with its share of risks. For instance, if the company fails to deliver this margin expansion, it will be detrimental because some of these improvements are already reflected in the current valuation of the company. In addition, due to inflation, investors realize the risks and costs are increasing. Consequently, as the company's capital costs increase, it makes it difficult to earn a positive rate of return over its cost of capital. Moreover, a rapid increase in interest rates would be even a higher risk.
What about the balance sheet of this company that is full of debt? Would it risk bankruptcy at some point? No, as it depends on the cost of debt. As long as the debt servicing is low and the company meets its obligations, the company should retain its competitive advantage of having the best credit lines in the world, thanks to its premier reserve currency status with the ability to continue to issue significant debt with ongoing robust demand for its securities.
Perhaps some investors would see this company (the United States) as a risky investment because of the debt on its balance sheet, which could pose risks to cash flows and margins based on possible global trade and geopolitical disputes. Yet, we believe those risks are limited and manageable, thanks to another long-term strategic competitive advantage our company possesses; namely one of the world's best-written corporate governance "prospectus" (the U.S. Constitution) with its elegant system of checks and balances.
Happy investing!