The Hotels & Resorts sector has started the year well-off on the back of a strong performance in 2016. After recent positive earnings report from the major US lodging companies such as "Hilton (NYSE:HLT)", "Hyatt (NYSE:H)" and "Marriott (NYSE:MAR)", we will discuss whether the latter is still an attractive investment case since our last article.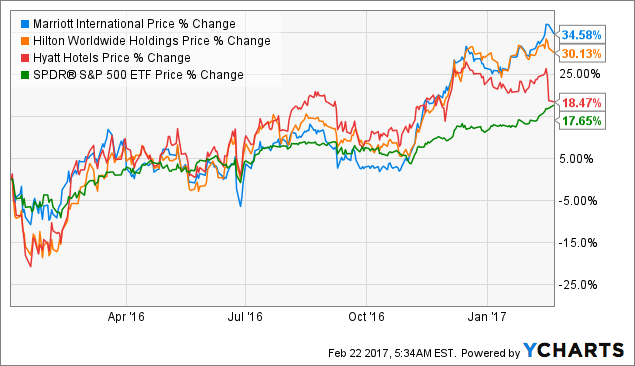 1. Commenting the latest quarterly results
Marriott reported its 4Q 2016 results on February 15, which was the first full quarter of combined Marriott and Starwood results since the merger. North America, which is the highest RevPAR by region at 140, rose above market expectations at +1.1% thanks to strong momentum in Washington, Atlanta, Toronto and Montreal but also the Leisure business in luxury brands (JW Marriott, Ritz-Carlton, W). Although corporate customers rose in North America, Energy and Financial customers declined at the opposite of Manufacturers. Gross profit margins increased by 50 basis points to 72%. Company's outlook in 2017 for North America RevPAR will be flat to up 2% (management declares there are no proof that GDP is growing at higher rate to justify greater optimism). Second highest RevPAR by region is Caribbean & Latin America at 137 which declined in the last quarter due to continued worries about the Zika virus. Occupancy rates decreased by 210 basis points to 64.3%. However, the improvement in the Zika situation as well as economic growth in Mexico and Brazil should lead the region to be back in the black in 2017. Third highest RevPAR comes from the Middle East and Africa region at 119 where lower government spending due to the oil crisis has negatively impacted the region. Conversely, occupancy rates improved by 60 basis points to 68%. Some positive exceptions such as South Africa and Cairo make management confident that RevPAR should stabilize in the coming year. Europe saw a +2% increase in RevPAR thanks to the UK (strong tourism after Brexit), Germany, Spain and surprisingly Russia while Paris, Brussels and Istanbul continued to suffer from terrorist attacks. The region is expected to grow by 0.5% to 2.5% in 2017, above market expectations while occupancy rates increased by 70 basis points to 70%. Last but not least, Asia-Pacific (including Greater China) which RevPAR is the lowest at 101 increased by +1% thanks to India, Shanghai and Malaysia at the opposite of Hong Kong and Macau which should continue to weaken in 2017. This lackluster market will be more than offset but strong results from Indonesia, Thailand and China to offer a low-to-mid single digit increase in RevPAR for 2017. Occupancy rates increased by 340 basis points to reach the highest among all regions at 72%, demonstrating the lack of new hotel supply in the region. Worlwide, occupancy rates improved by 70 basis points to 71% while RevPAR by region was flat at 125. Adjusted operating income was above management expectations at $577 million while EBITDA (ex. merger-related costs) was up by +11% to $756 million.
2. What makes us bullish on the company
While management expects a moderate increase of +1% to +3% in RevPAR worldwide for 2017, there are a couple more reasons that make us bullish about the company. First, the pipeline of rooms under construction in North America and worldwide make Marriott a leader in the industry. Secondly, the company has been reactive to merge loyalty cards to promptly allow guests to link their Marriott and Starwood accounts in order to offer the a large base of hotels and services to premium members. Two co-brand credit card partners are currently in place, SPG works with AMEX while Marriott with JPMorgan Visa, thus combining the loyalty program will help monetize. This leads us to the Third point about synergies which should start to show their first results by mid-2018 to approximated $250 million on an annual basis. Further information about the integration of the merged company will be available in a month during the Analyst Day (March 21). Lastly, Marriott plans to allocate $1.5 to $2 billion in dividends and share repurchases which could be even more boosted by asset sales that could take cash returns estimate higher.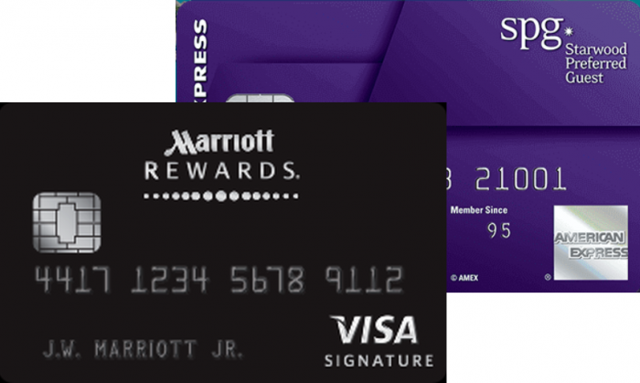 Source: LoyaltyLobby.com
Revenues by category type looks like Leisure is the strongest so far followed by Group and Business. For Business, there are some optimism that Energy bottomed and Finance is building momentum as new regulatory relief could change matters quickly which would clearly be a positive thing for Marriott.
A couple words on the travel ban that prevented travelers from 7 countries to fly to the US. To be honest, these 7 countries are not places where a lot of travel is coming to the US lately however it has created a lot of confusion among families who have relatives in these countries and plan to invite them for memorable events like weddings. Canada has been considered as a solution for some cases or other locations but that's still difficult to quantify as of today. In conclusion, it hasn't really impacted the Business customer as it tends to be more resilient than Leisure. The executive order is not in effect anymore but its outcome must be clear in the short term to relieve travelers from unpredictable headaches.
3. Company valuations and expectations
Our first reflex would want us to check indebtedness ratios post Starwood acquisition to monitor any potential leverage risks. Net-debt-to-EBITDA has reached 5.7 times which is clearly above industry peers. Nevertheless, the company's strategy for asset sales make us confident that deleveraging will happen in the course of the year. Free-cash-flow yield is positive and robust to absorb blows. EBITDA margins are expected to grow from currently 12.8% to 14.5% by 2018 which will help EBIT-to-interest ratio look safer.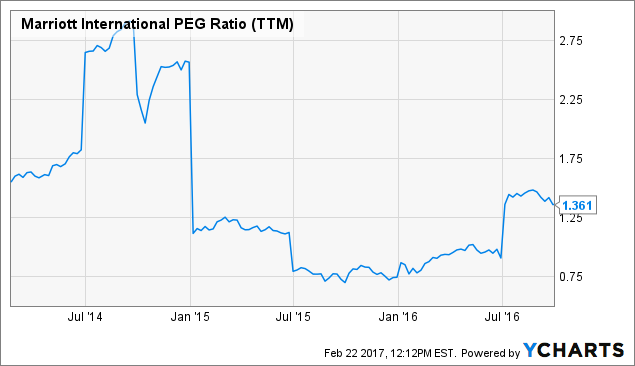 MAR PEG Ratio (NYSE:TTM) data by YCharts
Price to earnings ratios have reached 2014 peaks but we believe the acquisition is the main driver. If we integrate future growth and look at 2018 PE, 21 times looks reasonable compared to competitors (Hilton 2018 PE stands at 31x). The real question is how expensive are we paying the expected growth and is it exaggerated by the new merged entity shiny forecast? Our answer is No. Price to earnings growth is below the 2.0 threshold that we judge expensive and way below 2014 peaks. After its strategic acquisition which makes Marriott the biggest luxury hotelier (premium customers will drive most of the demand), we think the company continues to be a sound investment case with today's valuations.
Disclosure: I am/we are long MAR.
I wrote this article myself, and it expresses my own opinions. I am not receiving compensation for it (other than from Seeking Alpha). I have no business relationship with any company whose stock is mentioned in this article.