Wal-Mart (NYSE: WMT) is cheap. Last year it produced $31.5 billion of cash from operations. Over the past five years it has produced $136.3 billion of cash from operations. While investors are running scared from nearly all retailers, Wal-Mart is one that people should be running towards. This company has cash pouring in so fast and its stock trades at such a low valuation that it deserves a place in nearly investor's portfolio.
Wal-Mart's stock price, like that of nearly every other retailer, has fallen victim to worries about whether the industry will be able to survive going forward in a world where more and more retail spending takes place in the digital world. Retail, across the board, is quite possibly the most hated industry on Wall Street today. The stock prices of many retailers have fallen so out of favor that investors are able to buy them for quite literally below liquidation values. This is exactly the type of situation that allows value investors the opportunity to outperform, as investing is truly all about what you pay versus what you get.
The beauty of buying into an out of favor sector is that it gives you the chance to pick up the highest quality companies at valuations that are generally reserved for the worst of breed in a sector. Wal-Mart is easily the best of breed big box retailer and yet it trades for a 9.5% free cash flow yield, and likely for less than the value of its own real estate. It is still a growth company even though it isn't priced like one. Wal-Mart has increased its dividend 44 years in a row, and it is currently in the middle of a $20 billion share repurchase program. Wal-Mart is one of the top three online retailers, and also the largest grocery retailer in America.
With Wal-Mart being such a well run company, it generates enormous cash flow, which then fuels more growth in addition to significant cash being returned to shareholders. Let's look at the most important metric of all, cash generation. Ultimately, this is what you are looking for as an investor. Let's look at both operating cash flow and free cash flow for the past few years.
| | | |
| --- | --- | --- |
| Fiscal Year | Operating Cash Flow (in billions) | Free Cash Flow (in billions) |
| 2013 | $25.59 | $12.69 |
| 2014 | $23.25 | $10.14 |
| 2015 | $28.56 | $16.39 |
| 2016 | $27.38 | $15.91 |
| 2017 | $31.53 | $20.91 |
| | | |
| Cumulative | $136.31 | $76.04 |
Source: WMT 10K filings & 2017 earnings press release
Just looking at the above table shows us that Wal-Mart is hugely successful in doing what investors should truly want, which is to generate cash. The past five years of free cash flow is equal to 34% of today's market value, and free cash flow is significantly higher today than it was five years ago, meaning the next five years of cumulative free cash flow should be even better.
What Wal-Mart does with this cash flow is just as exciting. The $31.5 billion of cash from operations was used to purchase Jet.com, as well as to fund CapEx of $10.6 billion, to pay dividends of $6.2 billion, to repurchase stock worth $8.3 billion, and to reduce debt by $3.6 billion. Wal-Mart was able to de-lever its balance sheet even as they spent so much on growth and shareholder returns.
In addition to its ability to generate huge cash, Wal-Mart is also very good at something else that Wall Street loves...growth. Wal-Mart has added over a thousand new stores over the past five years. It also has grown comp sales, or sales at stores that are not newly opened. Last year the U.S. division grew comp sales by 1.8% and grew customer traffic by 1.4%. The company is forecasting further growth in comp sales of 1.0% to 1.5% for the current quarter.
Internationally, Wal-Mart grew sales by 3% when they are measured in constant currency. Unfavorable currency actually reduced international sales however, with the majority of the impact coming from the depreciating Mexican Peso. Currency however, is something that comes and goes. Given the multi year strength of the US Dollar, it is quite possible we could see some leveling off or even a reversal, in which case, Wal-Mart's international sales will grow at an accelerated rate.
Wal-Mart also increased its investment in Chinese retailer JD.Com (NASDAQ:JD) by purchasing $1.9 billion worth of additional JD shares, which now gives Wal-Mart ownership of 10% of the company, the value of which can be tracked through the ADR. JD.com currently has a market value of $44 billion.
A few final things worth mentioning are the continued expansion of online grocery pickup from 100 stores to 600 stores in the United States. This is a very successful strategy that customers love and will continue to roll out going forward. Additionally, Wal-Mart is no longer partnering with Murphy USA on newer construction of fuel stations going forward. Wal-Mart will now be able to capture the profit from the sale of its own fuel, and likely will combine this with an efficient pick up point for online sales going forward. This will allow customers to order online and have the pick up location be a Wal-Mart fuel station. This is being tested just outside Denver, Colorado today and I believe captures the brilliance of Wal Mart's management team.
Finally, the share repurchase mentioned earlier of $20 billion is huge and should be completed within the next year. At current rates, by the time this program is completed, shares outstanding will be below 3 billion. Long time investors may remember that Wal-Mart once had 4.5 billion shares outstanding back in 2000. The constant, steady reduction in shares outstanding allows investors to own over 35% more of the company for each share they purchase today when compared to a purchase in 2000. It also frees up cash that would have been paid out in dividends, which with today's $2.04 annual dividend, we're talking about over $3 billion of dividends the company doesn't have to pay today thanks to the years and years of repurchases. These dividend savings likely have become fuel for further increases in dividends per share.
Wal-Mart has something for everyone. Growth investors will love the moves to expand square footage, open new stores, grow online, capture growth in fuel sales, as well as continued international growth in stores and also through JD.com. Value investors love the fact that Wal-Mart's stock price is being offered at a very low valuation when compared to the huge free cash flow it generates. Income investors can enjoy the near 3% dividend that just increased this week and has now increased 44 years in a row.
In conclusion, with $31.5 billion of operating cash flow last year, Wal Mart is in a position to continue growing every part of its business, from domestic to global to online. They have the resources to fund CapEx, make acquisitions, and return piles of cash to shareholders. The stock is remarkably cheap relative to the cash the company generates, as investors are simply disenchanted with retail as a whole. Investors however, cannot ignore huge and growing cash flow forever, and knowing this allows us to confidently buy Wal-Mart stock to take advantage of the disconnect. Cash flow is king, and Wal-Mart rules the world.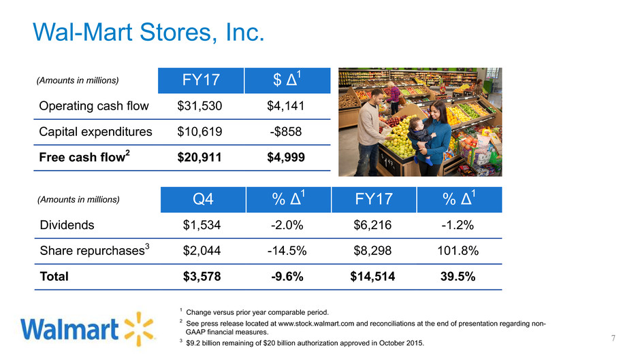 Source: Wal-Mart investor presentation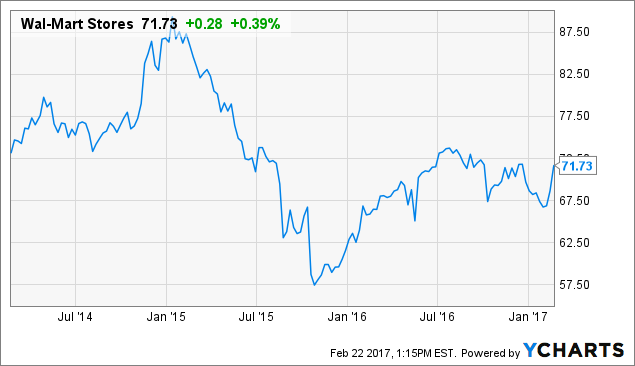 Disclosure: I am/we are long WMT.
I wrote this article myself, and it expresses my own opinions. I am not receiving compensation for it (other than from Seeking Alpha). I have no business relationship with any company whose stock is mentioned in this article.