In my previous article on Freeport-McMoRan (NYSE:FCX), I stated that I expected a pullback as a result of profit-taking after Q4 results release.
However, a more important catalyst appeared, a catalyst that has been always present in recent years but was not able to deliver material damage. This catalyst is the Indonesian government.
I've always looked at Freeport's Indonesian story as a kind of a soap opera - multiple series of meaningless fuss which end happily. However, as Freeport nears the time of significant investment in Grasberg, the story looks less funny than it once was.
Indonesian government came up with an idea to change the existing contract of work to a special operating license - a proposal that looked outright dubious given all the problems with copper export permits in recent years.
The contract of work is the only thing that protects Freeport's interests in Indonesia and giving it up without a fight would have been outright silly.
The existing contract of work gives the company the ability to stay in Indonesia for 20 years after 2021. The license would have provided five years of exports rights and obliged the company to construct a smelter in 5 years and pay export duties determined by Indonesian Ministry of Finance. In addition, foreign holders of this license are required to divest 51% to Indonesian interests no later than the tenth year of production.
This is an awful deal. Not surprisingly, Freeport declined the proposal. Both sides negotiated a bit more, and finally Freeport announced on February 20 that it was not able to reach a deal with the government.
The importance of Grasberg for the local communities and Indonesian economy as a whole should have been a shield from such an attack on the existing contract.
However, it turned out that the Indonesian government was not bluffing when it started the process with copper export permits.
Many observers (including yours truly) thought that it was just a bargaining tactic to bite a bit more from the company, but the situation became more serious.
There is no way that Freeport-McMoRan will agree to a five-year license on the verge of big investment in Grasberg. The Indonesian government has already shown that it does not care much for the existing contract of work and would like to rewrite its terms as it wishes.
In my view, Freeport-McMoRan will try to show to the government how much money it will lose when Grasberg will be working at a reduced production schedule.
If it does not help, the company will surely turn to international arbitrage as it has to define the future of the project before switching to the underground phase.
I'm not a lawyer, but I think that Freeport has a very strong case against Indonesia due to the existing contract of work.
The problem is that immediate damage will be done to company's finances due to lower production from Grasberg.
Freeport estimates that first-quarter sales will be reduced by 170 million pounds of copper and 270,000 ounces of gold.
Assuming $2.60 per pound of copper and $1200 per ounce of gold, this is a $766 million hit on the top line.
The Indonesian government can stick to the hard line as Freeport cannot afford to lose Grasberg, so the dispute may last well beyond the first quarter.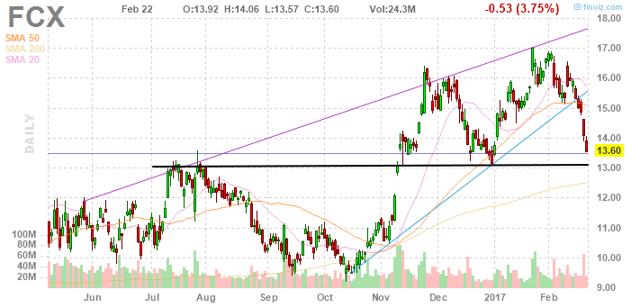 The company's shares are currently under significant pressure and they approach the major support level at $13.
Aggressive buyers may try to use this as a purchase opportunity, although more negative signals from Indonesia could easily push Freeport shares below $13.
Freeport's problems will surely provide support for copper, which held well after the November rally. However, the damage from lower sales will outweigh the potential gain from higher copper prices.
It is hard to evaluate how this game of chess will ultimately end, but one thing is clear - the dispute between the Indonesian government and Freeport-McMoRan presents significant risks for the company, both short-term and long-term.
In hindsight, the company's asset sales last year were a major positive development as the company now is not short of time and can take the time to evaluate the situation and seek justice in international arbitrage.
Meanwhile, Freeport's shares are going to be volatile as Grasberg is the company's cornerstone asset and its current performance and future depend on politics.
Disclosure: I/we have no positions in any stocks mentioned, and no plans to initiate any positions within the next 72 hours.
I wrote this article myself, and it expresses my own opinions. I am not receiving compensation for it (other than from Seeking Alpha). I have no business relationship with any company whose stock is mentioned in this article.