With the luxury watch market looking like it could be through the worst of the storm, we thought we would take a closer look at watch manufacturer Fossil (NASDAQ:FOSL) to see if there was an investment opportunity. In the last three months, its shares have been hit hard after quarter after quarter of disappointing results. But could a resurgent watch industry mean an improvement in its performance?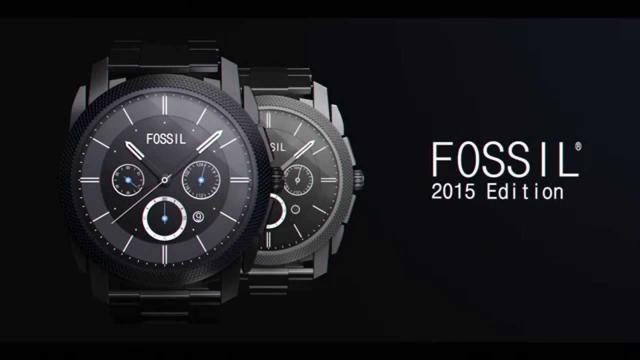 Although things have been improving recently, it hasn't been an easy time of late for the watch industry. Since hitting a peak in 2014, sales of Swiss luxury watches have steadily declined in many key markets as China cracks down on gift giving, consumer tastes change and technology advances. Demand in Hong Kong, the number one luxury watch market, has been hit hardest with sales down 43% from their peak. Demand in China has fallen 11.1%, closely followed by the United States which has seen a 10.9% drop in sales. Whilst these figures only account for the Swiss luxury watch market, we feel it is representative of non-Swiss luxury watches as well.
Whilst the most obvious cause of the decline in demand has been China's crackdown on corruption and gift giving, we also believe that the rise of the smart watch has played a key role as well. For many, millennials in particular, the Apple (NASDAQ:AAPL) Watch is as much a status symbol as a luxury watch. The fact that it can do more than just tell the time is another bonus, especially in an age where health and wellness is a big part of many people's lives. In fact, health and wellness is seen as the new luxury by many. Research has shown that the current consumer trend is a preference for activewear ahead of luxury goods. We feel the traditional watch falls into this category as well.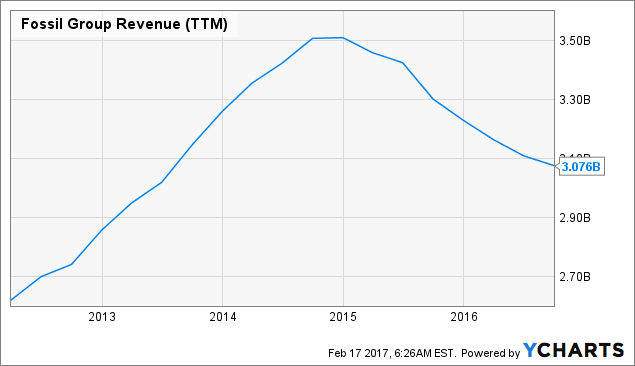 For this reason it comes as no surprise to see Fossil's sales plunge, as shown above. Although the company has attempted to address this decline by launching into wearables through the acquisition of Misfit, we've yet to see any meaningful results from the venture. Unfortunately for Fossil the wearables market is reasonably saturated and Apple has begun to dominate. Whilst we are a fan of Misfit's designs, we still believe that most consumers regard them as inferior to the Apple Watch Series 2. Demand from millennials for the latest incarnation of the Apple Watch was strong, which is a real blow for the competition.
Another problem for watchmakers could be the humble smartphone. Other than to accessorize or to track fitness (which are both admittedly popular reasons), there's no other reason for consumers to wear a watch if they carry a smartphone with them. You'd be hard-pressed to find somebody walking around without a smartphone in their pocket. Simply lifting that phone out of their pocket will reveal the time. No need for a watch.
Whilst luxury watches are likely to remain popular with the wealthy, we think the mid-range watches that Fossil makes (Fossil's products range from $85 to $600) will feel the pressure. In many respects, the company could be operating in the most challenging part of the watch market. Its watches are affordable, but while the number of consumers that can afford them is rising, the number that actually wants them appears to be in decline.
The market seems to recognise this. In the last three months Fossil's share price has lost almost 28% of its value.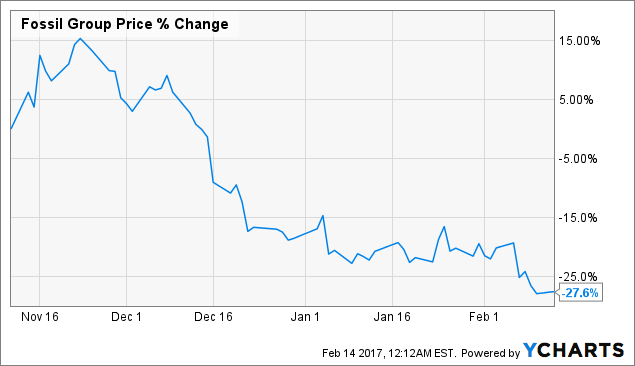 In fact, the only thing that appears to be going up for Fossil right now is debt, as shown below. Just three-and-a-half years ago debt was less than $100 million. Now it has ballooned to over $700 million. This is a big worry in our opinion.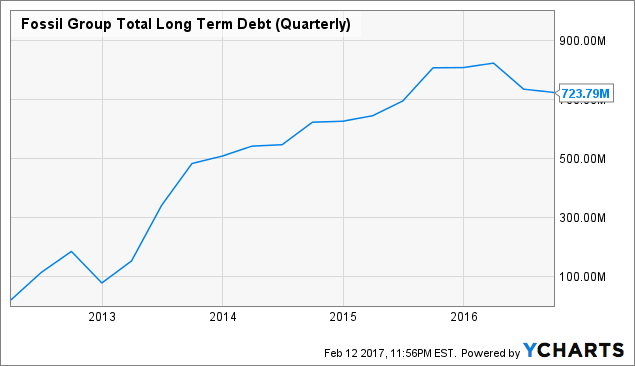 Whilst it might be tempting to pick up Fossil's shares after such a steep decline, after all they trade at under 10x trailing earnings, we have seen no evidence that a turnaround in fortunes is forthcoming. Because of this, we fear that its share price could yet fall further.
A trailing price-to-earnings ratio of 9.8 does look dirt cheap, but we think it is likely to end up being a value trap. So our recommendation is to stay clear of Fossil for now and wait to see how the company responds to the changes in the market.
Disclosure: I/we have no positions in any stocks mentioned, and no plans to initiate any positions within the next 72 hours.
I wrote this article myself, and it expresses my own opinions. I am not receiving compensation for it (other than from Seeking Alpha). I have no business relationship with any company whose stock is mentioned in this article.