It seems that the only things that have grown at a relatively predictable and constant rate at Vertex Pharmaceuticals (NASDAQ:VRTX) are the R&D expenses and the share count. These trends are troubling, and I'm nervous about their impact on future per share profitability. Most particularly, I'm worried about the valuation of the stock at these prices, as the company itself is basically broadcasting that 2017 will be another year of losses. For that reason, I strongly recommend that investors avoid this name.
Reasons For Caution in 2017
I can't say (and neither can anyone else) how fruitful Vertex's research into Sickle Cell and other diseases will be, but it seems to me the market is placing a great deal of hope in those efforts. What is known is the fact that Vertex has two treatments that focus on the cause of cystic fibrosis in people with specific mutations in the CFTR gene. These two drugs (Orkambi, and Kalydeco) made up all of Vertex's revenue for 2016. According to the company's recent presentation, they forecast that revenue will grow in 2017 from between about $100 and $300 million (for totals ranging between $1.8-$2 billion).
At the same time, the company expects to spend approximately $1.5-1.7 billion in research and development in 2017, up massively from 2016 levels. If the company itself is forecasting that revenue will climb between 6-17%, and R&D (the largest expense by far) will climb by at least 48%, it's not reasonable to expect to see profitability anytime in 2017.
Taking a longer term view, the company's results have been volatile, sometimes very volatile, over the past seven years. This volatility usually means that shares trade at a discount, not the huge premium seen here. Additionally, in 2014, the company borrowed approximately $300 million that matures in July of this year. I like to see debt that matures many years in the future. When all of the long term debt matures within six months, that adds to risk in my view.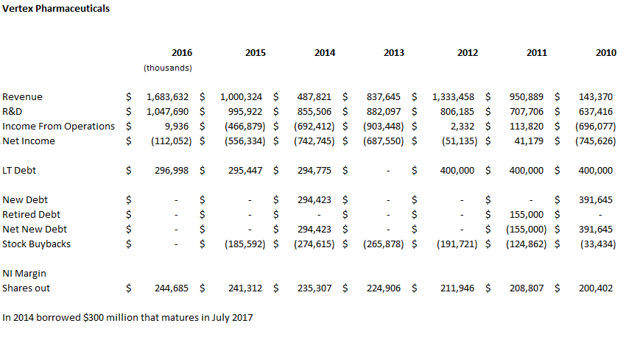 Modeling 'What If' Scenario To Align Vertex to Market PE
One of the exercises I like to perform in order to see how expensive or inexpensive a stock is, is to review what would have to happen to earnings to align the stock PE with the market average PE. If the resulting change seems too miraculous to me, that's a sign the shares are too expensive.
When I run the exercise on Vertex, I can't use average margin as I typically do, since Vertex has consistently lost money for so long. I can hold the number of shares constant, and set the PE to 26, though, and see what has to happen to earnings for company PE and market PE to line up. In order to make Vertex's PE equal to the overall market PE, the company would need to earn approximately $815 million, or $3.33 per share. That is a very far cry from the current net income of approximately $-112 million, and is an unreasonable expectation in my view.

Technical Snapshot
As per our ChartMasterPro Daily Model the trend for VRTX turned Bearish on February 16 when the stock closed below the uptrend trend line which began on January 24. From here we see the stock falling to the $72.00 level over the next six months.
Today we will buy the VRTX 21APR17 87.50 Put Options which will provide us with approximately 6x leverage on our SHORT trade. Our initial stop-loss exit signal for the trade will be a daily close above $89.00.
For investors in the shares we recommend that you SELL to avoid any future decline in the share price.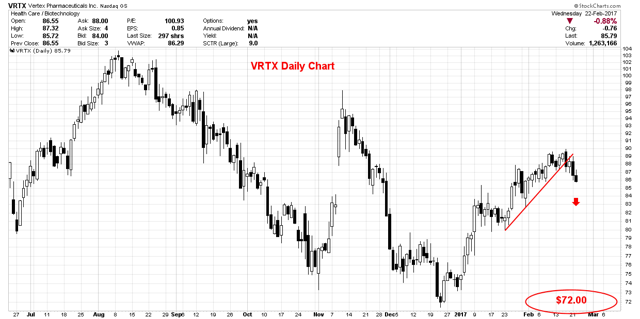 Conclusion
There are a few challenges associated with investing in public companies that go beyond spotting issues with their business models, financials etc. We can only access these businesses by purchasing the shares that supposedly represent the fortunes of the underlying business. The problem is that the shares are bid up in the public market to prices that are ridiculous. That is what's going on with Vertex in my view.
The other thing to consider is that investing is a fundamentally relativistic game. We can buy X or we can buy Y. If a future dollar of X earnings is less expensive than a future dollar of Y earnings, there'd have to be some compelling evidence for you to buy Y, and that evidence is lacking in this case. In my view, the best course of action is to spend the least amount possible for a dollar of future earnings. In the case of Vertex, investors are being asked to pay way too much for a dollar of earnings that may happen some time well after 2017. For that reason alone I think investors would do well to avoid the name.
Disclosure: I/we have no positions in any stocks mentioned, but may initiate a short position in VRTX over the next 72 hours.
I wrote this article myself, and it expresses my own opinions. I am not receiving compensation for it (other than from Seeking Alpha). I have no business relationship with any company whose stock is mentioned in this article.